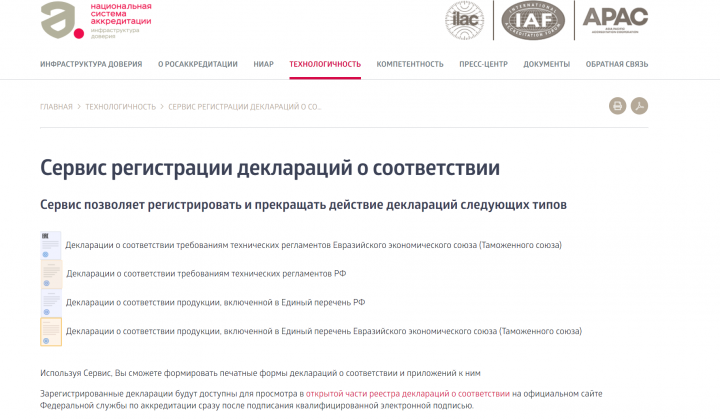 On January 1, 2021, a new procedure for registration of EAC declarations approved by Decision of the Ministry of Economic Development and Trade No. 478 of July 31, 2020 came into effect. EAC declarations must be independently registered by applicants through the electronic service FSIS Rosaccreditation.
The existence of a declaration registered in the Unified Register of the Eurasian Economic Union is a mandatory requirement for placing products on the market of Russia, Belarus, Kyrgyzstan, Kazakhstan and Armenia for which declarations are mandatory under the rules of the Eurasian Economic Union.
Declarations are registered by manufacturers, importers, authorized representatives or sellers, i.e. persons responsible for the safety of the declared products.
The applicant must sign the declaration with his qualified electronic signature (EDS).
Since 01.01.2021 the accredited certification body is no longer authorized to register the EAC declarations in the Unified Register of the Eurasian Economic Union.
Exceptions are some types of products, which are still registered by the certification body. These are the following technical regulations:
However, the FSIS Rose Accreditation electronic service was made in a way that ".... any legal entity", including certification bodies, can offer "consulting services for the preparation of a draft declaration (draft)".
This means that a certification body may upload a draft EAC declaration for the applicant. The declaration is automatically sent to the applicant's personal account, where he can sign and register the EAC declaration with an electronic signature.
The applicant assumes all responsibility for the data provided in the EAC declaration.