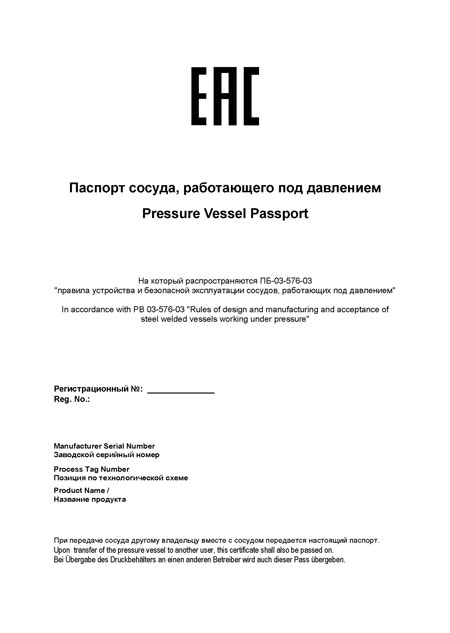 The passport for pressure vessels contains, as the most important document, details on the intended use, assembly, commissioning, use and maintenance and if necessary on the improper use of pressure vessels, pressure equipment and pressure pipes. The hazard of pressure vessels originates from the stored energy in the pressurized medium. This energy arises as a result of volume change work, which depends on the fluid properties, the volume of the vessel and the pressure. As most accidents occur due to improper use, a passport for pressure vessels shall be issued in order to prevent accidents and ensure safety.
Legal framework
A passport for pressure vessels has to be issued in order to fulfill the requirements of the technical regulations TR CU 032/2013. Furthermore pressure vessels underlie the legislation of the Russian Federation, especially the following regulations:
According to the existing directives, a manufacturer may issue a passport for pressure vessels either by himself or by a third party.
Scope of application
Pressure vessels are closed tanks, whose internal pressure is higher than the ambient pressure. In contrast to compressed gas containers and transport containers under traffic law, in which fluids are transported, the operation of compressed gas containers is assigned to a specific installation site.
According to the technical regulation TR CU 032/2013 a passport for pressure equipment is a required prerequisite for conformity assessment for the following types of plants:
Pressure tanks
Pipelines
Heating boiler
Fittings
Equipment parts with safety function
Pressure-maintaining components
Subject of the pressure vessel passport
Each passport of pressure vessels, as well as other safety passports, has to contain the following aspects:
Product name, product description and serial number
Lifetime of the pressure tank
Informations about the manufacturer / vendor / supplier
Information about the raw material, from which a pressure vessel is manufactured
Characteristics of the product and methods for its use
Precautionary measures when using this product
Informations about recycling and disposal
List of technical documentation according to which the product was manufactured
Please send us a detailed description of your product and our experts would offer you an appropriate conformity assessment procedure.
Time duration and costs of issuing the pressure vessel passport
Time duration and costs of issuing a pressure vessel passport depend on different factors, such as the type of commodity and the complexity of the tests required.
The exact conditions of issuing the passport are always determined individually on the basis of the documents received.
Please note that the application for a pressure vessel passport can take several days or weeks.
Delivery of documents
You will receive a copy of your pressure vessel passport by e-mail immediately after the procedure has been successfully completed. In just a few days, the original will be delivered to you by post.