Schmidt & Schmidt provides extracts from the commercial register of Australia with a translation and an apostille.
Commonwealth of Australia is a sovereign state that consists the continent of Australia, a large island of Tasmania and several smaller islands. This is a federal constitutional monarchy, a prominent member of the Commonwealth of Nations, with Queen Elizabeth II as the head of state. The Queen is represented here by the Governor-General. De facto head of state is the Prime Minister of Australia. Local currency is the Australian dollar. National language is English. Australia is a member of the United Nations, G20, OECD, World Trade Organisation, Asia-Pacific Economic Cooperation (APEC), and Association of Southeast Asian Nations (ASEAN).
Australia has a highly developed economy, ranking 13th by nominal GDP, and 9th by nominal GDP per capita. Australia is second in the world by human development index, and ranks high by the democratic and social criteria, such as political rights, economic freedom, healthcare, education, and quality of life in general.
Australia has a mixed market economy that ranks fifth in the world by Index of Economic Freedom. Poverty rate is relatively low here. Services sector takes up over 60% of the country's GDP, employing about 80% of labour force. Australia gets revenue from such industries as insurance, banking, manufacturing, and mining.
Australia is not considered a tax haven or an offshore centre. OECD classifies the country as "compliant" in tax cooperation matters, and so does the European Union.
Australian corporate law is based on English law. Business activities in Australia are regulated by the 2001 Corporations Act and other relevant laws.
Main types of businesses in Australia
Proprietary Company Limited by Share
Proprietary Company Unlimited with Share Capital
Public Company Limited by Share
Public Company Limited by Guarantee
Public Company Unlimited with Share Capital
No Liability Company
Partnership
Trust
Individual entrepreneur
Registration of companies is managed by Australian Business Register. Access to the Register is done via the Australian Business Register website, or via the website of the Australian Securities and Investments Commission (ASIC). To run a business in Australia, one needs to register an Australian business number (ABN).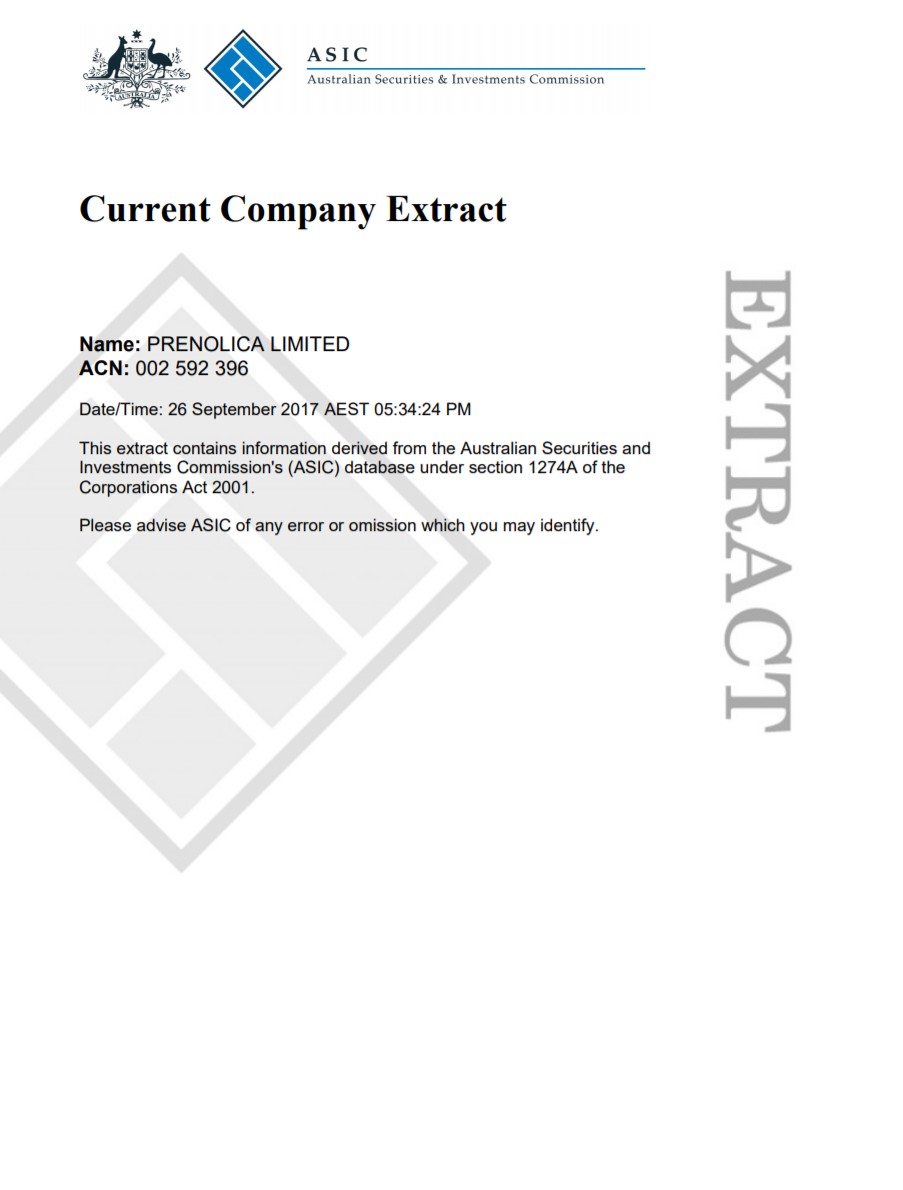 Contents of the register
Main extract available from the commercial register of Australia is a company profile. It comes in the English language and contains information about a company, relevant at the moment of the request.
Full legal name (and former names)
Registration number and date
ABN
Type of business
Legal address
Current status (active/inactive)
Main activities
Registered capital
Owners, key management, shareholders
Tax details
Auditors
External transactions manager
NB: Information about some companies may be unavailable, or available for a fee.
Search in the register is not free of charge. Search results are sent to you within 5-7 days after request submission.
Other available documents
Certificate of Incorporation
Annual return
List of shareholders and directors
To get a required document, we will need the following information about a company:
Full legal name
Registration number

Inquiries are processed from 30 minutes.
Service
Price incl. German VAT 19%
Price excl. VAT

Price for an Electronic Extract

from

35,70

€

from

30,00

€

Price for an Extract with Apostille without international shipping

from

678,30

€

from

570,00

€



An extract from the business register of Australia can be used in order to:
Obtain detailed information about potential business partners
Negotiate foreign trade agreements
File legal claims
Australia acceded to the The Hague Convention Abolishing the Requirement of Legalization for Foreign Public Documents on 11 July 1994.
Therefore, the documents issued in Australia are subject to a simplified apostilling procedure, thus the documents gain full legal value in Convention member states after certified translation.
In addition, you can order certified translation from English.
We provide extracts from the register in strict compliance with the legislation of the Commonwealth of Australia and the General Data Protection Regulation.
Inquiries are processed within one working day. Courier delivery of apostilled documents is paid separately by courier service tariffs.
You can order free preliminary availability check of required information on our website.