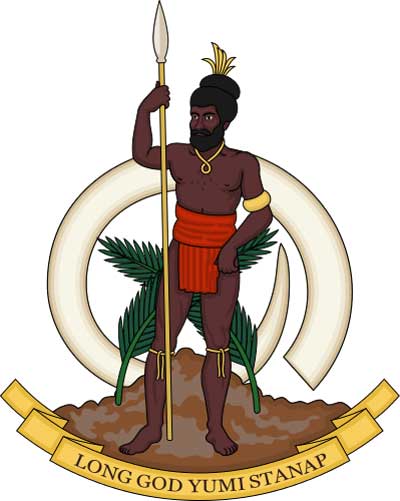 Schmidt & Schmidt provides extracts from the commercial register of Vanuatu with a translation and an apostille.
Republic of Vanuatu is a sovereign state in the subregion of Melanesia in the Pacific Ocean. It gained independence from France and the United Kingdom in 1980 and became a parliamentary republic. Head of state is the president. Local currency is the Vanuatu vatu. Official languages are Bislama, French and English. Vanuatu is a member state of the United Nations, World Trade Organisation, Pacific Islands Forum (PIF), and African, Caribbean, and Pacific Group of States (ACP).
Vanuatu is one of the poorest countries in the world. Its economy is largely based on agriculture. Economic development is impeded by remote location, low exports and vulnerability to natural disasters.
At the same time, the country has also been an offshore jurisdiction since 1970. European Union classifies Vanuatu as a tax regime that facilitates offshore structures that attracts profits without real economic activity. The country was removed from the black list of offshore jurisdictions due to commitments made by the Vanuatu to address the EU's concerns. Vanuatu also committed to become the part of the Inclusive Framework on BEPS (Base erosion and profit shifting) and implement minimum anti-BEPS standards.
Business activities in Vanuatu are regulated by the Companies Act of 1986, International Business Companies Act of 1992, Financial Services Commission Act of 1993, and other relevant laws. Legislation of Vanuatu is largely based on the English law with some elements of French law.
Main types of businesses in Vanuatu
'Local' Limited Company
Exempted Company
International Company
Overseas Company
General Partnership
Limited Partnership
Trusts
There are also charities, credit organisations, trade unions, and individual entrepreneurs.
Commercial register of Vanuatu is managed by the Vanuatu Financial Services Commission. The Commission was founded in 1993 by the Financial Services Commission Act.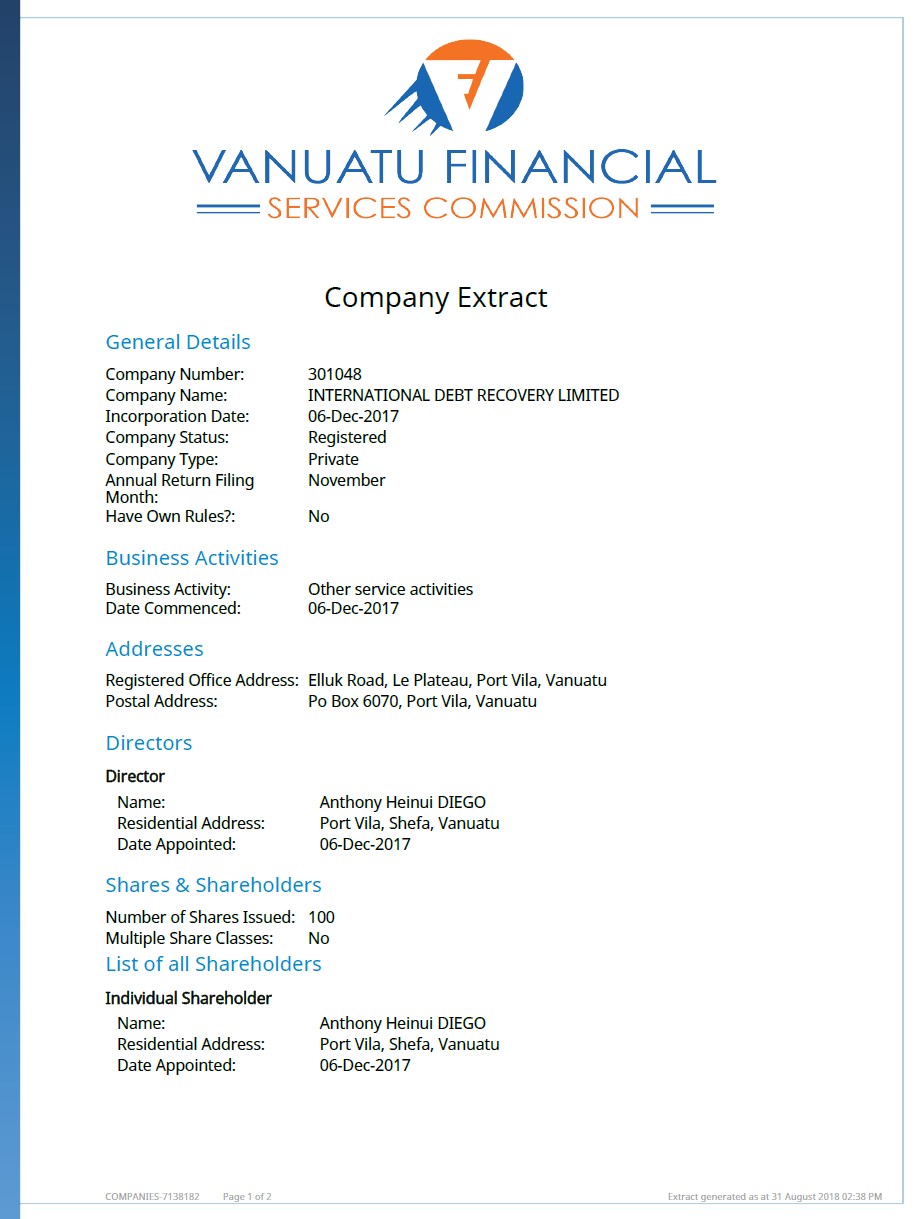 Main extract available from the commercial register of Vanuatu is a company profile. It comes in the English language and contains information about a company, relevant at the moment of the request.
Information about international companies:
Full legal name
Registration number and date
Type of business
Current status (active/inactive)
Additional information about local companies:
Annual report
Legal address
Contact details
Main activities
Directors and shareholders
NB: Information about some companies may be unavailable, or available for a fee.
In addition, there might be data on payments and fees available as well.
To get a required document, we will need the following information about a company:
Full legal name
Registration number
Service
Price incl. German VAT 19%
Price excl. VAT

Price for an Electronic Extract

from

119,00

€

from

100,00

€

Price for an Extract with Apostille without international shipping

from

595,00

€

from

500,00

€



The example of the Certificate in English.
Inquiries are processed from 30 minutes.
Service
Price incl. German VAT 19%
Price excl. VAT

Price for a Certificate of Incorporation

from

119,00

€

from

100,00

€

Price for a Certificate of Incorporation with Apostille without international shipping

from

357,00

€

from

300,00

€



Other available documents
Certificate of Good Standing – an official document that confirms a company's solvency, reliability, and right to do business in Vanuatu. This certificate is only issued to companies that fully comply with the requirements in terms of taxation and financial reports submission.
Company Constitution – company's charter.
An extract from the business register of Vanuatu can be used in order to:
Obtain detailed information about potential business partners
Negotiate foreign trade agreements
File legal claims
Vanuatu acceded to the The Hague Convention Abolishing the Requirement of Legalization for Foreign Public Documents on 30 July 1980.
Therefore, the documents issued in Vanuatu are subject to a simplified apostilling procedure, thus the documents gain full legal value in Convention member states after certified translation.
In addition, you can order certified translation from English.
We provide extracts from the register in strict compliance with the legislation of Republic of Vanuatu and the General Data Protection Regulation.
Inquiries are processed within one working day. Courier delivery of apostilled documents is paid separately by courier service tariffs.
You can order free preliminary availability check of required information on our website.