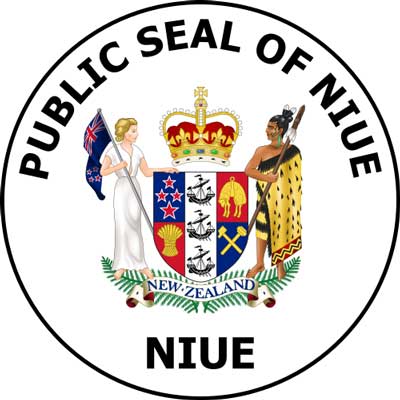 Schmidt & Schmidt provides extracts from the commercial register of Niue with a translation and an apostille.
Niue is a self-governing island state in the South Pacific Ocean, located far to the east of Australia, and northeast of New Zealand. Niue is in free association with New Zealand, meaning that population of Niue are citizens of New Zealand, but carry out practically independent policies, while New Zealand takes care of Niue's foreign relations. Queen Elizabeth II is the head of state. She is represented here by a Governor General. Head of the local government is the Premier of Niue. Local currency is the New Zealand dollar. Official languages are Niuean and English. Niue is not a member of the United Nations, but a member of some of its agencies (eg. WHO and UNESCO).
Niuean economy is small, and largely depends on agriculture. Niue heavily relies on aid from New Zealand. Local government manages to generate some revenue from income and import taxes. Niuean government prioritises development of three sectors of economy, namely, agriculture, fishing and tourism. Economic growth is impeded by remoteness from global markets. At the same time, Niue is a highly democratic jurisdiction that is making progress in such spheres as ecology and alternative energy sources.
Niue used to be included in the EU's black list of un-cooperative jurisdictions for tax purposes. Today, it has been provisionally removed from there due to the commitments made by the Niuean government. Niue has become the member of the OECD's Global Forum on Transparency and Exchange of Information for Tax Purposes, and now qualifies as "largely compliant" in tax cooperation matters. Moreover, Niue joined the Asia/Pacific Group on Money Laundering (APG). In addition, the EU is currently calling for Niue to become a member of Inclusive Framework on Base Erosion and Profit Shifting (BEPS).
Due to such developments, offshore companies fled the island, and registration of International Business Companies (IBCs) was terminated. However, information on some IBCs may still be available in the register.
Buisness activities in Niue are regulated by the Companies Act 2006 and other relevant laws. Legislation in Niue is based on the English law.
Main types of businesses in Niue
Sole Trader
Partnership
Limited Liability Company
Registration of companies in Niue is carried out by the Companies Office of Niue (Registrar of Companies), a body within the Treasury Department. Most services of the Registrar of Companies are available online. The commercial register of Niue exists in its current form since 2006.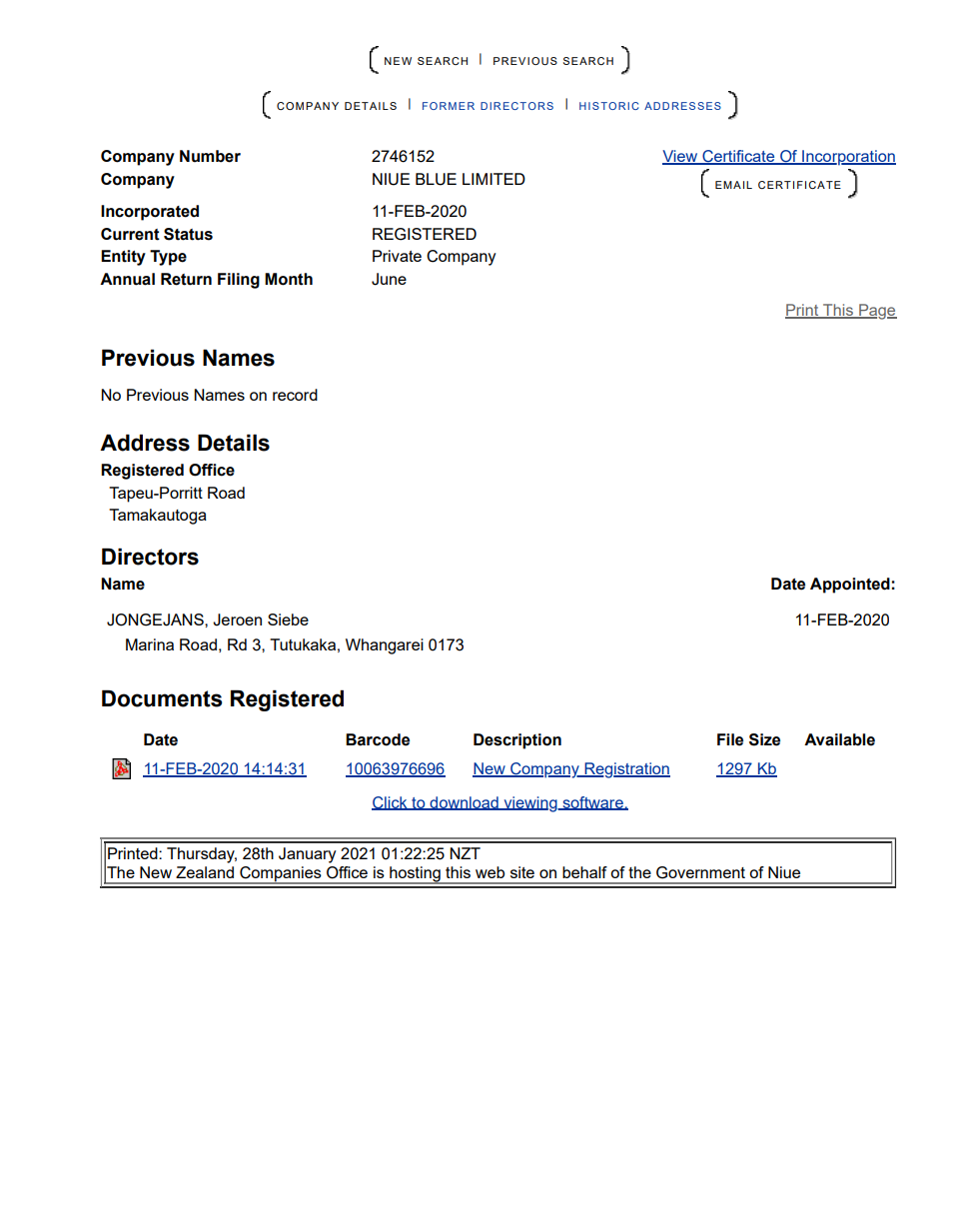 Contents of the commercial register of Nuie:
The main document from the Niue registry is the company profile in the registry, which contains the following data:
You can search for and receive a statement based on the following criteria:
name of the organization
Legal form
Registration date
Registration number
Contact information company
Type of business
Status
Data on shareholders
Additional data
NB: Some of the specified data may not be available for a specific organization, or may be provided for a fee.
You can also get registration documents and the company's annual report from the register.
The search in the registry is paid. The information can be provided within 3 to 5 days.
You can search for and receive a statement based on the following criteria:
Full name of the organization
Keywords in the name company
Registration number
Sample extract from the register of Niue in English.
Service
Price incl. German VAT 19%
Price excl. VAT

Price for an Electronic Extract

from

119,00

€

from

100,00

€

Price for an Extract with Apostille without international shipping

from

714,00

€

from

600,00

€



An extract from the business register of Niue can be used in order to:
Obtain detailed information about potential business partners
Negotiate foreign trade agreements
Register legal entities with foreign participation
File legal claims
Niue acceded to the The Hague Convention Abolishing the Requirement of Legalization for Foreign Public Documents on 10 June 1998.
Therefore, the documents issued in Niue are subject to a simplified apostilling procedure, thus the documents gain full legal value in Convention member states after certified translation.
In addition, you can order certified translation from English.
We provide extracts from the register in strict compliance with the legislation of Niue and the General Data Protection Regulation.
Inquiries are processed within one working day. Courier delivery of apostilled documents is paid separately by courier service tariffs.
You can order free preliminary availability check of required information on our website.