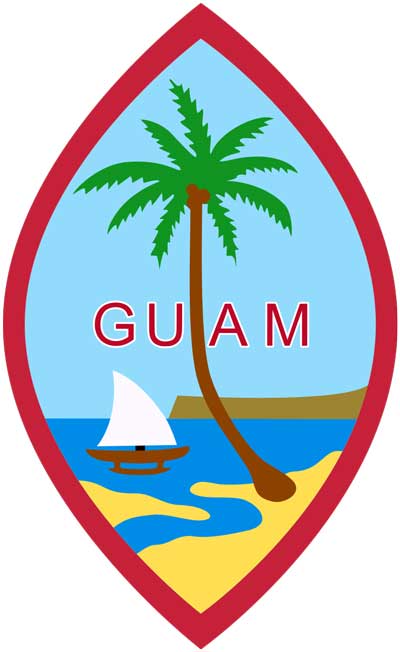 Schmidt & Schmidt provides extracts from the commercial register of Guam with a translation and an apostille.
Guam is an unincorporated organised territory of the United States of America, located in the subregion of Micronesia the Pacific Ocean. Head of state here is the President of the United States. Head of Guam itself is a Governor, elected by direct vote. Local currency is the US dollar. Official languages are English and Chamorro. Guam is present on the UN list of Non-Self-Governing-Territories.
Economy of Guam is quite stable due to tourism and transfer payments from the US federal treasury. Apart from tourism, Guam is supported by the United States Armed Forces. Guam does not pay income and excise taxes, has a lot of duty-free shops.
Guam is on the EU's black list of non-cooperative jurisdictions for tax purposes. According to the Council of the EU, "Guam does not apply any automatic exchange of financial information, has not signed and ratified, including through the jurisdiction they are dependent on, the OECD Multilateral Convention of Mutual Administrative Assistance as amended, does not apply the BEPS minimum standards and did not commit to addressing these issues by 31 December 2018".
Business activities in Guam are regulated by the Guam Code, Guam Business Corporation Act, and other relevant laws.
Main types of businesses in Guam
Partnership
Limited partnership
Limited liability partnership
Limited liability company
Registration of companies and management of the commercial register are the tasks of the Department of Revenue and Taxation of Guam. Business licenses are obtained via One Stop Licensing Center.
Main extract available from the commercial register of Guam is a company profile. It comes in the English language and contains information about a company, relevant at the moment of the request.
Full legal name (and former names)
Registration number
Type of business
Legal address
Current status (active/inactive)
Registrar's details
Other available information
NB: Information about some companies may be unavailable.
Search in the register is not free of charge. Search results are sent to you within 7-14 days after request submission.
To get a required document, we will need the following information about a company:
Full legal name
Key words in the name
Registration number
An extract from the business register of Guam can be used in order to:
Obtain detailed information about potential business partners
Negotiate foreign trade agreements
Register legal entities with foreign participation
File legal claims
Guam acceded to the The Hague Convention Abolishing the Requirement of Legalization for Foreign Public Documents on 15 October 1981, as a part of the United States of America.
Therefore, the documents issued in Guam are subject to a simplified apostilling procedure, thus the documents gain full legal value in Convention member states after notarised translation.
You can order free preliminary availability check of required information on our website.
In addition, you can order notarised translation from English.
We provide extracts from the register in strict compliance with the legislation of Unites States of America and the General Data Protection Regulation.
Inquiries are processed within one working day. Courier delivery of apostilled documents is paid separately by courier service tariffs.
You can order free preliminary availability check of required information on our website.
Service
Price incl. German VAT 19%
Price excl. VAT

Price for an Electronic Extract

from

119,00

€

from

100,00

€

Price for an Extract with Apostille without international shipping

from

714,00

€

from

600,00

€