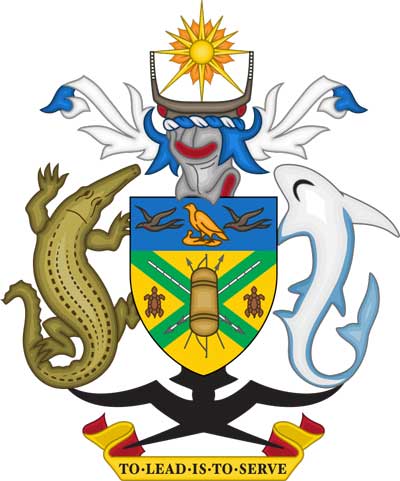 Schmidt & Schmidt provides extracts from the commercial register of Solomon Islands with a translation and legalization.
Solomon Islands is a sovereign state in the subregion of Melanesia in the Pacific Ocean, located to the east of Papua New Guinea. Solomon Islands gained independence from the United Kingdom in 1978 and became a member state of the Commonwealth with Queen Elizabeth II as the head of state. The Queen is represented here by the Governor-General. Local currency is the Solomon Islands dollar. Official language is English. Solomon Islands is a member of the United Nations, International Monetary Fund, African, Caribbean, and Pacific Group of States (ACP), and the Pacific Islands Forum (PIF).
The current rank of GDP per capita classifies Solomon Islands as a lesser developed nation. Over three quarters of the labour force in the country are employed in the sectors of fishing and subsistence farming. Solomon Islands are largely dependent on foreign aid, mostly from the neighbouring Australia and New Zealand.
Solomon Islands are not considered an offshore jurisdiction or a tax haven. However, neither is it a member of the OECD's Global Forum on Transparency and Exchange of Information for Tax Purposes.
Business activities in Solomon Islands are regulated by the 2009 Companies Act and other relevant laws.
Main types of businesses in Solomon Islands
Public company
Private company
Community company
Partnership
Sole trader
Overseas company
Solomon Islands Business Registry is managed by the Company Haus – a department of the Ministry of Commerce, Industry, Labour and Immigration. A lot of services are available online, as well as the database of companies.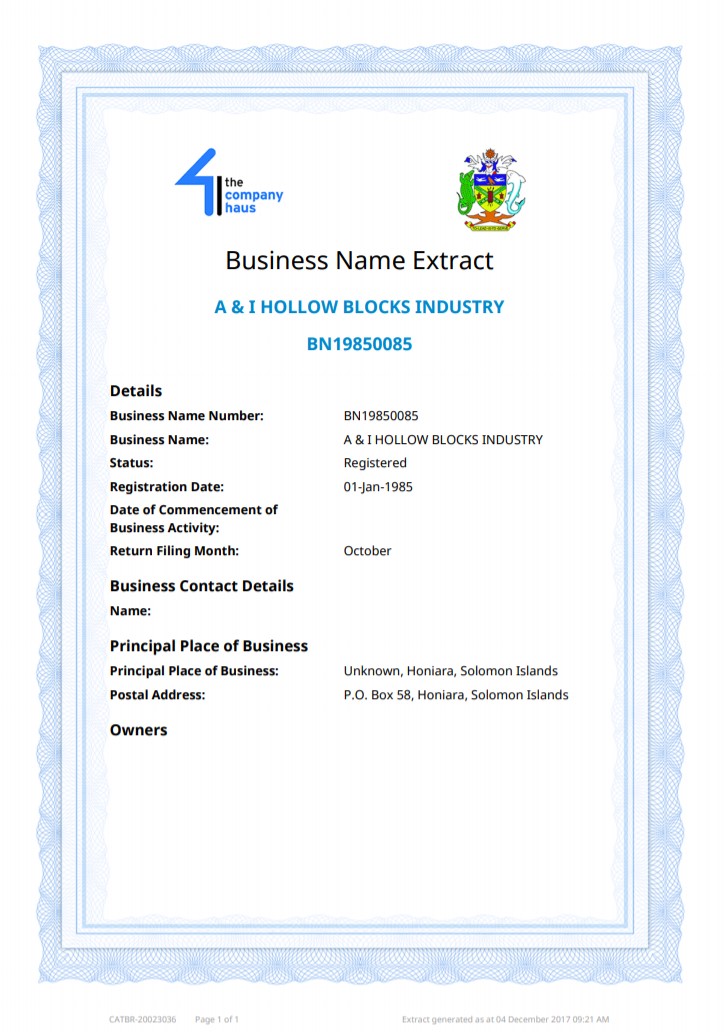 Main extract available from the commercial register of Solomon Islands is a company profile (Extract). It comes in the English language and contains information about a company, relevant at the moment of the request.
Full legal name
Registration number and date
Address
Contact details
Type of business
Current status (active/inactive)
Main activities
Management and shareholders
Registered capital
Subsidiaries
Other available documents
NB: Information about some companies may be unavailable, or available for a fee.
To get a required document, we will need the following information about a company:
Full legal name
Registration number

Inquiries are processed from 30 minutes.
Service
Price incl. German VAT 19%
Price excl. VAT

Price for an Electronic Extract

from

17,85

€

from

15,00

€

Price for an Extract with Apostille without international shipping

from

1190,00

€

from

1000,00

€



An extract from the business register of Solomon Islands can be used in order to:
Obtain detailed information about potential business partners
Negotiate foreign trade agreements
Register legal entities with foreign participation
File legal claims
Solomon Islands has NOT acceded to the The Hague Convention Abolishing the Requirement of Legalization for Foreign Public Documents.
Therefore, the documents issued in Solomon Islands are NOT subject to a simplified apostilling procedure, thus the documents have to be legalised directly via the consulates of Solomon Islands.
Schmidt & Schmidt assists with legalization procedure.
You can order free preliminary availability check of required information on our website.
In addition, you can order certified translation from English.
We provide extracts from the register in strict compliance with the legislation of the Solomon Islands and the General Data Protection Regulation.
Inquiries are processed within one working day. Courier delivery of apostilled documents is paid separately by courier service tariffs.
You can order free preliminary availability check of required information on our website.