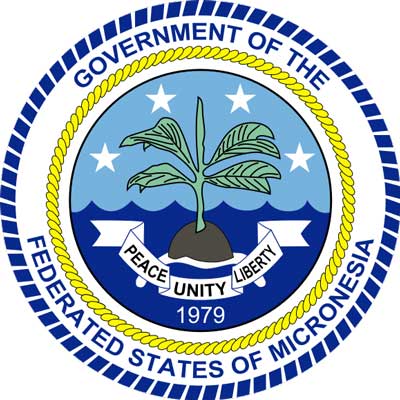 Schmidt & Schmidt provides extracts from the commercial register of Federated States of Micronesia with a translation and legalization.
Federated States of Micronesia (FSM, also known as Micronesia) is a sovereign island country that consists of four states spread across the West Pacific Ocean, with Exclusive Economic Zone of 2,6 million square kilometres. Micronesia gained independence from the United States of America in 1986 and became its associated state; it means that the USA ensures defence, funding, and social services to citizens of FSM within the framework of the Compact of Free Association (COFA). Head of state is the president. Local currency is the US dollar. Official language is English. Micronesia is a member of the United Nations, Pacific Islands Forum, and the group of African, Caribbean and Pacific Group of States (ACP).
Micronesian economy is based on fishing and subsistence agriculture. Due to remote location and lack of facilities, tourism sector is not that developed. Economic growth is impeded by isolation from global market and poor development of infrastructure.
Micronesia is not considered an offshore jurisdiction or a tax haven. At the same time, FSM has lighter tax burden compared to other countries of the region, and no patent laws. Even though Micronesia is not a member of the Global Forum on Transparency and Exchange of Information for Tax Purposes, it is still monitored by the OECD. OECD classifies FSM as "provisionally largely compliant" in tax cooperation purposes.
Legislation of Micronesia is based on American laws. Business activities are regulated by the Code of the Federated States of Micronesia, Registrar of Corporations Act, and other relevant laws.
Main types of businesses in Micronesia
Corporations
Limited Liability Companies (LLC)
General Partnerships
Limited Partnerships
Private Foundations
Foreign Maritime Entities (FME)
Registered Business Companies and International Business Corporations (IBCs)
Foreign trusts
Registration of companies in FSM is done by the Registrar of Corporations, a subsidiary body of Department of Foreign Affairs of Federated States of Micronesia. Registrar has the authority to draft commercial laws of the country.
In addition, due to the vast Exclusive Economic Zone, there is a separate Micronesia International Ship & Business Company Registry, responsible for maritime and offshore company registration. This is an authority that registers non-resident companies.
Contents of the register
Main extract available from the commercial register of Micronesia is a company profile. It comes in the English language and contains information about a company, relevant at the moment of the request.
Full legal name (and former names)
Registration number and date
Type of business
Legal address
Current status (active/inactive)
Main activities
Registered capital
Owners and shareholders
Auditors
Other available information
It is also possible to obtain a Certificate of Good Standing – official document that confirms a company's solvency, reliability, and right to do business in Micronesia. This certificate is only issued to companies that fully comply with the requirements in terms of taxation and financial reports submission.
Search in the register is not free of charge. Search results are sent to you within 7-14 days after request submission.
An extract from the business register of Micronesia can be used in order to:
Obtain detailed information about potential business partners
Negotiate foreign trade agreements
Register legal entities with foreign participation
File legal claims
Micronesia has NOT acceded to the The Hague Convention Abolishing the Requirement of Legalization for Foreign Public Documents.
Therefore, the documents issued in Micronesia are NOT subject to a simplified apostilling procedure, thus the documents have to be legalised directly via the consulates of Micronesia.
Schmidt & Schmidt assists with legalization procedure.
You can order free preliminary availability check of required information on our website.
In addition, you can order notarised translation from English.
We provide extracts from the register in strict compliance with the legislation of the Federated States of Micronesia and the General Data Protection Regulation.
Inquiries are processed within one working day. Courier delivery of apostilled documents is paid separately by courier service tariffs.
You can order free preliminary availability check of required information on our website.


Service
Price incl. German VAT 19%
Price excl. VAT

Price for an Electronic Extract

from

119,00

€

from

100,00

€

Price for an Extract with Apostille without international shipping

from

714,00

€

from

600,00

€