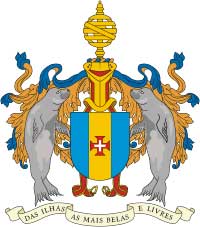 Schmidt & Schmidt provides extracts from the commercial register of Madeira with a translation and an apostille.
Madeira is one of the two autonomous regions of Portugal, along with the Azores. It is located on an archipelago of the same name, located in the Atlantic Ocean, to the West of Morocco. Madeira is divided into 11 municipalities; Funchal is its capital and the largest city. The region is headed by the President of the Regional Government of Madeira. Local currency is the Euro. Official language is Portuguese. Madeira is officially the part of the European Union, in the category of Outermost regions. Main sectors of local economy are tourism, finance, and agriculture.
International Business Centre of Madeira (Centro Internacional de Negócios da Madeira – CINM) is a free trade zone that was formally created in 1987, and introduced favourable tax regime in the region. Today it consists of three sectors of investment: Industrial Free Trade Zone, International Shipping Register, and International Services. CINM is managed by the Madeira Development Society (Sociedade de Desenvolvimento da Madeira – SDM).
Madeira is not blacklisted as an offshore haven by the European Union or the OECD. However, it is considered to be an unofficial offshore centre, activities of which has raised questions among the EU authorities. The tax regime in Madeira has been altered to match the EU standards, and the European Commission has ordered to adapt it until 2027.
Business activities in Madeira is regulated by the Portuguese Companies Act and local laws.
Madeira is an autonomy integrated within the framework of Portuguese legislation, with its local fiscal characteristics. At the same time, the region enjoys broad legislative autonomy.
Main types of businesses in the Azores
Legal entities:
Sociedade anónima (S.A.) – joint-stock company
Limitada unipessoal por Quotas (Lda. unipessoal) – limited liability company with one founder
Sociedade por Quotas Limitada (Lda.) – limited liability company
Sociedade em comandita por acções (SCA) – joint-stock partnership in commendam
Unincorporated:
Sociedade civil – full partnership
Sociedade em nome colectivo (SNC) – registered partnership
Sociedade em comandita simples (SCS) – limited partnership
Registration of companies in Madeira is a responsibility of the Institute of Registries and Notaries (Instituto dos Registos e do Notariado), a subordinate of the Ministry of Justice of the Portuguese Republic.
In order to choose a name for a business, it is necessary to submit a request to the central office of the commercial register of Portugal.
CINM manages its own register of companies. Companies presented in the CINM are automatically registered in the business register of Portugal as well. This is a measure introduced to avoid double taxation.
Extract from commercial register of Madeira contains the following information:
Full legal name
Date of foundation
Legal address
Type of business
Contact information
Main activity
Registered capital
Board members and founders
Balance sheets
Shareholders and their reports
Appointment of a bankruptcy commissioner
Copies of corporate documents
NB: Information about some companies may be unavailable, or available for a fee.
Search in the register is not free of charge. Search results are sent to you within 3-5 days after request submission.
To get a required document, we will need the following information about a company:
Full legal name
Registration number
Sample of an extract from the commercial register of Portugal concerning Madeira, in Portuguese
An extract from the business register of Madeira can be used in order to:
Obtain detailed information about potential business partners
Negotiate foreign trade agreements
Check solvency of prospective counterparties
File legal claims
Madeira acceded to the The Hague Convention Abolishing the Requirement of Legalization for Foreign Public Documents on 6 December 1968, as a part of Portugal.
Therefore, the documents issued in Madeira are subject to a simplified apostilling procedure, thus the documents gain full legal value in Convention member states after notarised translation.
Apostilling usually takes about two weeks.
In addition, you can order notarised translation from Portuguese.
We provide extracts from the register in strict compliance with the legislation of the Autonomous Region of Madeira, Republic of Portugal, and the General Data Protection Regulation.
Inquiries are processed within one working day. Courier delivery of apostilled documents is paid separately by courier service tariffs.
You can order free preliminary availability check of required information on our website.
Service
Price incl. German VAT 19%
Price excl. VAT

Price for an Electronic Extract

from

23,80

€

from

20,00

€

Price for an Extract with Apostille without international shipping

from

357,00

€

from

300,00

€