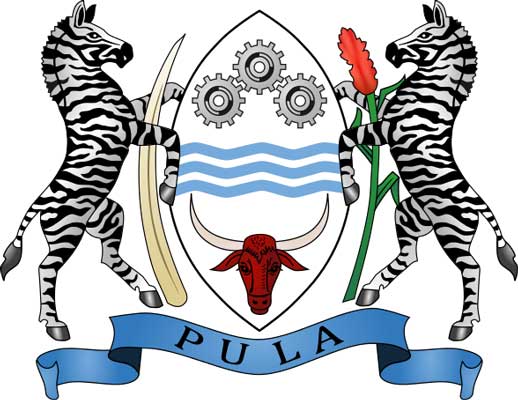 Schmidt & Schmidt provides extracts from the commercial register of Botswana with a translation and an apostille as pdf-file via e-mail.
The Republic of Botswana is a landlocked country located in South Africa. The country is a presidential republic, with the president as head of state. Local currency is the Botswana Pula (BWP). Predominantly spoken languages are English and Setswana. Botswana is a member of the United Nations, the Commonwealth of Nations and multiple other international organisations.
Botswana is one of Africa's economically most successful countries. Throughout the past years, Botswana has demonstrated significant economic growth and qualitative transformations. Up until around 1970, animal breeding provided the foundation for Botswana's economy. Today, the service sector (52% of the countries GDP) has become the leading economic branch, albeit the industry (44% GDP) also is of major importance. In the industrial sector, mining is predominant, primarily diamonds (45% of budget income, 75% share on exports). Other growing industrial branches include salt production, coal mining as well as gold- and silver extraction. Unemployment is one of Botswana's main issues.
The legal system in Botswana is a mixture of Romanic-Germanic, English and various other legal elements (e.g. unwritten constitutional law).
Corporate practice is regulated in the Companies Act of 2003 and the Companies Act of 2007, among others.
Main types of businesses in Botswana
Private company
Exempt private company
Public company
Close company
The Companies Act of 2007 stipulates the following types of businesses :
Private and public limited liability companies
Companies limited by guarantee
Business partnerships
Trust
Limited partnerships
Assurance companies
The Companies and Intellectual Property Authority (CIPA) is responsible for registration in the commercial register of Botswana.
CIPA was founded based on a law enacted by parliament in 2011, as a department of the Ministry of Industrialisation and Trade.
CIPA is managed by the Registrar General. CIPA itself consists of seven departments:
Department of Companies and Business Names
Department of Industrial Property
Department of Copyright Administration
Department of Compliance, Awareness and Client Services
Department of Information Technology
Department of Corporate Services
Department of Legal Services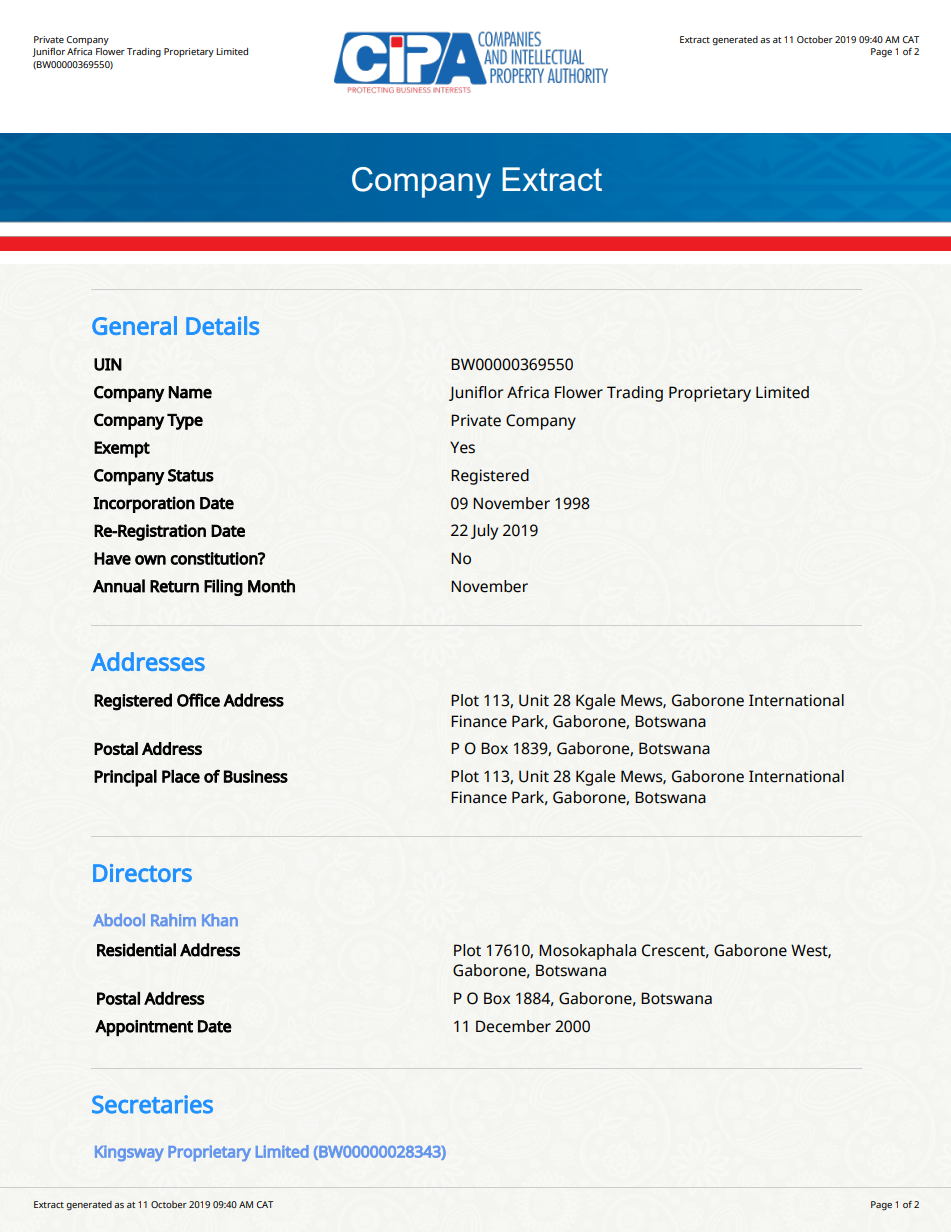 Contents of the register
Full legal name
Registration number and date
Current status (active/inactive)
Type of business
Data on management and directors
Address and other contact details of the company
Registering authority
Additional data
NB: Information about some companies may be unavailable, or available for a fee.
To get a required document, we will need the following information about a company:
Full legal name
Registration number
Service
Price incl. German VAT 19%
Price excl. VAT

Price for an Electronic Extract from Botswana

from

23,80

€

from

20,00

€

Price for the translation of an Extract from Botswana

from

41,65

€

from

35,00

€

Price for an Extract with Apostille without international shipping

from

714,00

€

from

600,00

€



Botswana acceded to the Hague Convention Abolishing the Requirement of Legalization for Foreign Public Documents in 1980.
Therefore, the documents issued in Botswana are subject to a simplified apostilling procedure, thus the documents gain full legal value in Convention member states after certified translation.
Inquiries are processed within one working day. Courier delivery of apostilled documents is paid separately by courier service tariffs.
An extract from the business register of Botswana can be used in order to:
Obtain detailed information about potential business partners
Negotiate foreign trade agreements
File legal claims
Register legal entities with foreign participation
Check potential employers
You can order an extract without mandatory registration or subscription. Just complete our form and our employees will investigate for missing information, provide you with the extract, translate it to English and deliver the original, the translation as well as the bill for our services to you via mail.
There is no risk involved for you as we provide you with the documents in question on a fixed price. If requested, we will have the extract verified and apostilled. The documents are sent to you by mail. Special fees for the apostille apply.
Our Offer:
Quick and reliable inquiry processing
Convenient order via online form
Required document is sent as a PDF-file via e-mail
Certified translation
No charge if required information is unavailable
Confidentiality and personal data protection
Quality service and happy customers
Preliminary Check:
We verify whether a commercial register contains information about the company you are interested in, free of charge. Order a preliminary extract and you will receive the following information:
Availability of an entry in a commercial register
Cost of extract from a commercial register
Other available documents
Deadline for discharge
Cost of apostille
Commercial register extract sample (if available)
You can order free preliminary availability check of required information on our website.