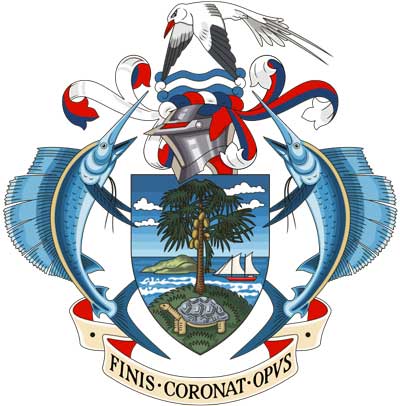 Schmidt & Schmidt provides extracts from the commercial register of Seychelles with a translation and an apostille as pdf-file via e-mail.
The Republic of Seychelles is an archipelago and sovereign state in the Indian Ocean. The Seychelles have achieved independence from Great-Britain in 1976, but have decided to remain in the the Commonwealth. Official languages are English, French and Sychellois Creole, local currency is the Seychelloise Rupee (SCR).
Toursism and Fishery are the country's main sources of income. In total there are about 140.000 companies registered in the Seychelles, with an additional 20.000 joining them every year.
The Seychelles are on Europe's blacklist of tax havens. Ever since 2014, the system of automatic exchange of information is continuosly being implemented.
Main types of businesses:
Seychelles International Business Company (IBC)
Special License Companies (SLC)
Seychelles International Trust
Seychelles Limited Partnership
Protected Cell Company
The "IBC" is the most common business type for offshore-companies. The corporate practice of IBC's is limited.
The commercial register is managed by the Seychelles Financial Services Authority, established in 2013.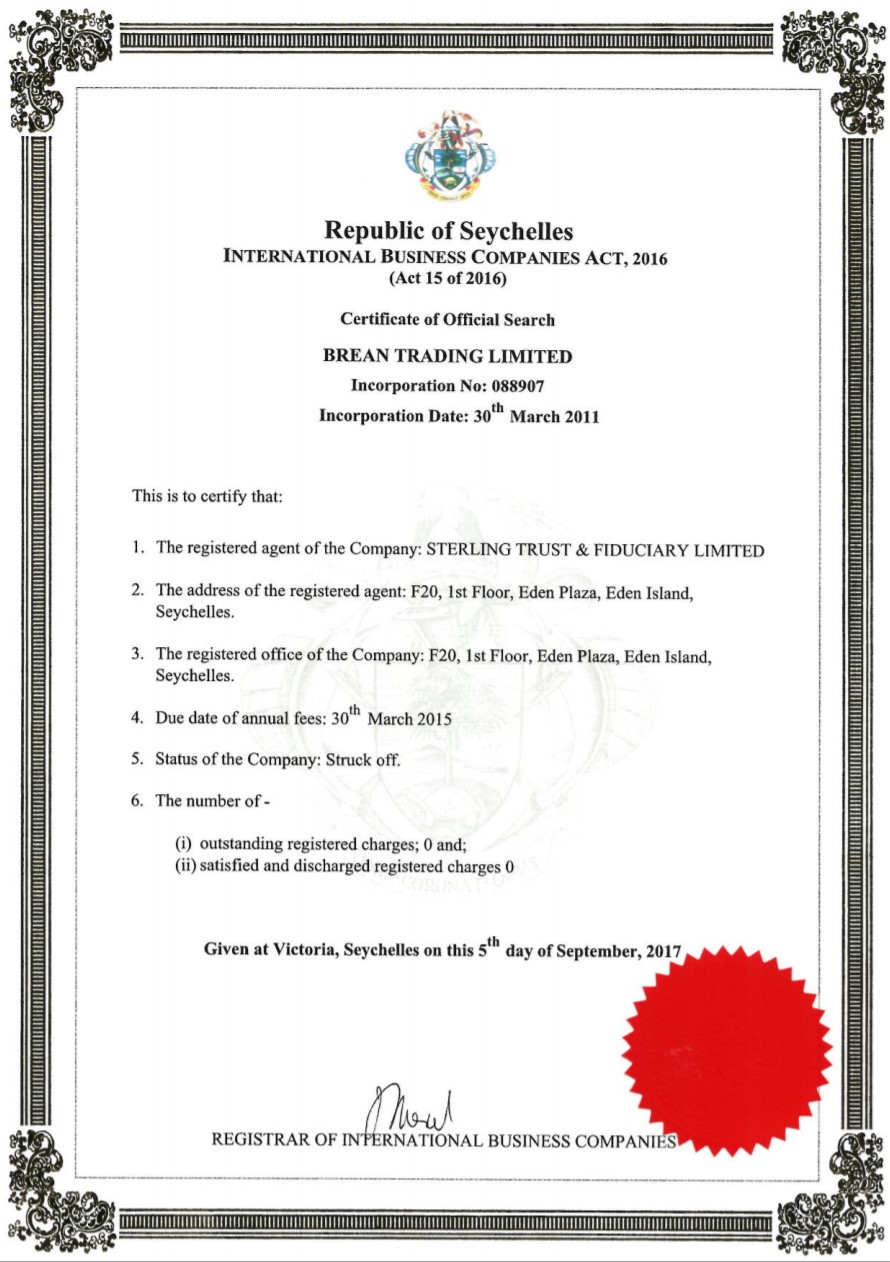 Available extracts from the commercial register:
The main information extract provided from the register of the Republic of Seychelles is the company profile-Certificate of official search. The document is provided in English and contains basic information about the company:
Full legal name
Registration number
Registration date
Currest status (active/inactive)
Capital stock
Amount guaranteed
Sum of default charges
Sum of loans
Full Address
Сertificate of official search – contains all the important information on any company.
Certificate of Good Standing – a document attesting that the company is capable of acting and solvent. It confirms the company pursues their commitments and is neither bankrupt nor in debt. Furthermore there is no reorganisation, merger or liquidation taking place.
Certificate of Incorporation – attestation of the registration of the company in Seychelles.
Memorandum and Articles of Association – copy of the association articles and the memorandum itself.
NB: Information about some companies may be unavailable, or available for a fee.
Search in the register is not free of charge. Search results are sent to you within 2-3 days after request submission.
Service
Price incl. German VAT 19%
Price excl. VAT

Price for an Electronic Extract from Seychelles

from

130,90

€

from

110,00

€

Price for the translation of an Extract from Seychelles

from

41,65

€

from

35,00

€

Price for an Extract with Apostille without international shipping

from

357,00

€

from

300,00

€



Seychelles acceded to the The Hague Convention Abolishing the Requirement of Legalization for Foreign Public Documents in 1979. Therefore, the documents issued in Seychelles are subject to a simplified apostilling procedure, thus the documents gain full legal value in Convention member states after certified translation.
An extract from the business register of Seychelles can be used in order to:
Obtain detailed information about potential business partners
Negotiate foreign trade agreements
File legal claims
Register legal entities with foreign participation
Check potential employers
You can order an extract without mandatory registration or subscription. Just complete our form and our employees will investigate for missing information, provide you with the extract, translate it to English and deliver the original, the translation as well as the bill for our services to you via mail.
There is no risk involved for you as we provide you with the documents in question on a fixed price. If requested, we will have the extract verified and apostilled. The documents are sent to you by mail. Special fees for the apostille apply.
Our Offer:
Quick and reliable inquiry processing
Convenient order via online form
Required document is sent as a PDF-file via e-mail
Certified translation
No charge if required information is unavailable
Confidentiality and personal data protection
Quality service and happy customers
Preliminary Check:
We verify whether a commercial register contains information about the company you are interested in, free of charge. Order a preliminary extract and you will receive the following information:
Availability of an entry in a commercial register
Cost of extract from a commercial register
Other available documents
Deadline for discharge
Cost of apostille
Commercial register extract sample (if available)
You can order free preliminary availability check of required information on our website.