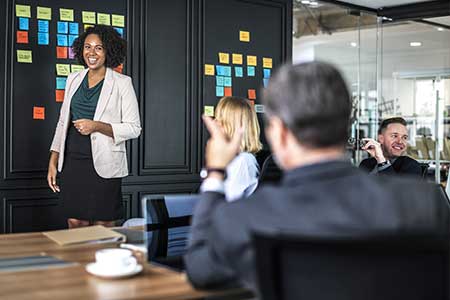 Besides frontal, informative seminars Schmidt & Schmidt offers high-quality, interactive workshops. This way our experienced specialists can impart their broad knowledge on certification of products for the export to Russia and the EAEU and especially on EAC marking, certification and declaration in a practice oriented approach, that is guaranteed by small groups of up to 15 participants.
Our consultants have been collaborating for years with export oriented companies of various sizes support them in conformity assessment procedures of their products. Therefore they dispose of broad competencies in this area and experiences in the following industry sectors: plant construction, mechanical engineering, metal construction, measurement engineering, electrical engineering, automation technology, medical engineering, food technology and furniture.
Our workshop concept provides strong interactivity between the participants and the speaker. Thanks to open discussion and the possibility of asking detailed questions the participants can be fully integrated. Within the workshop the following questions shall be clarified:
Which requirements apply in the EAEU?
How do requirements in the EAEU differ from those in the EU?
Of which steps consists the conformity assessment?
Which certifications are necessary for the conformity assessment?
How is the procedure for a manufacturing audit?
How have the procedures have to be documented?
Technical regulations in the EAEU
Since 2011 the EAEU has adopted more than 45 technical regulations, which determine the process of importing products in one of the member states. The aim is to replace national standard, such as the GOST-R standards in Russia, with uniform regulations and to bring the technical regulations of the EAEU into conformity with European standards.
The products of our clients are particularly often affected by the following technical regulations:
The aim of our workshop is to answer all the important questions regarding the relevant regulations.
Technical documentations
Many companies are overburdened with the preparation of the technical documentation required for carrying out conformity assessment. Our purpose is to support you in preparing the required documents and to answer all your questions concerning this process. Especially the following documents are relevant for the conformity assessment:
The procedure of safety justification also includes the risk assessment, which follows the ISO norms and therefore is equal for all countries. Within its framework all hazards involved in the operation of a machine are listed and assessed and measures to counteract them are taken. We also support you in the preparation of the risk assessment.
Our prices
Our prices are based on various criteria, that include in particular the duration of the seminar, the number of speakers and the complexity of the directives discussed. Besides that, the cost for travel and accommodation of the speakers must be taken into account. Please send us a request and we will propose you an individual offer after evaluating the details.