Our company Schmidt & Schmidt provides Extracts from the land register of Greece with translation and Apostille.
The system of land registers in Greece is now being reformed radically. De-facto it consists of two systems – complicated decentralized land register system dating back to XIX century and operating based on a territorial principle, and the unified Cadastre, works for the establishment of which began in 1995.
The old system of land registers is under the jurisdiction of the Ministry of Justice, and the Cadastre – to the jurisdiction of the environment and energy.
Land registers were established in Greece in 1853. They were under the jurisdiction of the judicial power branch and thus always fell under responsibility of the Ministry of Justice. The system of land registers is heterogeneous. One part of it are independent institutions established based on a territorial principle, the other one (mainly in large cities) are state services directly subordinate to the Ministry of Justice. 398 territorial land registers operate on the territory of Greece, of which 17 are state services, 240 – "special" independent institutions, 141 – "non-special" services, in which the duty of the registrar is concurrently performed by a local notary (mainly in small area or on islands).
Main functions of "old" land registers include: registration of documents related to property rights, and provision of information about legal rights and encumbrances.
Property in the register is subject to detailed description (address, borders, area etc.), however in practice registers contain a number of discrepancies. Search in registers is carried out only by personal data of owner.
At present land registers are public, and any certified person may obtain copies of documents from them certifying rights to a real estate object and containing description of an object. Certificates from land registers are issued only in a written form on paper media.
In state registers the state is responsible for all errors and discrepancies, in independent ones – a secretary personally.
Establishment of the unified Cadastre (κτηματολόγιο) began in 1995. It is included in the "road map" developed by the government of Greece and leadership of the European Union. The approximate deadline for completion of works for establishment of the unified Cadastre is 2021. However, experts have numerously voiced doubts that Greek authorities would be able to meet the specified deadline. Other EU countries render assistance in establishment of the Cadastre of Greece. At present the Cadastre covers only a part of Greek regions, on the territory of which cadastral offices operate. Citizens of Greece must file a declaration in the Cadastre and compare actual information about real estate objects owned by them with data of the Cadastre. The procedure for correction of data entered in the Cadastre is quite complex and is criticized by the expert community.
For management of the Cadastre executive authorities of Greece establish special legal entities. As of today, they include the Greek Cadastre (Hellenic Cadastre - Εθνικό Κτηματολόγιο), controlled by the Ministry of Environment and Energy. Activities of the Cadastre are carried out on the basis of special laws 2308/1995, 2664/1998 and 4512/2018.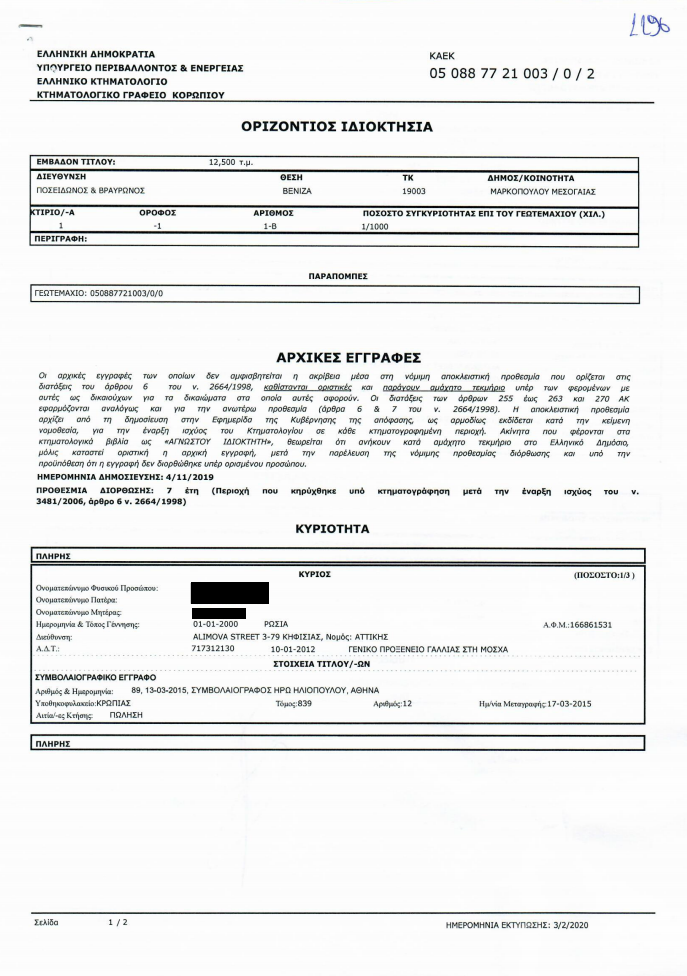 The extract from the real estate register contains:
property registration number
location of the property
borders
area
owner's details
grounds for ownership
data on encumbrances
collateral data
* some of the specified data may not be available for a specific object, or may be provided for a fee.
Sample statement in Greek
Search criteria:
full address
title number

Inquiries are processed from 30 minutes.
Service
Price incl. German VAT 19%
Price excl. VAT

Price for an electronic Extract from the land register of Greece

from

59,50

€

from

50,00

€

Price for the translation of an electronic Extract

from

41,65

€

from

35,00

€

Price for an Extract from the land register of Greece with apostille

from

297,50

€

from

250,00

€



The following tasks are vested upon the Greek Cadastre:
keeping, maintenance and updating the Cadastre
collection, updating and storage of topographical data
design, development, organization, operation and management of systems required for creation and management of geodetic materials related to its purpose
organization and maintenance of digital geospatial databases
Search in the Cadastre, unlike cadastral registers, is carried out by a particular objects and its location. A unique 12-digital code is assigned to each object in the Cadastre.
The Cadastre management scheme is temporary so far.
Data in the Cadastre is public. However, the system of remote access to it does not operate yet, and for obtaining extracts and certificates one must apply directly to cadastral offices.
Extracts from the Cadastre contain full data on a real estate object with its exact geographical tie-in and its owner.
Extracts from the land register and Cadastre of Greece may be used for:
confirmation of title to real estate
receipt of information about the real estate item
debt collection
analysis of prices for real estate in different regions of Greece
other commercial and analytical purposes
* some data may be unavailable for certain items, or may be provided for a fee.
Information on the time for obtaining an extract for each object shall be specified individually. An extract shall be apostilled.
Extracts from the land register are provided subject to the laws of Guernsey and to the Law on personal data protection.
Moreover, you can order certified translations of your documents.
The requests shall be processed within one business day. Courier delivery of the apostilled extract shall be paid additionally according to the courier tariff rates.
Greece joined the Hague Convention on simplified legalization of documents on March 19, 1985. On May 18, 1985 the Convention came into force.
Thus, documents issued in Greece are subject to legalization based on the apostilling procedure, after certified translation such documents acquire full legal force on the territory of all other Hague Convention Member States.
As a rule of thumb, apostillation of extracts takes about two weeks.