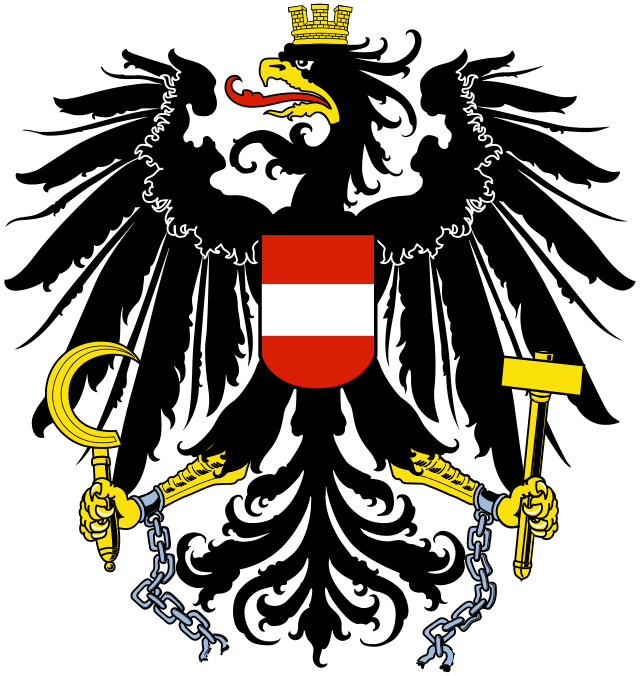 Our company Schmidt & Schmidt provides Extracts from the land register of Austria with translation and Apostille.
Data on real estate of Austria are contained in two main systems: Cadastre (Kataster) and Land Register (Grundbuch). Real estate registered in the Land Register, fully complies with cadastral units.
Cadastral record issues are governed by the 1986 Law on Geodesy.
The Cadastre in Austria is under the jurisdiction of the Federal Metrology and Geodesy Service (BEV) which is subordinate to the Ministry of Economy and Labour. It is served by 41 local cadastral department (Vermessungsämter).
Austria is divided into cadastral municipalities, each of which contains a certain number of land plots (the total number of land plots within the state is approximately 10 million units).
Tasks of cadastral record in Austria: confirmation of legal borders of land property, area of immovable property, its intended use.
Contents of the land register of Austria
The Cadastre included data of land plots both for real objects and technical information about them. It is contained in a written form (real estate index - Grundstücksverzeichnis) and graphical form (digital cadastral map - Digital Katastralmappe).
Search criteria
full address
title number
The Cadastre contains the following information:
Address
Identification number
Area (together with the area under buildings)
Type of land use
Graphical display of borders
The Cadastre lacks detailed data on buildings and residential premises (only addresses and coordinates).
Registers of buildings and residential real estate are maintained separately from the Cadastre at the federal land level. Only table data are entered in the electronic register of buildings and residential real estate. Drawings and plans exist only in a paper form.
Background information about land plots in a paper form is stored in the Federal Metrology and Geodesy Service itself. And data starting from 2003 – in a digital cadastral map available online (scales: 1:1000, 1:2000 and 1:5000).
Cadastral documentation is prepared in Austria using aerial and satellite systems.
The Cadastre in the Republic of Austrian is public. However, information contained in it is available for a fee. Search by owner's personal data is limited. It may be carried out only by specially authorized persons with a special status strictly in specified cases (in particular, lawyers and notaries acting within their competence during representation of interests).
The majority of transactions in Austria are executed without changing land plot borders. If a right of ownership to a land plot (in whole) transfers to a new owner, borders may not be specified (although this procedure is still recommended to avoid disputes). If land plot borders do change, preparation of relevant plans is carried out by authorized engineers.
The land register is maintained by bodies of the Ministry of Justice of Austria. It is updated by authorized departments (Grundbuchsabteilung) 147 (as of today) district courts (Bezirksgerichte). Registration of rights to immovable property is carried out according to requirements of the General Civil Code of Austria, Law on the Land Register, Law on development of the Land Register.
For the purpose of registration of a right to real estate, an application on entry of a new record in the Land Register is additionally submitted. A relevant decision is made by a specially authorized judicial officer personally or by the instruction of a judge. A relevant record is a proof of a right of ownership of a real estate. Property of railways and mining industry is recorded in separate registers.
Since 1981 the Land Register has been maintained using computer systems and contains five main sections (on location, borders and area of an object; on owner; on grounds for accrual of rights to real estate; on encumbrances and restrictions; on pledges).
Besides, a Land Database (Grundstücksdatebank - GDB) was established in 1985 in Austria under the control of the Federal Computer Centre. It contains a number of additional characteristics of real estate (soil quality etc.). The Base is filled by information received from the Ministry of Justice and the Federal Metrology and Geodesy Service. Access to the base is provided by a restricted number of providers or by means of a governmental network.
Besides, various multi-functional geoinformation systems and individual cadasters are established in Austria.
Extracts from land registers may be obtained either in electronic or paper form with apostille.
Extract from the land register of Austria may be used for:
confirmation of title to real estate
receipt of information about the real estate item
debt collection
analysis of prices for real estate
other commercial and analytical purposes
The following documents may be obtained from the land register:
Extract from the Master Book
Extract from the Cadastre of Austria
other available documents
Such documents may be apostilled and applied as evidence in legal proceedings in Russia or other countries.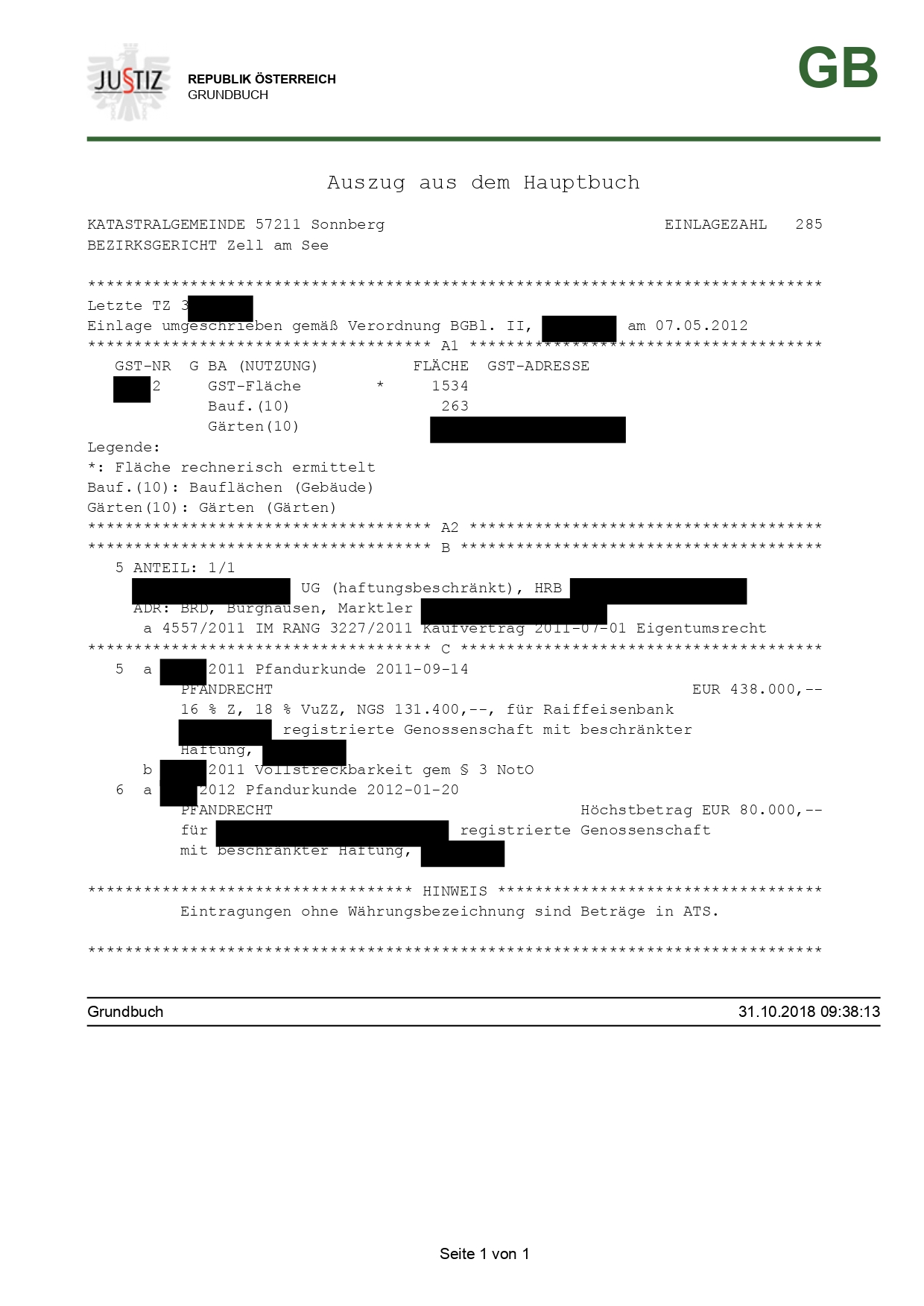 The extract from the Real Estate Register contains:
registration number of real estate
location of real estate
borders
area
owner's data
grounds for accrual of a right of ownership
data on ecumbrances
data on pledges
The cadastral plan contains information about:
real estate location
land borders
Extract example
* some data may be unavailable for a particular item or may be provided for a fee.
Receipt of documents in electronic form is carried out for one working day. 2 weeks are required to obtain documents with apostille.

Inquiries are processed from 30 minutes.
Service
Price incl. German VAT 19%
Price excl. VAT

Price for an electronic Extract from the land register of Austria

from

59,50

€

from

50,00

€

Price for the translation of an electronic Extract

from

41,65

€

from

35,00

€

Price for an Extract from the land register of Austria with apostille

from

238,00

€

from

200,00

€



Search and receipt of an extract are possible by the following criteria:
full address of real estate
registration number of real estate
exact location of a land plot on a map
Extracts from the land register are provided subject to the laws of Austria and to the Law on personal data protection.
Moreover, you can order certified translations of your documents.
The requests shall be processed within one business day. Courier delivery of the apostilled extract shall be paid additionally according to the courier tariff rates.
Austria joined the Hague Convention on simplified legalization of documents on November 14, 1967. On January 13, 1968 the Convention came into force.
Thus, documents issued in Austria are subject to legalization based on the apostilling procedure, after certified translation such documents acquire full legal force on the territory of all other Hague Convention Member States.
As a rule of thumb, apostillation of extracts takes about two weeks.