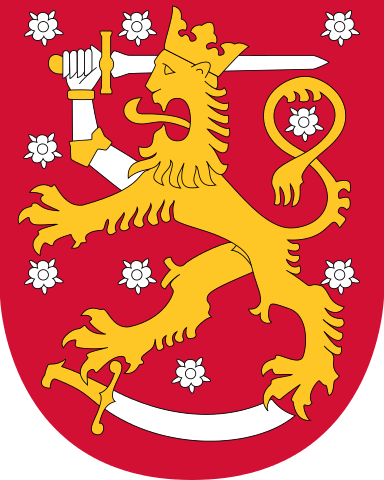 Our company Schmidt & Schmidt provides Extracts from the land register of Finland with translation and Apostille.
The register is under the jurisdiction of the National Land Inspectorate of Finland and is a system divided into the following subsystems: land register, register of property and mortgages, register of transaction with real estate.
The National Land Inspectorate of Finland falls under responsibility of the Ministry of Agriculture and Forestry.
Functions of the National Land Inspectorate:
cadastral works
cartographic works
protection of the system of property and other rights to land
registration of rights of ownership
storage of information about mortgages
research work in the area of spatial data and geoinformation systems
The National Land Inspectorate has offices in 37 settlements. It employs 1760 people.
It should be noted that a number of municipalities yet perform cadastral works independently.
The register includes both legal and technical information.
Search of information in the register is only on a paid basis. For access to information your interest must be justified. Extracts are available both in electronic and paper form.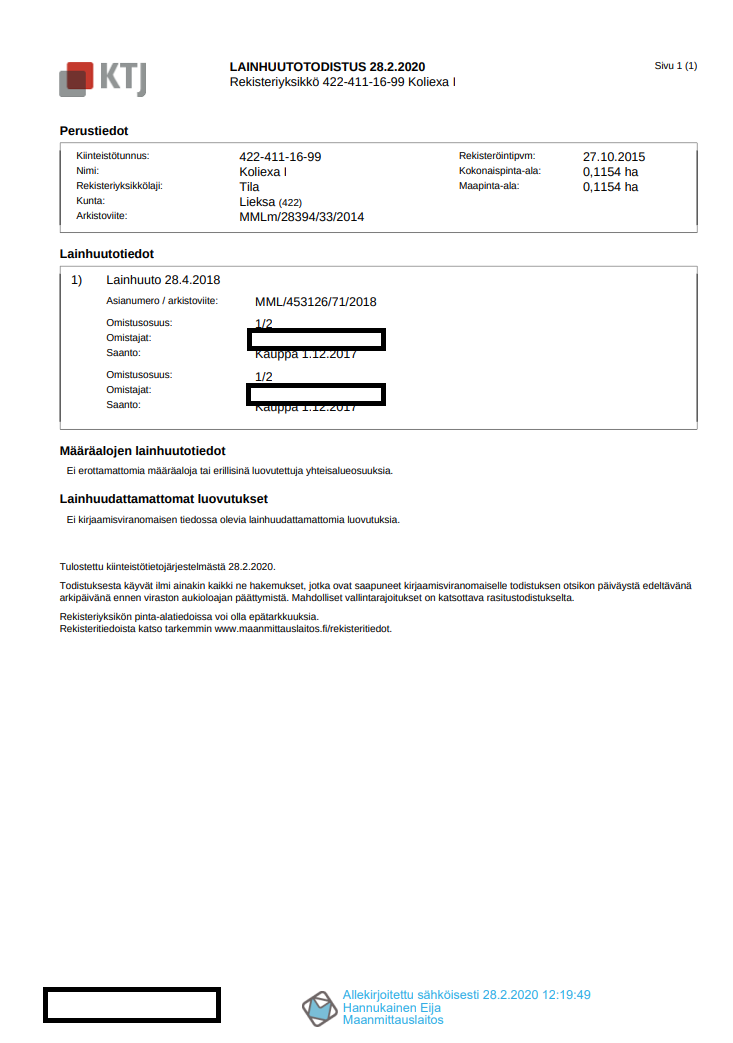 The following data is available in the register:
owner's data
ties-in
data on lease
data on easements
data on land utilization
cadastral number
number in a cadaster
area
registration unit
file number
shares
contact data of inspectorate's employees
Search criteria
full address
owner's name, ID number, date of birth, and social security number

Inquiries are processed from 30 minutes.
Service
Price incl. German VAT 19%
Price excl. VAT

Price for an electronic Extract from the land register of Finland

from

357,00

€

from

300,00

€

Price for the translation of an electronic Extract

from

41,65

€

from

35,00

€

Price for an Extract from the land register of Finland with apostille

from

357,00

€

from

300,00

€



The following documents may be obtained from the register:
cadastral issue
title certificate
certificate of mortgage and encumbrances
certificate of lease
extracts from maps
general statistical data
Extracts from the land register of Finland may be used for:
confirmation of title to real estate
receipt of information about the real estate
debt collection
analysis of prices for real estate
other commercial and analytical purposes
* some data may be unavailable for certain items, or may be provided for a fee.
Receipt of short information in electronic form is most often carried out for one working day. Approximately 2 weeks are required to obtain documents with apostille.
Extracts from the land register are provided subject to the laws of Finland and to the Law on personal data protection.
Moreover, you can order certified translation of your documents into any foreign language.
The requests shall be processed within one business day. Courier delivery of the apostilled extract shall be paid additionally according to the courier tariff rates.
Finland joined the Hague Convention on simplified legalization of documents on June 27, 1985. On August 26, 1985 the Convention came into force.
Thus, documents issued in Finland are subject to legalization based on the apostilling procedure, after certified translation such documents acquire full legal force on the territory of all other Hague Convention Member States.
As a rule of thumb, apostillation of extracts takes about two weeks.
Service
Price incl. German VAT 19%
Price excl. VAT

Price for an electronic Extract from the land register of Finland

from

357,00

€

from

300,00

€

Price for the translation of an electronic Extract

from

41,65

€

from

35,00

€

Price for an Extract from the land register of Finland with apostille

from

357,00

€

from

300,00

€