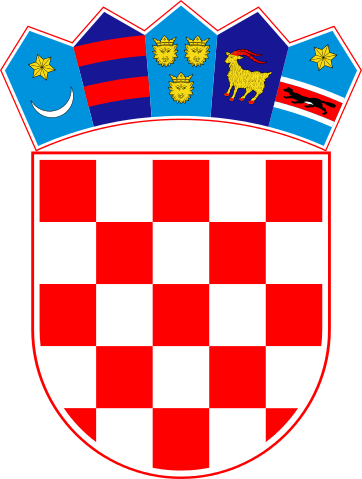 Our company Schmidt & Schmidt provides Extracts from the land register of Croatia with translation and Apostille.
Data on real estate in Croatia is stored together in two main systems: the Land book and the Cadastre.
The Land Book is maintained by community (municipal) courts and falls under responsibility of the Ministry of Justice of Croatia.
Tasks of the Land Book can be conditionally divided into information (informing citizens of real estate) and legal (confirmation of property and other rights of citizens).
Officials maintaining the Land Book are guided by the principles of:
registration (information entered in the register is deemed registered rights)
publicity (information entered in the register is public)
trust (protects rights of third-parties using the register)
consent (information may be entered in registers only upon mutual consent of parties)
legitimacy (a court determines whether all required procedures were implemented or not)
priority (determines who has advantage during registration of rights)
completeness (the entire legal situation around real estate is established)
specificity (activities in the Land Book are special and independent)
clarity (all data must be clear, and requirements – easily enforceable)
There are two mains ways of obtaining an extract from the Land Book: remotely via the Internet and personally in court or from authorized persons such as lawyers and notaries (since 2015).
It should be noted that an extract obtained via the Internet won't have a legal force, it is for information only and sometimes contains some mistakes.
An official confirmation of rights will be an official extract obtained after payment of a duty in a relevant community court or from specially authorized persons (notaries, lawyers).
Maintenance of the Cadaster pertains to the competence of the State Geodetic Administration of Croatia.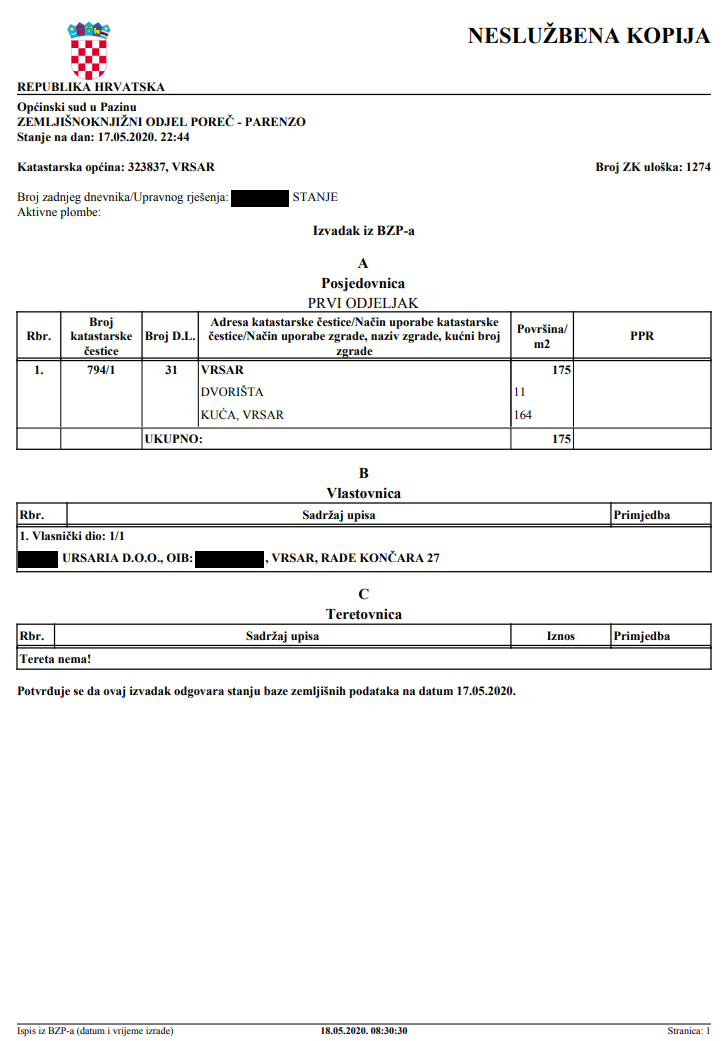 Land Book record consists of three sections:
sheet А – section of evidence containing general data such as cadastral number, type, area and purpose of land
sheet B – section of ownership containing such information as personal data of the owner of an object (full name, date of birth, identification number)
sheet С – section of encumbrances containing information about arrests, mortgages, pledges etc.
The Land Book contains information about:
right of ownership and other real rights
rights to repurchase, purchase, leasing, concession advantage
official relationships of owners
other legal facts subject to registration in the Land Book
Search criteria
cadastral number
land register number
owner's personal ID number (OIB)

Inquiries are processed from 30 minutes.
Service
Price incl. German VAT 19%
Price excl. VAT

Price for an electronic Extract from the land register of Croatia

from

59,50

€

from

50,00

€

Price for the translation of an electronic Extract

from

41,65

€

from

35,00

€

Price for an Extract from the land register of Croatia with apostille

from

366,50

€

from

300,00

€



Tasks of the Cadaster include:
determination of cadastral spatial units
cadastral examination
development and maintenance of cadastral documentation
The joint information system of the Land Book and Cadaster contains over 4 million files and 56 thousand cadastral maps.
107 departments of the Cadaster and 112 cadastral offices are now operating on the territory of Croatia.
Extracts from the land register of Croatia may be used for:
confirmation of title to real estate
receipt of information about real estate
debt collection
analysis of prices for real estate in different regions of Croatia
other commercial and analytical purposes
* some data may be unavailable for certain items, or may be provided for a fee.
Receipt of documents in electronic form is carried out for one working day. 2 weeks are required to obtain documents with apostille.
Extracts from the land register are provided subject to the laws of Croatia and to the Law on personal data protection.
Moreover, you can order certified translation of your documents into any foreign language.
The requests shall be processed within one business day. Courier delivery of the apostilled extract shall be paid additionally according to the courier tariff rates.
Croatia joined the Hague Convention on simplified legalization of documents on January 24, 1965, together with the rest of Yugoslavia. On April 5, 1993, Croatia announced its legal succession in regards to the Convention.
Thus, documents issued in Croatia are subject to legalization based on the apostilling procedure, after certified translation such documents acquire full legal force on the territory of all other Hague Convention Member States.
As a rule of thumb, apostillation of extracts takes about two weeks.
Service
Price incl. German VAT 19%
Price excl. VAT

Price for an electronic Extract from the land register of Croatia

from

59,50

€

from

50,00

€

Price for the translation of an electronic Extract

from

41,65

€

from

35,00

€

Price for an Extract from the land register of Croatia with apostille

from

366,50

€

from

300,00

€