Our company Schmidt & Schmidt provides Extracts from the land register of Germany with translation and Apostille.
Data on real estate in Germany is stored in the two closely related main systems: Cadastre and Land Register.
The Land Register covers the entire area of Germany: both private lands and land plots owned by the state, lands and local communities.
A legal framework for maintaining land registers in Germany is made up the 1897 German Civil Code, 1994, Regulation on cadastral registration, Law on arrangement of the land cadaster, and a number of bylaws.
Depending on local legislation, maintenance of cadastral registration in various lands falls within the jurisdiction of ministries of finance, economic development or internal affairs.
The Land Register is a register of land plots testifying to property legal relations. It is maintained by the court of the first instance, or by a notary (in Baden-Württemberg land). A special agency is responsible for maintaining the land register in court.
A land register extract consists of:
heading
inventory register with all cadastral parameters (community borders, communal land number, communal land plot number, size and method of use)
three sections (owners and method of land plot acquisition; encumbrances and limitations; pledge)
Search criteria:
full address
person's ID and real estate location
A separate land file contains certificates and judicial documents, on the basis of which amendments were made in the land register.
All rights to a land plot are registered in the Land Register. For each of them a separate sheet is used. In total, 61.3 million land plots are registered in land registers of Germany.
State land plots not being in circulation are not necessarily entered in the land register unlike the cadaster.
All contracts in respect of real estate objects shall be notarized in Germany (except for mortgage when only signatures are certified).
Information from land registers in Germany is not public. To receive information from the land register archives, one shpuld prove the legal interest. The right of free access to information is provided only to the Ministry of Justice, representatives of municipalities when they apply directly to the Agency, and the owner which familiarizes himself/herself with records without printing out.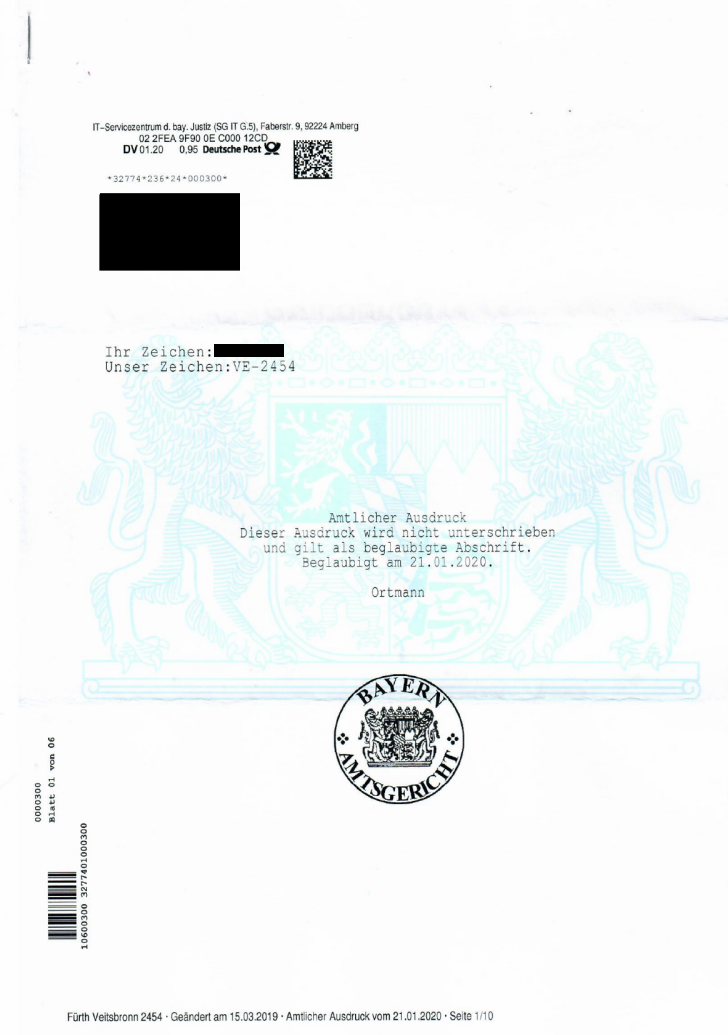 The extract from the land register contains:
registration number of a real estate object
location of a real estate object
borders
area
owner's data
grounds for accrual of a right of ownership
data on encumbrances
data on pledges
* some data may be unavailable for certain items, or may be provided for a fee.
Search and receipt of an extract are possible by the following criteria:
register number
cadastral unit
address
owner's name

Inquiries are processed from 30 minutes.
Service
Price incl. German VAT 19%
Price excl. VAT

Price for an electronic Extract from the land register of Germany

from

297,50

€

from

250,00

€

Price for the translation of an electronic Extract

from

41,65

€

from

35,00

€

Price for an Extract from the land register of Germany with apostille

from

357,00

€

from

300,00

€



Any person who proved his/her legitimate interest for access to information about a specific land plot may receive an extract from the Land Register in accordance with § 12 of the Regulation on the procedure for maintenance of Land Registers (Grundbuchordnung) . Representatives of certain professions (for example, notaries) are released from the obligation to prove an interest in obtaining information from the land register. Other applicants must submit to the relevant Land Agency a proof of the need for obtaining information from the Land Register. Information provided by the applicant shall be verified by officers of the agency in each particular case for possible violation of interests of a land plot owner by provision of specific data to an applicant. A creditor of the person recorded in the Land Register as the owner of a real estate object has a legitimate interest for obtaining an extract from the Land Register if he/she provides specific information about possible levy of execution on immovable property of a debtor within enforcement proceeding (even if a creditor does not possess an order of enforcement yet). The position of the judicial practice is such that a legitimate interest is present if an applicant provides to the Land Agency convincing arguments of his/her interest in obtaining information from the Land Register. An actual or economic interest of an applicant may appear to be sufficient if a proof provided by him/her enables to rule out that an applicant pursue illegal goals or is guided by idle curiosity.
Extract from the Land Register may be obtained by three methods: online request as part of automated access, during the personal visit of the Land Agency or by post in an ordinary or certified by the agency form.
Geodetic engineers performing cadastral works undergo careful selection and obtain a special certificate.
Tasks of cadastral registration in Germany: determination and establishment of rights of ownership to individual land plots; provision of legal guarantees of rights of ownership; registration of encumbrances.
Rights required for entry in the register
ownership
joint ownership
inherited development right
services
use
lien
preemptive right
sales right
Extracts from land registers may be obtained either in electronic or in paper form with apostille.
Extract from the land register of Germany may be used for:
confirmation of title to real estate
receipt of information about the real estate item
debt collection
analysis of prices for real estate in different regions of Germany
other commercial and analytical purposes
The following documents may be obtained from land register:
Print-out of the land register sheet
Extract affixed with a seal
Other available documents
The cadastral plan contains information about:
real estate location
borders of a real estate object
Receipt of documents in electronic form is carried out for one working day. 2 weeks are required to obtain documents with apostille.
Extracts from the land register are provided subject to the laws of Germany and to the Law on personal data protection.
Moreover, you can order certified translations of your documents.
The requests shall be processed within one business day. Courier delivery of the apostilled extract shall be paid additionally according to the courier tariff rates.
Germany joined the Hague Convention on simplified legalization of documents on December 15, 1965. Ever since February 13, 1966 the Convention came into force.
Thus, documents issued in Germany are subject to legalization based on the apostilling procedure, after certified translation such documents acquire full legal force on the territory of all other Hague Convention Member States.
As a rule of thumb, apostillation of extracts takes about two weeks.