Our company Schmidt & Schmidt provides Extracts from the land register of Switzerland with translation and Apostille.
Data on real estate of Switzerland are contained in a multi-level cadaster. The cadaster system operates at three levels: federal, cantonal and municipal.
The Federal Department of Land Cadaster and Real Estate employs 15 people. They address issues of strategic management of the cadastral system and supervision over its operations.
Cantonal cadaster departments operate at 26 cantonal governments. They employ 210 people. They are responsible for performing cadastral survey in relevant cantons. In one cantons this work is carried out by means of cadastral divisions themselves, in other ones – by private contractors.
Cadaster's divisions at the municipal and community level employ 2820 people. 90% of all cadastral works are performed at this level. Its significant part is performed by land use bureaus acting as state agents.
Main functions of the cadastral system:
registration of rights of ownership to property
register maintenance
As a matter of fact, they are confined to protection of the right of land ownership, and use of geometrical work methods serve namely this goal.
Contents of the Register:
master register containing a property number and sheet
registration book
plans based on cadastral survey
auxiliary registers (of owners, creditors)
entries in the register
The unified electronic land register is being established now. In one cantons information is processed and entered in it in full, in other ones – only partially, and full information may be obtained only from paper registers in place (in 5 cantons as of the end of 2017 less than half of information was converted in a digital form). Registers of Switzerland are deemed public.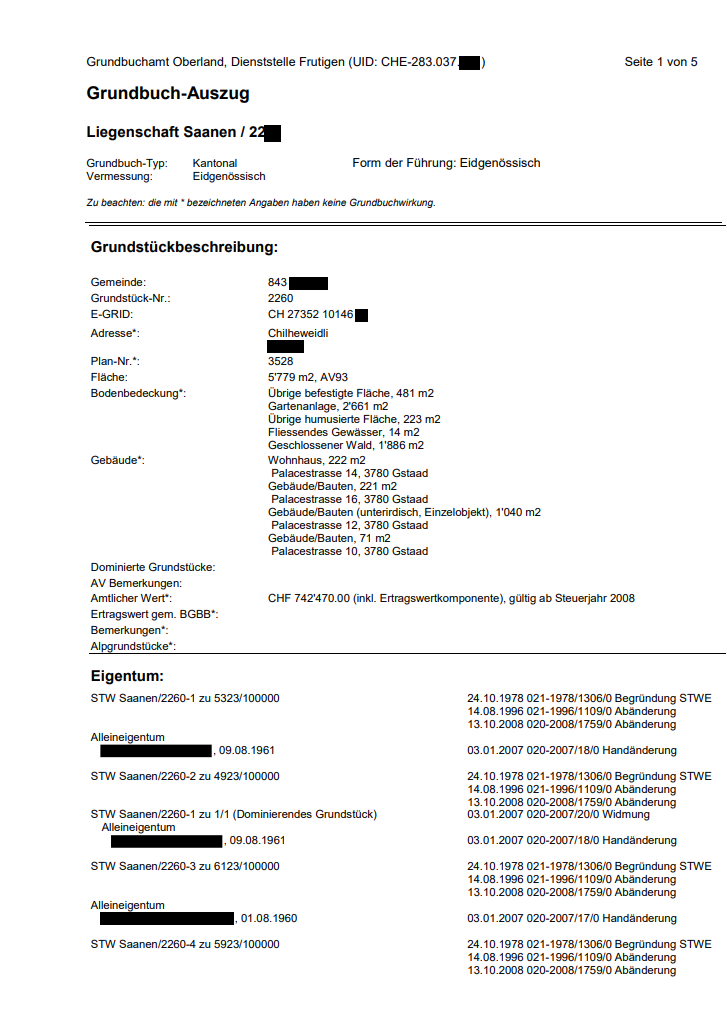 Public information in registers:
general description of a real estate object
owner's personal data
form of ownership
data of acquisition
encumbrances
*some data may be unavailable for certain items, or may be provided for a fee.
To obtain a more detailed information, a legitimate interest must be confirmed.
Information about transactions with real estate is published in a part of cantons.
Search criteria:
canton
full address
registration number
title number

Inquiries are processed from 30 minutes.
Service
Price incl. German VAT 19%
Price excl. VAT

Price for an electronic Extract from the land register of Switzerland

from

59,50

€

from

50,00

€

Price for the translation of an electronic Extract

from

41,65

€

from

35,00

€

Price for an Extract from the land register of Switzerland with apostille

from

273,70

€

from

230,00

€



Extracts from the Cadaster may be obtained either in electronic or in a paper form with apostille.
Extracts from the Cadaster of Switzerland may be used for:
confirmation of title to real estate
receipt of information about the real estate item
debt collection
analysis of prices for real estate
other commercial and analytical purposes
Receipt of documents in electronic form if necessary base information is available is normally carried out for one working day (if information is included in the electronic register). Approximately 2 weeks are required to obtain documents with apostille.
Extracts from the land register are provided subject to the laws of Switzerland and to the Law on personal data protection.
Moreover, you can order certified translation of your documents into any foreign language.
The requests shall be processed within one business day. Courier delivery of the apostilled extract shall be paid additionally according to the courier tariff rates.
Switzerland joined the Hague Convention on simplified legalization of documents on January 10, 1973. On March 11, 1973 the Convention came into force.
Thus, documents issued in Switzerland are subject to legalization based on the apostilling procedure, after certified translation such documents acquire full legal force on the territory of all other Hague Convention Member States.
As a rule of thumb, apostillation of extracts takes about two weeks.