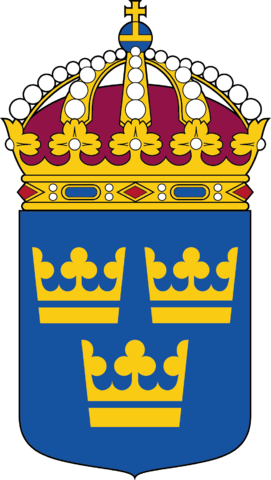 Our company Schmidt & Schmidt provides Extracts from the land register of Sweden with translation and Apostille.
The land register of Sweden is under the jurisdiction of the Land Cadaster Service (Lantmäteriet) falling under responsibility of the Ministry of Industry and Innovations.
Jurisdiction of the Service includes issues of registration of rights, mapping, geodetic and cadastral works.
The Service in its work is guided by the Land Code and Law "On Real Estate Generation".
The Register records:
right of ownership
lien
easement
property lease right
tenant right
right to power supply
Structure of the Register:
master register (includes the following data: designation of a register, former designation of a register, if any, cadastral numbers of real estate units, note of registration cancellation, address, area of a water surface, land and total area, number of a cadastral map, on which a unit was displayed, share in joint property, data on permitted target use of real estate, registration date, designation of a file, right etc.
register of coordinates (cadastral number, coordinates, catalogue)
register of plans (plans and individual solutions)
register of territory (designation, indices, map names)
register of addresses
cadastral maps (all basic information about real estate)
register of rights (ownership, rights of use, encumbrances, mortgage, declaration, history)
A "real estate unit" is land with buildings located on it is the main unit of the register.
The Register is public. However, online access to the register's portal is possible only for registered users. Access to the major part of register's information and receipt of extracts are carried out for money.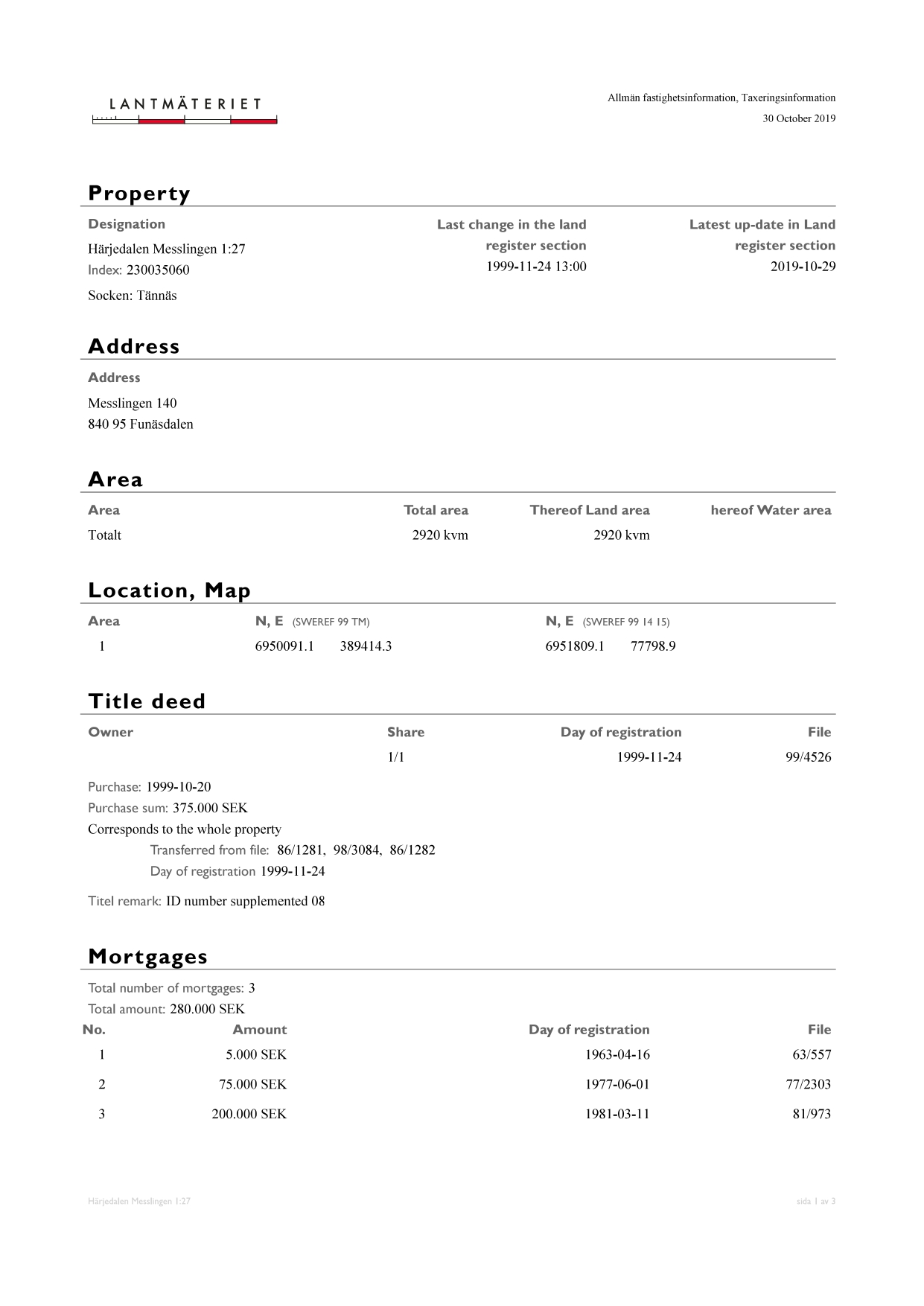 The main document provided from the Swedish real estate registers is a certificate from the electronic archive. This document is provided in Swedish or English and contains basic information about the property:
name of the authority that provided the information
basis for providing information
record number
registration date
grounds for the emergence of the right
reason for the entry
form of ownership
number of pieces
owner details
object data (general characteristics, cadastral number, address, purpose, area, additional information)
Search criteria:
full address
title number

Inquiries are processed from 30 minutes.
Service
Price incl. German VAT 19%
Price excl. VAT

Price for an electronic Extract from the land register of Sweden

from

59,50

€

from

50,00

€

Price for the translation of an electronic Extract

from

41,65

€

from

35,00

€

Price for an Extract from the land register of Sweden with apostille

from

357,00

€

from

300,00

€



Extracts from the register contain all basic information about the real estate unit.
Extracts from the land register of Sweden may be used for:
confirmation of title to real estate
receipt of information about the real estate
debt collection
analysis of prices for real estate
other commercial and analytical purposes
*some data may be unavailable for certain items, or may be provided for a fee.
Receipt of short information in electronic form is most often carried out for one working day. Approximately 2 weeks are required to obtain documents with apostille.
Extracts from the land register are provided subject to the laws of Sweden and to the Law on personal data protection.
Moreover, you can order certified translation of your documents into any foreign language.
The requests shall be processed within one business day. Courier delivery of the apostilled extract shall be paid additionally according to the courier tariff rates.
Sweden joined the Hague Convention on simplified legalization of documents on March 2, 1999. On May 1, 1999 the Convention came into force.
Thus, documents issued in Sweden are subject to legalization based on the apostilling procedure, after certified translation such documents acquire full legal force on the territory of all other Hague Convention Member States.
As a rule of thumb, apostillation of extracts takes about two weeks.