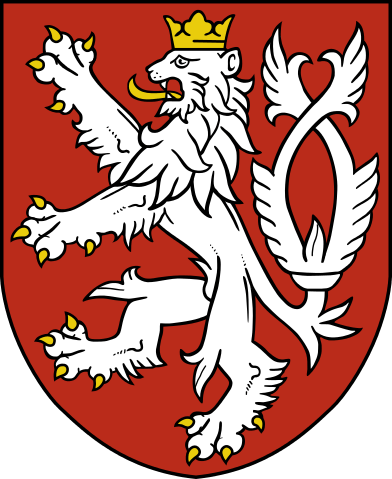 Our company Schmidt & Schmidt provides Extracts from the land register of Czech Republic with translation and Apostille.
The land cadastre (Katastr nemovitostí) of Czech Republic is under the jurisdiction of the Czech Department of Geodesy and Cadastre (Český úřad zeměměřický a katastrální).
The Czech department of geodesy and cadastre is a central state authority directly subordinate to the government of Czech Republic.
The Cadastre is a public land register database which comprises the list of land register of the country (with information pertaining to its inventory, geodetic and geographic characteristics).
The Cadastre maintains record of property and other rights related to real estate.
The Cadastre is used with a view to protect property rights of people, accrual of taxes, protection of environment and cultural heritage of Czech Republic.
The base territorial unit in the Cadastre is cadastral territory (katastrální území). The whole country is divided into cadastral territories. Each land register object within a cadastral territory has its own unique serial number (číslo popisné) which together with an ordinary (tentative) number is displayed on the facade of Czech buildings. "Cadastral" plates are of red colour, and tentative plates – of blue colour. When specifying address, as a rule, both numbers are specified simultaneously. However, only a serial number is used in the Cadastre.
Land plots in the cadastre also have their own unique number – land plot number (Parcelní číslo).
Alteration of rights to a land plot is carried out through a "contribution" procedure (vklad). It is preceded by a "proposal"(návrh) – properly submission of documents to a cadastral office. After a "proposal" specially authorized officials review documents (procedure - řízení). Depending on the results of examination the "contribution" procedure is either permitted or rejected.
The administrative structure of the Cadastre consists of cadastral departments (Katastrální úřad) and cadastral offices (Katastrální pracoviště). There are 14 cadastral departments and 94 cadastral offices in Czech Republic. Besides, 7 cadastral inspectorates operate. Apart from departments, offices and inspectorates, the department of geodesy and cadastre comprises the research institute of geodesy, cartography and topography.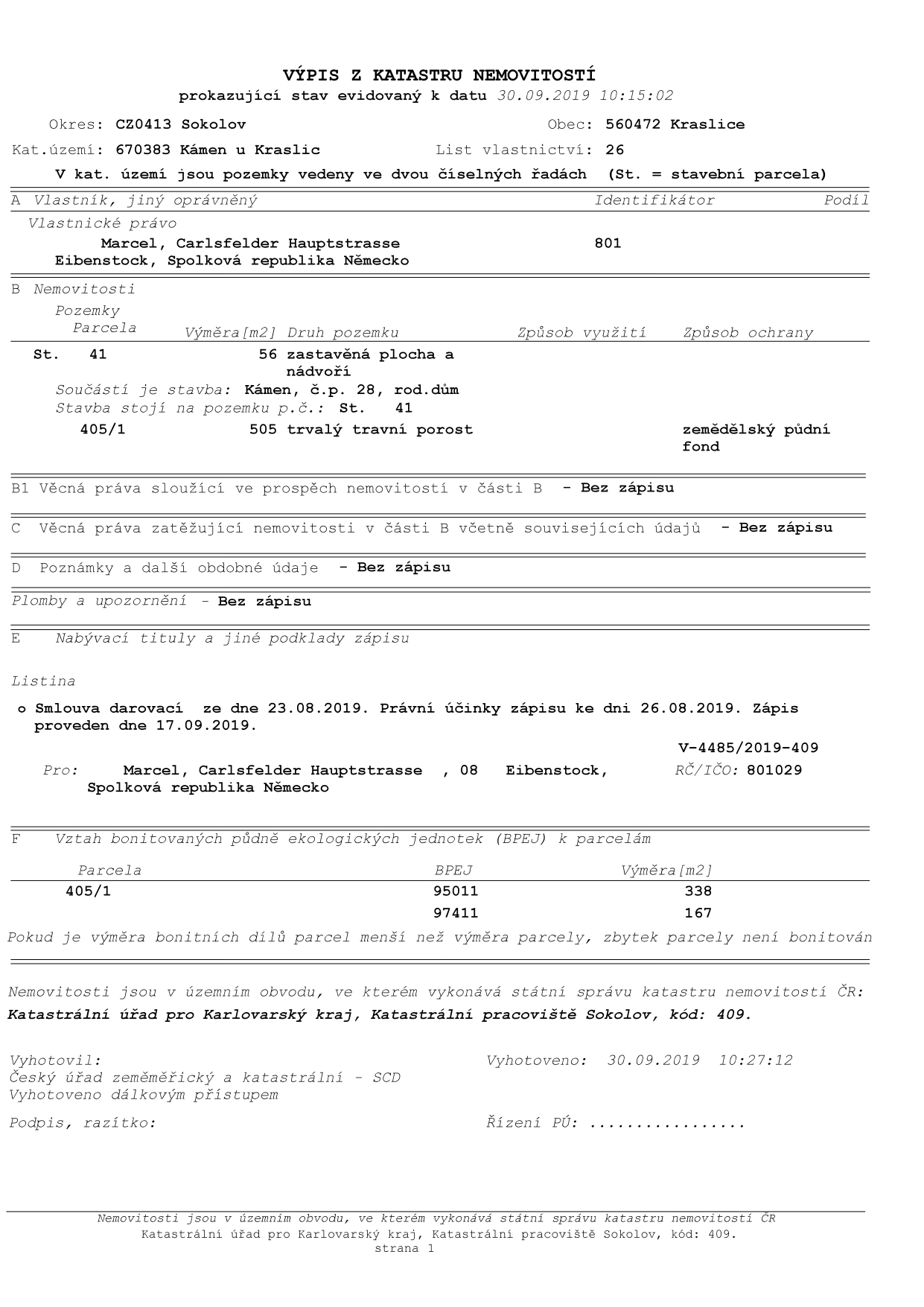 Extracts from the land register contain:
data on the location of an object with a serial number
area
intended use
type of land
data on the owner
data on property rights
*some data may be unavailable for certain items, or may be provided for a fee.
Search criteria
settlement
cadastral territory
title number

Inquiries are processed from 30 minutes.
Service
Price incl. German VAT 19%
Price excl. VAT

Price for an electronic Extract from the land register of Czech Republic

from

59,50

€

from

50,00

€

Price for the translation of an electronic Extract

from

41,65

€

from

35,00

€

Price for an Extract from the land register of Czech Republic with apostille

from

297,50

€

from

250,00

€



On the special website of the Cadastre, one may obtain the information regarding:
stage of review of documents submitted to the Cadastre
data on a specific real estate object
Extracts from the Cadastre may be obtained in electronic or written form. To do this, one must apply to one of the Cadastre's offices, on the web-site of the Cadastre or one of post offices of Czech Republic. The Register is public, however a duty must be paid to obtain access to it.
Real estate in the Cadastre is divided into three categories:
land plots
buildings
premises
Recordings of real estate owners are maintained by means of a "certificate of ownership".
Extracts from the land register of Czech Republic may be used for:
confirmation of title to real estate
receipt of information about the real estate
debt collection
analysis of prices for real estate in different regions of Czech Republic
Receipt of documents in electronic form is carried out for one working day. 2 weeks are required to obtain documents with apostille.
Extracts from the land register shall be provided subject to the laws of Czech Republic and to the Law on personal data protection.
Moreover, you can order certified translation of your documents into any foreign language.
The requests shall be processed within one business day. Courier delivery of the apostilled extract shall be paid additionally according to the courier tariff rates.
Czech Republic joined the Hague Convention on simplified legalization of documents on June 23, 1998, 2006. On March 16, 1999 the Convention came into force.
Thus, documents issued in Czech Republic are subject to legalization based on the apostilling procedure, after certified translation such documents acquire full legal force on the territory of all other Hague Convention Member States.
As a rule of thumb, apostillation of extracts takes about two weeks.