Schmidt & Schmidt provides Extracts from the land register of Portugal with Apostille and translation.
Data on real estate in Portugal are contained in two main independent systems: land register (Registo Predial) and Cadastre.
The Land Register is under the jurisdiction of land register offices being part of the Institute of registers and notariat.
The Land Register System is under the jurisdiction of the Ministry of Justice of Portugal.
The Cadastre System is under the jurisdiction of the Ministry of Environment of Portugal.
The Land Register addresses the issues of rights' registration, and the cadastre – mapping and geodesy.
The existing land register system began to be established in early ХХ century. In 1995 и 2017 it was reformed.
In the long term it is planned to establish direct digital communication between the land register and Cadastre, however, unification of information is still carried out through bureaucratic procedures.
Contents of the Land Register
legal facts leading to establishment, recognition, acquisition or alteration of rights of ownership, use, utilization and housing or easements;
legal facts leading to establishment or alteration of ownership to flats and rights to permanent residence;
legal facts, which cancel rights of ownership and use of housing, residence in it;
legal facts related to separation or joint ownership of land plots;
data on ownership;
data on encumbrances and privileges;
data on property transfer to creditors;
data on mortgage;
data on guarantees;
data on leasing;
data on seizure and declaration of insolvency;
data on pledges and confiscation;
data on concessions;
data on indemnities;
data on restriction of the right of ownership;
data on recognition, establishment, alteration or termination of rights;
data on recognition of record invalid;
data on procedures limiting free property disposal.
Registrars in their works are guided by legitimate interest principles (record is made by the request of those one who is in a legal position of an owner), legality, general record making rules; dependence of a record on a previous one.
Besides, there is Casa Pronta, which enable to make a number of real estate transactions online.
Information about a legal status of real estate and registration applications is public and fully available for obtaining an extract (including online using an electronic certificate via Predial Online service) in the event that paid subscription is issued.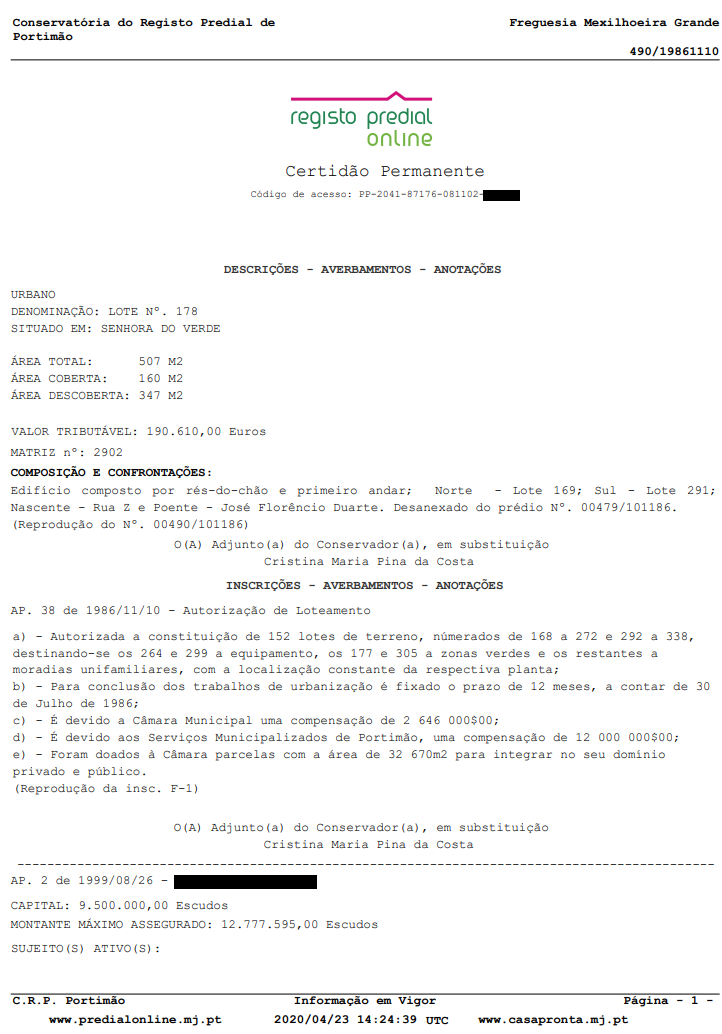 Extract from the Real estate register of Portugal contains:
object registration number
location
object type
owner's details
legal status
object size data
additional data
encumbrance data
* some of the data may not be available for a specific object, or may be provided for a fee.
Search criteria:
full address
unique number of a property

Inquiries are processed from 30 minutes.
Service
Price incl. German VAT 19%
Price excl. VAT

Price for an electronic Extract from the land register of Portugal

from

95,20

€

from

80,00

€

Price for the translation of an electronic Extract

from

41,65

€

from

35,00

€

Price for an Extract from the land register of Portugal with apostille

from

297,50

€

from

250,00

€



Extract from the land register of Portugal may be used for:
confirmation of title to real estate
receipt of information about the real estate
debt collection
analysis of prices for real estate in different regions of Portugal
other commercial and analytical purposes
* some data may be unavailable for certain items, or may be provided for a fee.
Time for obtaining documents depends on their type. Document may be provided with apostille.
Extracts from land register of Portugal are provided subject to the laws of Portugal and to the Law on personal data protection.
The requests shall be processed within one business day. Courier delivery of the apostilled extract shall be paid additionally according to the courier tariff rates.
Portugal joined the Hague Convention on simplified legalization of documents on December 6, 1968, since February 4, 1969 the Convention came into force.
Thus, documents issued in Portugal are subject to legalization based on a simplified procedure - apostilling, after certified translation such documents acquire full legal force on the territory of all other Hague Convention Member States.
As a rule, apostillation of extracts takes about two weeks.
Moreover, you can order certified translation of documents.