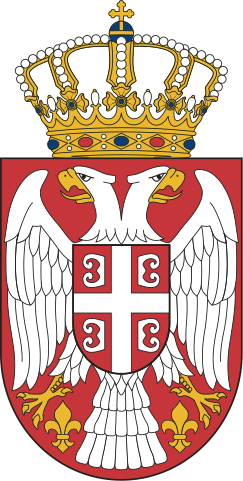 Our company Schmidt & Schmidt provides Extracts from the land register of Serbia with translation and Apostille.
Data on real estate in Serbia is stored in the Cadaster. The Cadaster is under the jurisdiction of the Republican Department of the Geodesy Republički geodetski zavod (RGZ).
Functions of the Cadaster:
state survey
geodesy
cartography
cadaster maintenance
registration of rights to real estate
real estate estimation
Information available online:
address
legal status
area
owner
More detailed data are available only to authorized users.
Search is available by address and location.
Since 2018, real estate registration has been carried out based on a simplified procedure. Now data in RGZ are given by a notary. Then data are automatically transmitted to the state administration and municipalities.
The following documents may be obtained from the register:
documents on commissioning of a building
mortgage registration
documents on object status change
plan copy
certificate
certificate of identification
certificate of history
certificate of address change
Besides, a register containing data on transaction and value of real estate works on the RGZ basis.
Extracts from the Cadaster may be obtained either in electronic or in a paper form with apostille.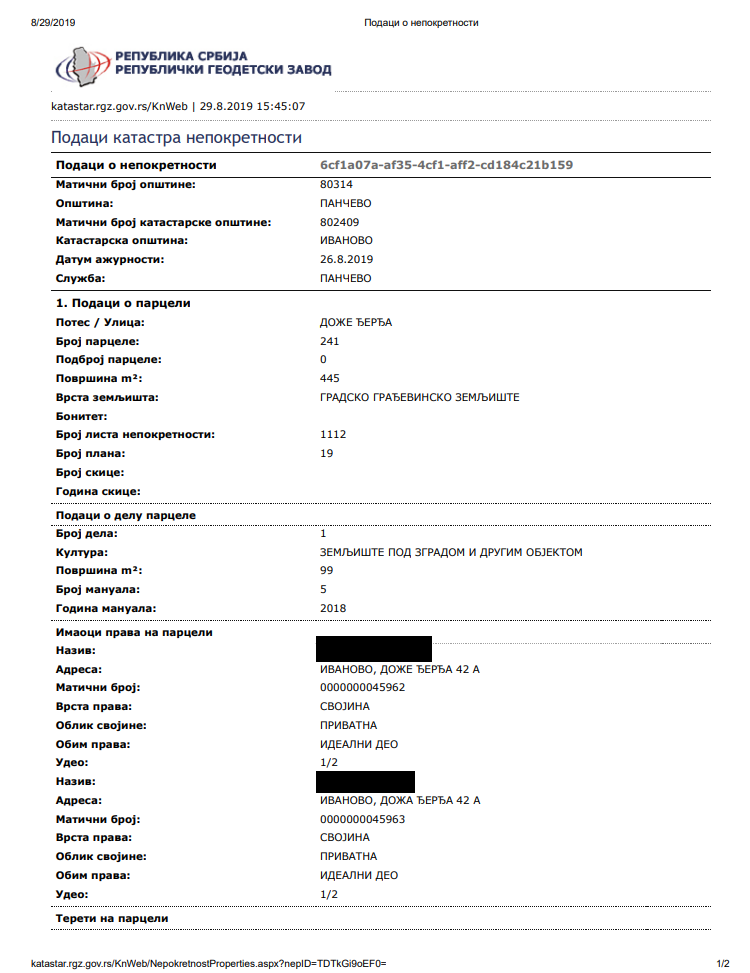 Extract from the Real estate register of Serbia contains:
property registration number
location of the property
area
owner's details
legal status
data on encumbrances
collateral data
* some data may be unavailable for certain items, or may be provided for a fee.
Search criteria:
full address
title number

Inquiries are processed from 30 minutes.
Service
Price incl. German VAT 19%
Price excl. VAT

Price for an electronic Extract from the land register of Serbia

from

59,50

€

from

50,00

€

Price for the translation of an electronic Extract

from

41,65

€

from

35,00

€

Price for an Extract from the land register of Serbia with apostille

from

297,50

€

from

250,00

€



Extracts from the Cadaster of Serbia may be used for:
confirmation of title to real estate
receipt of information about the real estate
debt collection
analysis of prices for real estate
other commercial and analytical purposes
Receipt of documents in electronic form if necessary base information is available is normally carried out for one working day. Approximately 2 weeks are required to obtain documents with apostille.
Extracts from the land register are provided subject to the laws of Serbia and to the Law on personal data protection.
Moreover, you can order certified translation of your documents from Danish into any foreign language.
The requests shall be processed within one business day. Courier delivery of the apostilled extract shall be paid additionally according to the courier tariff rates.
Serbia joined the Hague Convention on simplified legalization of documents on January 24, 1965. On April 26, 2001 the Federal Republic of Yugoslavia announced its legal succession in respect of the Convention and on June 9, 2006, Serbia announced on legal succession in regards of the Convention due to the withdrawal of Montenegro from the confederal union with Serbia.
Thus, documents issued in Serbia are subject to legalization based on the apostilling procedure, after certified translation such documents acquire full legal force on the territory of all other Hague Convention Member States.
As a rule of thumb, apostillation of extracts takes about two weeks.