Schmidt & Schmidt provides extracts from the commercial register of British Virgin Islands with a translation and an apostille.
British Virgin Islands (BVI, known officially as simply Virgin Islands) are a British Overseas Territory, located in the Lesser Antilles in the Atlantic Ocean to the east of Puerto Rico. This is a self-governing territory of the United Kingdom; local population are British citizens, and subsequently the citizens of the European Union, even though this territory is not a part of the EU nor directly subject to the EU law. Queen Elizabeth II is the head of state, represented here by the Governor of the Virgin Islands. Local currency is the United States dollar. Official language is English.
British Virgin Islands are one of the oldest tax havens in the world and one of the most prominent players in the global offshore services sector. According to Transparency International, BVI hosted 430000 offshore companies as for June 2016, which means 15 companies per person in the territory with the population of 28 000 people.
Transparency of business activities on BVI is very low: businesses are exempted from audit, submission of financial statements, disclosure of information about director and shareholders. G20 describes local banking system as "opaque".
There are four major "pillars" of economy on BVI – financial services, tourism, agriculture, and fishing. Financial services made BVI one of the most prosperous territories in the Caribbean with one of the highest incomes per capita. According to the Government of BVI, 52% of Government's revenue come directly from license fees for offshore businesses. BVI authorities have been offering offshore registration to companies from mid-1980's, and by unofficial statistics, there are almost 1 million companies registered here today. This number is approximate, since there is no public source that would contain up-to-date information about companies, including dissolved and liquidated. The search in the company register of British Virgin Islands is only possible by written request and for a fee.
Business activities on BVI are regulated by the 2004 BVI Business Companies Act. This is a consolidated version of International Companies Act, 1984, known as "the most important piece of legislation on BVI history since the emancipation" as it played a core role in economic development of the Islands.
The commercial register of British Virgin Islands is administered by the BVI Financial Services Commission.
Contents of the register
The main type of extract available from the business register of BVI is a company profile, called Company Search Report. It is issued by the Registrar of the Financial Services Commission and contains the following information:
Name of the company
Type of business
Registration date and number
Legal address
Registrar's details
Current status (active or inactive)
Bankruptcy and dissolution procedures
Registered capital
Issued shares
Registration fees payment details
List of submitted documents
NB: Information about some companies may be unavailable.
Sample does not contain information about founders, directors, or shareholders, unless it had been submitted voluntarily.
Sample of Company Search Report with apostille
Sample of Certificate of Good Standing BVI
Search in the register is not free of charge. If there are no search results (wrong company details or absence of company in the register), expenses are not reimbursed.
Search results are usually provided within 3 working days.
To get a required document, we will need the following information about a company:
Full legal name
Registration number
Other available documents
Certificate of Incorporation – confirms company's registration on BVI.
Certificate of Good Standing – an official document that confirms a company's solvency, reliability, and right to do business on BVI. This certificate is only issued to companies that fully comply with the requirements in terms of taxation and financial reports submission.
Memorandum and/or Articles of Association – in copy.
Certified Certificate of Name Change.
Special Worded Certificate – certificate that presents specific information, such as dissolution details.
Main types of businesses on BVI
Company Limited by Shares
Company Limited by Guarantee
Company limited by guarantee authorised to issue shares
Unlimited company with or without shares
Restricted purposes company
Segregated portfolio company
The most common type of business on BVI is Company Limited by Shares, also known as Business Companies Act company (BC or BCA). This is one of the most common types of offshore companies in the world.
An extract from the business register of BVI can be used in order to:
Obtain detailed information about potential business partners
Negotiate foreign trade agreements
File legal claims
British Virgin Islands acceded to the The Hague Convention Abolishing the Requirement of Legalization for Foreign Public Documents on 24 February 1965, as a part of the United Kingdom.
Therefore, the documents issued on BVI are subject to a simplified apostilling procedure, thus the documents gain full legal value in Convention member states after notarised translation.
Apostilling usually takes about three weeks.
In addition, you can order notarised translation from English.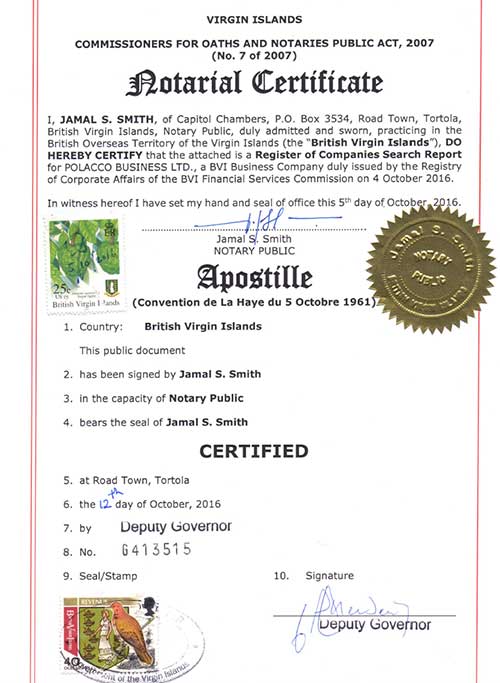 We provide extracts from the register in strict compliance with the legislation of the British Virgin Islands, the United Kingdom, and the General Data Protection Regulation.
Inquiries are processed within one working day. Courier delivery of apostilled documents is paid separately by courier service tariffs.
You can order free preliminary availability check of required information on our website.
Service
Price incl. German VAT 19%
Price excl. VAT

Price for an Electronic Extract

from

71,40

€

from

60,00

€

Price for an Extract with Apostille without international shipping

from

523,60

€

from

440,00

€



Do you have any questions about the offer? Contact us and arrange a free of charge consultation!