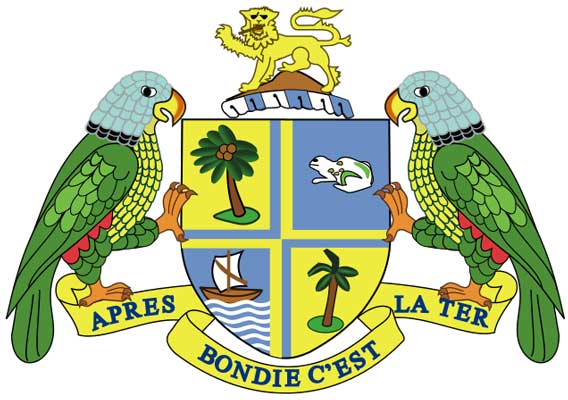 Schmidt & Schmidt provides extracts from the commercial register of Dominica with a translation and an apostille.
The Commonwealth of Dominica is an island country in the Lesser Antilles in the Caribbean, located between Guadeloupe to the north and Martinique to the south. Dominica gained independence from the United Kingdom in 1978, and became an independent realm within the Commonwealth of Nations. Dominica is a republic with the president as the head of state. Local currency is the East Caribbean dollar. Official language is English.
Traditionally, the economy in Dominica was based on agriculture. Nowadays it is gaining popularity as a major international financial services centre, with the main focus on offshore banking.
First of all, an International Business Company (the most common type of an offshore business) can be easily registered here, even over the Internet.
Secondly, Dominica offers high level of confidentiality, broad range of provided services, low fees for licensing, no obligation on financial reporting, and full tax exemption.
Lastly, there is the Dominica Economic Citizenship Program that legally allows to get citizenship in Dominica by investing 100 000 USD (per person – 200 000 USD for a family of four, with two underage children). Initial citizenship is not revoked, physical presence in Dominica is not required, neither is any interview. This is also the cheapest program of its kind.
Solid privacy laws make obtaining information about companies in Dominica highly problematic. This information is kept by the Registrar who is usually only allowed to disclose it by court order or by prosecutor's demand. Unlawful disclosure of information (by Registrar, auditor or bankruptcy commissioner) results in a fine up to 25 000 USD.
Dominica managed to avoid the black list of OECD by committing to reforming its taxation to fit the international standards. Today OECD classifies Dominica as "provisionally largely compliant" in tax cooperation matters, and its progress its carefully monitored. The European Union has demanded Dominica to abolish the current tax regime by the end of 2018.
Business activities in Dominica are regulated by, inter alia, 1994 Companies Act, 1996 International Business Companies Act, and 1999 Patent Act. Local legislation is based on the English Common law.
Main types of businesses in Dominica
International Business Companies
Private Limited Liability Companies
Public Limited Liability Companies
Non-profit Companies
Individual entrepreneurs
Partnerships
Commercial register of Dominica is administered by the National Companies and Intellectual Property Registry for the Commonwealth of Dominica (CIPO), a Department of the Ministry of Tourism and Legal Affairs. CIPO was established by the Patent Act in 1999.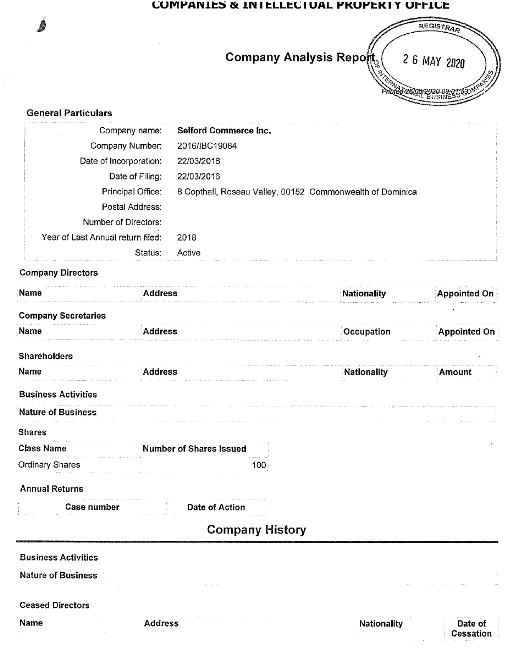 Company profile is up-to-date company information and its corporate documents submitted in the register.
Extract from commercial register of Dominica contains following information:
Full legal name
Registration number
Registration date
Type of business
Current status (active or inactive)
Type of business
Full address
Registrar's details
NB: Amount of information depends on the type of business. Information about some companies may be unavailable, or available for a fee.
To get a required document, we will need the following information about a company:
Full legal name
Registration number
Search in the register is not free of charge. Search results are usually provided within 3-5 working days.

Inquiries are processed from 30 minutes.
Service
Price incl. German VAT 19%
Price excl. VAT

Price for an Electronic Extract

from

357,00

€

from

300,00

€

Price for an Extract with Apostille without international shipping

from

714,00

€

from

600,00

€



Certificate of Good Standing is an official document that confirms a company's solvency, reliability, and right to do business in Dominica. This certificate is only issued to companies that fully comply with the requirements in terms of taxation and financial reports submission.
Certificate of Incorporation confirms company's registration in Dominica.
Memorandum and articles of association is in copy.
An extract from the business register of Dominica can be used in order to:
Obtain detailed information about potential business partners
Negotiate foreign trade agreements
File legal claims
Dominica acceded to the The Hague Convention Abolishing the Requirement of Legalization for Foreign Public Documents on 22 October 2002.
Therefore, the documents issued in Dominica are subject to a simplified apostilling procedure, thus the documents gain full legal value in Convention member states after certified translation.
In addition, you can order certified translation from English.
We provide extracts from the register in strict compliance with the legislation of the Commonwealth of Dominica and the General Data Protection Regulation.
Inquiries are processed within one working day. Courier delivery of apostilled documents is paid separately by courier service tariffs.
You can order free preliminary availability check of required information on our website.