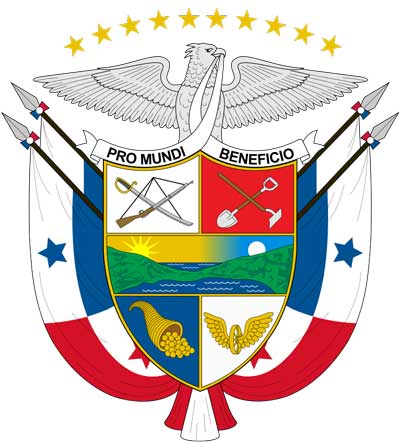 Schmidt & Schmidt provides extracts from the commercial register of Panama with a translation and legalization.
Republic of Panama is a sovereign state in Central America. This is a presidential constitutional republic. Local currencies are the Panamanian balboa and the US dollar. Official language is Spanish.
Panama manages the Panama Canal – an artificial waterway that connects the Pacific and the Atlantic. Due to the key location of the canal, a significant part of the local GDP is made up of the revenue from the canal tolls, as well as international trade. Geographical location of Panama also contributes to its service sector, trade, commerce, and tourism.
Panama Canal is directly tied with the Panama's reputation of a tax haven. Revenues from the canal led to the establishment of the Regional Financial Centre – the largest of its kind in Central America. Thus, Panama became one of the most famous tax havens in the world, with the history of tax avoidance beginning in the early 20th century.
Panama is famous for the largest-scale offshore scandal. A database belonging to the Panamanian law firm Mossack Fonseca leaked online in 2016 and became known as the Panama Papers. The Panama Papers are 11.5 million documents containing confidential information about more than 214 000 offshore entities, many of which are affiliated with politicians, public officials, and celebrities of most countries in the world. A lot of these offshore entities were used for illegal purposes.
Today there are over 350 000 international business companies registered in Panama today. After the leak of Panama Papers, the country has been in the spotlight of the international organisations. At this moment, OECD classifies Panama as "provisionally largely compliant" in tax cooperation matters. The European Union excluded Panama from the black list of uncooperative jurisdictions for tax purposes due to Panama's commitment to "amend or abolish" the current taxation regime by the end of 2018.
Commercial register of Panama (Registro Público de Panamá) was created in 1913 by the Ministry of Justice. It has been an autonomous legal entity since 1999.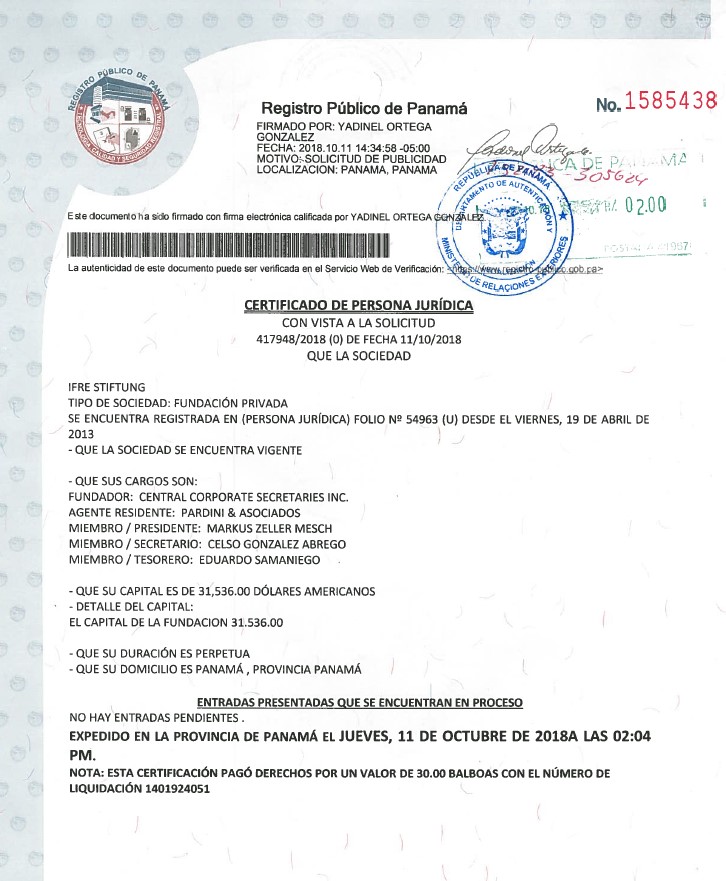 Main extract available from the business register of Panama is a company profile. It comes in the Spanish language and contains information about a company, relevant at the moment of the request.
Current extract from commercial register of Panama contains following information:
Full legal name
Registration number and date
Type of business
Legal address
Current status (active/inactive) and date status changed
Main activities
Founders, owners and key management
Official representatives
Registered capital
Registrar's details
Shareholders
Meetings reports
Other information
NB: Information about some companies may be unavailable, or available for a fee.
You can also get following documents:
Certificado del Registro Publico is an official document that confirms a company's solvency, reliability, and right to do business in Panama. This certificate is only issued to companies that fully comply with the requirements in terms of taxation and financial reports submission.
Certificate of Incorporation
Memorandum and Articles of Association
Certificate of reconstitution of the company
To get a required document, we will need the following information about a company:
Full legal name
Registration number
Service
Price incl. German VAT 19%
Price excl. VAT

Price for an Electronic Extract

from

59,90

€

from

50,00

€

Price for an Extract with Apostille without international shipping

from

535,50

€

from

450,00

€



Main types of businesses of Panama
Sociedad Anónima is joint-stock company;
Asociación General Panameña is General Panamanian Association;
Sociedad de Responsabilidad Limitada Panameña is Panamanian limited liability partnership;
Sociedad Civil Panameña is Panamanian civil soicety;
Empresa Individual is individual entrepreneurship.
There are also trusts, funds, and permanent establishments of foreign companies.
An extract from the business register of Panama can be used in order to:
Obtain detailed information about potential business partners
Negotiate foreign trade agreements
File legal claims
Panama acceded to the The Hague Convention Abolishing the Requirement of Legalization for Foreign Public Documents on 30 October 1990.
Therefore, the documents issued in Panama are subject to a simplified apostilling procedure, thus the documents gain full legal value in Convention member states after notarised translation.
In addition, you can order notarised translation from Spanish.
We provide extracts from the register in strict compliance with the legislation of the Republic of Panama and the General Data Protection Regulation.
Inquiries are processed within one working day. Courier delivery of apostilled documents is paid separately by courier service tariffs.
You can order free preliminary availability check of required information on our website.