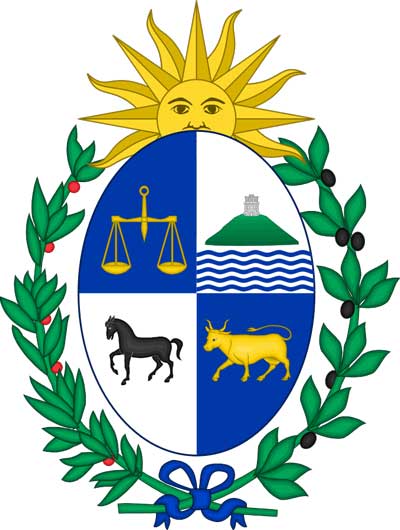 Schmidt & Schmidt provides extracts from the commercial register of Uruguay with a translation and an apostille.
Oriental Republic of Uruguay is a sovereign state in South America. It is located in the south east of the continent, bordered by Brazil and Argentina. Uruguay is a presidential constitutional republic. Local currency is the Uruguayan peso. Official language is Spanish. Uruguay is a member of the United Nations, Organisation of American States, Mercosur, and UNASUR.
Uruguay is one of the most prosperous countries in Latin America, ranking high in such aspects as peace, low corruption perception, democracy, education, and absence of terrorism. Economy of Uruguay is dominated by the services sector (about 72% of GDP) and is oriented at exports of agricultural products.
Uruguay is not considered an offshore centre or a tax haven. OECD classifies Uruguay as "largely compliant" in tax cooperation matters.
Business activities in Uruguay are regulated by the 2010 Civil Code and other relevant laws.
Main types of businesses in Uruguay
Sociedades de responsibilidad limitada – limited liability companies
Sociedades de zona franca – free trade zone corporations
Sociedades anonimas ("S.A.") – joint-stock companies
There are also individual entrepreneurs and several types of partnerships (general, limited, etc.).
Registration of companies in Uruguay is in the competence of the Electronic Government Agency and Information and Knowledge Society (Agencia de Gobierno electrónico y Sociedad de la Información y del Conocimiento – AGESIC). A "business in one day" program is carried out within the AGESIC framework. AGESIC is subordinated directly to the President of Uruguay.
Commercial register of Uruguay is managed by the Directory of Industrial Enterprises, a subsidiary to the Ministry of Industry, Energy and Mining. Information in the register is available in Spanish. Register of Micro, Small and Medium Enterprises is managed by the National Institute of Statistics.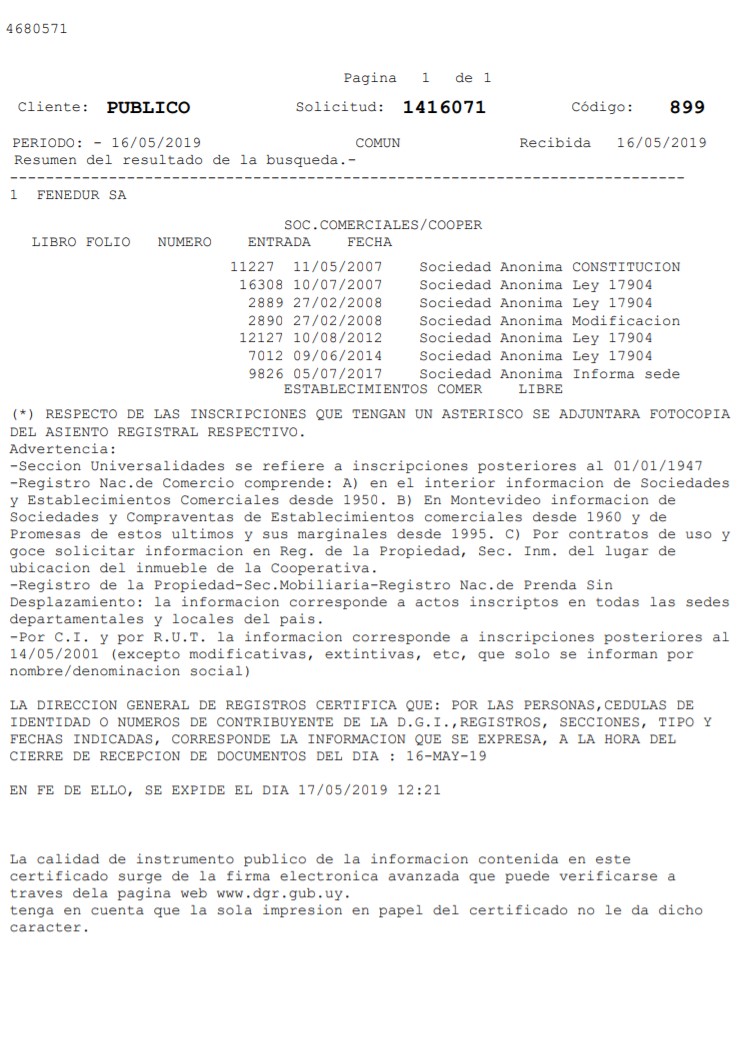 Contents of the register
Main extract available from the business register of Uruguay is a company profile. It comes in the Spanish language and contains information about a company, relevant at the moment of the request.
Full legal name
Type of business
Legal address
Current status (active/inactive)
Main activities
Registered capital
Owners, key management, shareholders
Subsidiaries and affiliated companies
Corporate statistics
Statutory documents
Certificate of Incorporation
NB: Information about some companies may be unavailable.
There is no Certificate of Good Standing per se, but it is possible to obtain an equivalent, called Certificate of the National Commercial Registry.
Search in the register is not free of charge. Search results are sent to you within 14 days after request submission.
To get a required document, we will need the following information about a company:
Service
Price incl. German VAT 19%
Price excl. VAT

Price for an Electronic Extract

from

654,50

€

from

550,00

€

Price for an Extract with Apostille without international shipping

from

952,00

€

from

800,00

€



An extract from the business register of Uruguay can be used in order to:
Obtain detailed information about potential business partners
Negotiate foreign trade agreements
Register legal entities with foreign participation
File legal claims
Uruguay acceded to the The Hague Convention Abolishing the Requirement of Legalization for Foreign Public Documents on 9 February 2012.
Therefore, the documents issued in Uruguay are subject to a simplified apostilling procedure, thus the documents gain full legal value in Convention member states after certified translation.
In addition, you can order certified translation from Spanish.
We provide extracts from the register in strict compliance with the legislation of the Oriental Republic of Uruguay and the General Data Protection Regulation.
Inquiries are processed within one working day. Courier delivery of apostilled documents is paid separately by courier service tariffs.
You can order free preliminary availability check of required information on our website.