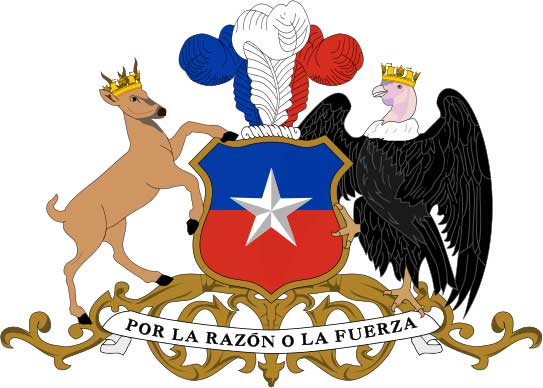 Schmidt & Schmidt provides extracts from the commercial register of Chile with a translation and an apostille.
Republic of Chile is a sovereign state in South America. It is a unitary presidential constitutional republic. Local currency is the Chilean peso. National language is Spanish. Chile is a founding member of the United Nations, Union of South American Nations (UNASUR), and Community of Latin American and Caribbean States (CELAC). Chile is also the only South American member of the Organisation for Economic Co-operation and Development (OECD).
Nowadays Chile is one of the most prosperous countries in Latin America. Chilean economy is described by the World Bank as "high-income", and it has got high living standards. Chile is the leader of its region in such rankings as income per capita, economic freedom, human development, development, and perception of corruption. At the same time, Chile has got a high Gini index, which means high economic inequality.
The main sectors of local economy are services (about 70% of labour force involved) and industry (23%). There are about 1 million commercial companies registered in Chile.
Chile is not an offshore centre. OECD classifies Chile as a "largely compliant" jurisdiction in tax information exchange.
Chilean legal system is classified in a separate Chilean law subcategory – legislation inspired by the Napoleonic Civil Law and the Spanish legal tradition.
Business activities in Chile are regulated by the Civil Code and other laws.
Main types of businesses in Chile
Sociedad Anónima is a corporation
Sociedad Colectiva is unlimited liability partnership
Sociedad de responsabilidad limitada is limited liability partnership
Sociedad en comandita por acciones is joint-stock partnership in commendam
Asociación (cuentas en participación) is an association
Agencia is branch of a foreign company
The Chilean Register of Companies and Societies (Registro de Empresas y Sociedades) is administered by the Escritorio Empresa ("Desk Company") – a special department of the Ministry of Economy, Development and Tourism. Most services concerning registrations of companies can be ordered online.
Chambers of Commerce manage their own registers of economic entities. They create the National commercial network that contains information from 30 Chambers.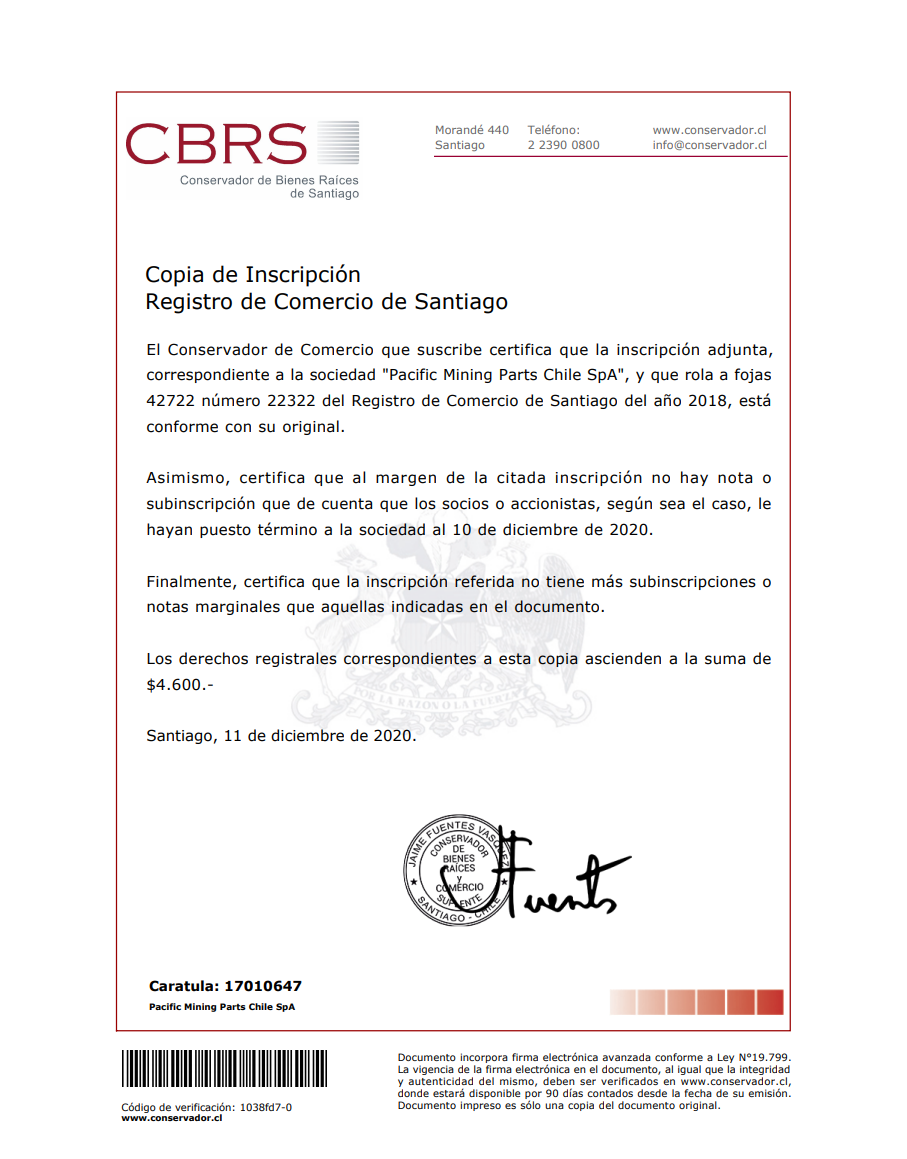 You can get following information from commercial register of Chile:
Main extract available from the Chilean business registers is a company profile. It comes in the Spanish language and contains information about a company, relevant at the moment of the request.
Full legal name
Type of business
Registration date
Local registration authority
Main activity
Legal address
Current status (active or inactive)
Company's representatives
History of the company
You can also get following documents:
Certificate of Registration
Constituent documentation
Financial and annual statements
Certificate of Good Standing
Credit report
NB: Amount of information depends on the type of business. Information about some companies may be unavailable, or available for a fee.
Search in the register is not free of charge. Search results are sent to you within 7-14 days after request submission.
To get a required document, we will need the following information about a company:
Full legal name
Registration number
Service
Price incl. German VAT 19%
Price excl. VAT

Price for an Electronic Extract

from

119,00

€

from

100,00

€

Price for an Extract with Apostille without international shipping

from

714,00

€

from

600,00

€



An extract from the business register of Chile can be used in order to:
Obtain detailed information about potential business partners
Negotiate foreign trade agreements
File legal claims
Chile acceded to the The Hague Convention Abolishing the Requirement of Legalization for Foreign Public Documents on 16 December 2015.
Therefore, the documents issued in Chile are subject to a simplified apostilling procedure, thus the documents gain full legal value in Convention member states after certified translation.
Apostilling usually takes about two weeks.
In addition, you can order certified translation from Spanish.
We provide extracts from the register in strict compliance with the legislation of the Republic of Chile and the General Data Protection Regulation.
Inquiries are processed within one working day. Courier delivery of apostilled documents is paid separately by courier service tariffs.
You can order free preliminary availability check of required information on our website.