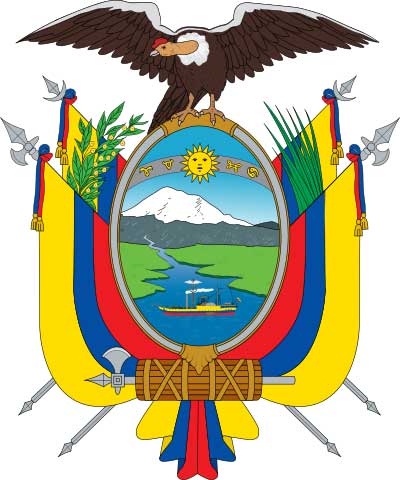 Schmidt & Schmidt provides extracts from the commercial register of Ecuador with a translation and an apostille.
Republic of Ecuador is a sovereign state in South America. This is a unitary republic with the president as the head of state. Official language is Spanish, with various regional languages recognised. Ecuador is a member state of the United Nations, Organization of American states, Unasur, and the Organization of the Petroleum Exporting Countries (OPEC).
Economy of Ecuador is highly dependent of petroleum and agriculture (mainly exports of bananas). Services take up almost 60% of the local GDP. Industry takes up about 36% and is mainly focused on servicing the domestic market.
Ecuador is not an offshore jurisdiction or a tax haven. At the same time, Financial Action Task Force (FATF) has expressed major concerns about Ecuador's Anti-Money Laundering/Combating the Financing of Terrorism regime (AML/CFT), and demands to enhance the financial sector supervision in order to identify and freeze terrorist accounts more effectively. There has been progress made in this area, but FATF is encouraging Ecuador to keep going.
Legislation in Ecuador is in the category of Civil Law, with American, French, and Chilean influence. Business activities in Ecuador are regulated by 1906 Civil Law and other relevant laws.
Main types of businesses in Ecuador
Sociedad en Nombre Colectivo is general partnership
Sociedad en Comandita Simple y Dividida por Acciones is a partnership limited by shares
Sociedad de Responsabilidad Limitada is limited liability company
Sociedad Anónima is joint-stock company
Sociedad de Economía Mixta is mixed economy company
Registration of companies in Ecuador is the responsibility of the Superintendence of companies, securities and insurance (Superintendencia de Compañías, Valores y Seguros). Superintendence supervises business activities and is authorised to impose sanctions on them in case of law violations.
Contents from the commercial register of Ecuador
Main extract available from the business register of Ecuador is a company profile. It comes in the Spanish language and contains information about a company, relevant at the moment of the request.
Name
Type of business
Legal address
Contact information
Current status (active/inactive)
Main activities
Shareholders and their shares
Registered capital
Subsidiaries
Corporate statistics
Financial statements
Annual report
Memorandum of Association
Certificate of Incorporation
NB: Amount of information depends on the type of business. Information about some companies may be unavailable, or available for a fee.
You can also get certificate of Incorporation, financial report, constituent documentation.
Search in the register is not free of charge. Search results are sent to you within 7-14 days after request submission.
To get a required document, we will need the following information about a company:
Full legal name
Registration number
An extract from the business register of Ecuador can be used in order to:
Obtain detailed information about potential business partners
Negotiate foreign trade agreements
Register legal entities with foreign participation
File legal claims
Apostille for extracts from commercial register of Ecuador
Ecuador acceded to the The Hague Convention Abolishing the Requirement of Legalization for Foreign Public Documents on 2 July 2004.
Therefore, the documents issued in Ecuador are subject to a simplified apostilling procedure, thus the documents gain full legal value in Convention member states after notarised translation.
Apostilling usually takes about two weeks.
In addition, you can order notarised translation from Spanish.
We provide extracts from the register in strict compliance with the legislation of the Republic of Ecuador and the General Data Protection Regulation.
Inquiries are processed within one working day. Courier delivery of apostilled documents is paid separately by courier service tariffs.
You can order free preliminary availability check of required information on our website.
Service
Price incl. German VAT 19%
Price excl. VAT

Price for an Electronic Extract

from

119,00

€

from

100,00

€

Price for an Extract with Apostille without international shipping

from

714,00

€

from

600,00

€