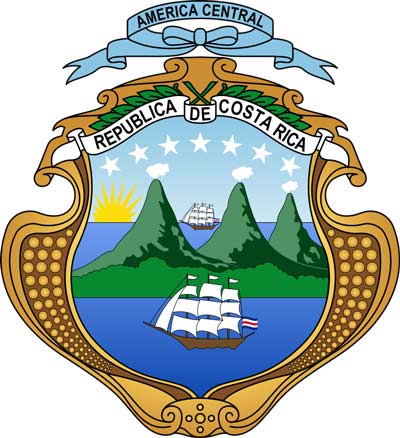 Schmidt & Schmidt provides extracts from the commercial register of Costa Rica with a translation and an apostille.
Republic of Costa Rica is a sovereign state in Central America. It is a unitary presidential constitutional republic. Local currency is the Costa Rican colón. Official language is Spanish. Costa Rica is a member of the United Nations and Organization of American states.
Economy of Costa Rica has been very stable in recent years, developing steadily and having moderate levels of inflation. Costa Rica has got one of the highest standards of living in Central America, but also high unemployment rate. Main sectors here are tourism, electronics, and agriculture. Local authorities provide favourable conditions to foreign investors and businesses. There are more than 200 international companies active in Costa Rica today.
The European Union does not blacklist Costa Rica as a non-cooperative jurisdiction for tax purposes. However, OECD classifies Costa Rica as a "provisionally largely compliant" jurisdiction in tax information exchange, meaning that OECD officials do have some questions concerning the local tax legislation.
Legal system of Costa Rica is classified in a separate Chilean law subcategory – legislation inspired by the Napoleonic Civil Law and the Spanish legal tradition.
Business activities in Costa Rica are regulated by the 1975 Civil Code, 1964 Commercial Code, and other laws.
Main types of businesses in Costa Rica
Sociedad Anonima is a corporation (joint-stock company)
Sociedad de responsabilidad limitada is limited liability company
There are also partnerships, trusts, private companies, and branches of foreign companies.
National Registry of Costa Rica (Registro Nacional) is supervised by the Ministry of Justice and Peace. The Registry also deals with land and property registers, copyrights, and vital records.
Extract from commercial register of Costa Rica contains following information:
Main extract available from the business register of Costa Rica is a company profile. It comes in the Spanish language and contains information about a company, relevant at the moment of the request.
Full legal name
Registration number and date
Type of business
Region of registration
Share capital
Status of the company
Tax ID
Legal address
Contact details
Type of business
CEO
Shareholders
Additional information
You can also get following documents:
Certificate of Incorporation
Financial reports
Memorandum of Association and Charter
NB: Amount of information depends on the type of business. Information about some companies may be unavailable, or available for a fee.
Search in the register is not free of charge. Search results are sent to you within 7-14 days after request submission.
Full legal name
Registration number
An extract from the business register of Costa Rica can be used in order to:
Obtain detailed information about potential business partners
Negotiate foreign trade agreements
File legal claims
Costa Rica acceded to the The Hague Convention Abolishing the Requirement of Legalization for Foreign Public Documents on 6 April 2011.
Therefore, the documents issued in Costa Rica are subject to a simplified apostilling procedure, thus the documents gain full legal value in Convention member states after notarised translation.
Apostilling usually takes about two weeks.
In addition, you can order notarised translation from Spanish.
We provide extracts from the register in strict compliance with the legislation of the Republic of Costa Rica and the General Data Protection Regulation.
Inquiries are processed within one working day. Courier delivery of apostilled documents is paid separately by courier service tariffs.
You can order free preliminary availability check of required information on our website.
Service
Price incl. German VAT 19%
Price excl. VAT

Price for an Electronic Extract

from

119,00

€

from

100,00

€

Price for an Extract with Apostille without international shipping

from

714,00

€

from

600,00

€