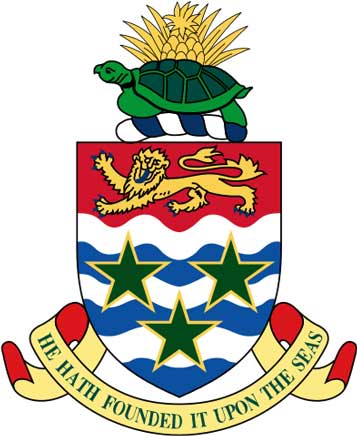 Schmidt & Schmidt provides extracts from the commercial register of the Cayman Islands with a translation and an apostille.
Cayman Islands are a British Overseas Territory, located in the Greater Antilles in the Caribbean, to the south of Cuba and northwest of Jamaica. Along with other 15 territories, Cayman Islands are included in the United Nations list of Non-Self-Governing Territories. This is a parliamentary dependency under constitutional monarchy, with Queen Elizabeth II as a head of state and Governor of the Cayman Islands appointed as her representative. Official currency is the Cayman Islands dollar. Official language is English.
Cayman Islands are a major international financial centre, a prominent offshore zone, and a tax haven. Financial services and tourism are the core of local economy. Cayman Islands are also the richest territory in the Caribbean, with the highest income per capita in the region.
The European Union classifies the Cayman Islands as one of the "tax regimes that facilitate offshore structures which attract profits without real economic activity". As for March 2018, Cayman Islands have made a commitment to revise their tax policies, moving them to the "grey area" of jurisdictions in terms of tax cooperation. OECD describes the Cayman Islands as "largely compliant" in exchange of tax information.
Business activities on the Cayman Islands are regulated by, inter alia, 1995 Companies Act and the 2016 Confidential Information Disclosure Law. The commercial register of the Cayman Islands is managed by the Cayman Islands Monetary Authority (CIMA).
Main types of businesses on the Cayman Islands
Cayman Islands Ordinary Resident Company — a company created in order to do business locally. It gets special license and organises obligatory annual shareholder meetings.
Cayman Islands Ordinary Non-Resident Company — the most common type of an offshore company. The law does not allow these companies to do business in the Caymanian territory.
Cayman Islands Exempt Company — a company that does not pay taxes on the Cayman Islands. This type is popular among investors.
Cayman Islands Limited Duration Exempt Company — a company with duration up to 30 years. Limited liability company with some characteristics of a partnership.
Cayman Islands Foreign Company — branch of a foreign company.
Cayman Islands Limited Partnership — does not pay taxes.
Cayman Islands Exempted Limited Partnership — does not pay taxes.
Cayman Islands Trusts.
Contents of the register
The main type of extract available from the Caymanian business register is a company profile, called Company Search Report. It is issued in English and contains the following information:
Name of the company
Type of business
Registration date and number
Legal address
Registrar's details (name, address, office, contact details)
Current status (active or inactive)
Bankruptcy and dissolution procedures
Details of the registration at CIMA
Other available information
NB: Information about some companies may be unavailable.
Search in the register is not free of charge. Results are provided within 1-3 days after request submission.
Other available documents
Certificate of Good Standing — an official document that confirms a company's solvency, reliability, and right to do business on the Cayman Islands. This certificate is only issued to companies that fully comply with the requirements in terms of taxation and financial reports submission.
Certificate of Incorporation — confirms company's registration in the Cayman Islands.
Memorandum and Articles of Association.
Other documents — eg., certificate of name change.
Certificate of Good Standing, Certificate of Incorporation, Memorandum and Articles of Association can only be obtained by company's founders, secretaries, and directors.
To get a required document, we will need the following information about a company:
Full legal name
Registration number
Sample of an extract in English
An extract from the business register of the Cayman Islands can be used in order to:
Obtain detailed information about potential business partners
Negotiate foreign trade agreements
File legal claims
Cayman Islands acceded to the The Hague Convention Abolishing the Requirement of Legalization for Foreign Public Documents on 24 February 1965, as a part of the United Kingdom.
Therefore, the documents issued in Cayman Islands are subject to a simplified apostilling procedure, thus the documents gain full legal value in Convention member states after notarised translation.
In addition, you can order notarised translation from English.
We provide extracts from the register in strict compliance with the legislation of the Cayman Islands, the United Kingdom, and the General Data Protection Regulation.
Inquiries are processed within one working day. Courier delivery of apostilled documents is paid separately by courier service tariffs.
You can order free preliminary availability check of required information on our website.
Service
Price incl. German VAT 19%
Price excl. VAT

Price for an Electronic Extract

from

71,40

€

from

60,00

€

Price for an Extract with Apostille without international shipping

from

595,00

€

from

500,00

€



Do you have any questions about the offer? Contact us and arrange a free of charge consultation!