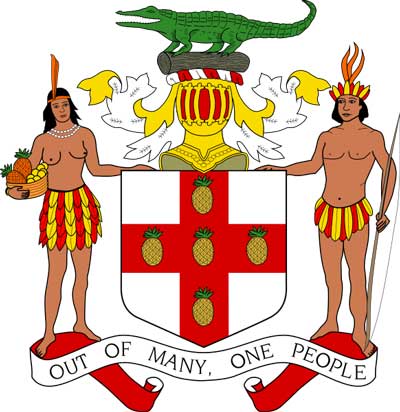 Schmidt & Schmidt provides extracts from the commercial register of Jamaica with a translation and legalization.
Jamaica is an island state in the Greater Antilles in the Caribbean. This is a democracy under constitutional monarchy. Jamaica gained independence from the United Kingdom in 1962 and became a member state of the Commonwealth with Queen Elizabeth II as the head of state. The Queen is represented here by the Governor General. Local currency is the Jamaican dollar. Official language is English.
Jamaican economy has got both state enterprises and private businesses. More than 70% of GDP is taken up by the services sector, followed by the industry sector (about 20%). Five Jamaican Free Trade Zones were created to stimulate international trade and attract foreign investors. Jamaican business is developing actively, and there are about 5000 firms registered here every year. Another major contribution to Jamaican economy is made by the agricultural sector.
Jamaica is not considered an offshore zone or a tax haven. OECD classifies Jamaica as "partially compliant" in tax cooperation matters. Legislation system here is based on the English law.
Main types of businesses in Jamaica
Co-operatives
Industrial and Provident Societies
Building Societies
Limited Companies
Partnerships
Sole Traderships
Registration of economic entities in Jamaica is a task of the Companies Office of Jamaica. This is an institution supervised by the Ministry of Industry, Commerce, Agriculture and Fisheries (MICAF). The Companies Office became a separate institution in 1975.
Contents from the commercial register of Jamaica
Main extract available from the business register of Jamaica is a company profile. It comes in the English language and contains information about a company, relevant at the moment of the request.
Full legal name
Registration number
Type of business
Legal address
Current status (active/inactive)
Owners and key management
Registered capital
Main activities
Company representatives
Historical records
Financial reports
NB: Information about some companies may be unavailable.
Other available documents
Certificate of Good Standing is an official document that confirms a company's solvency, reliability, and right to do business in Jamaica. This certificate is only issued to companies that fully comply with the requirements in terms of taxation and financial reports submission.
Certificate of Incorporation confirms company's registration in Jamaica.
Memorandum and Articles of Association
Reports
Search in the register is not free of charge. Search results are sent to you within 3-5 days after request submission.
To get a required document, we will need the following information about a company:
Full legal name
Registration number
An extract from the business register of Jamaica can be used in order to:
Obtain detailed information about potential business partners
Negotiate foreign trade agreements
File legal claims
Jamaica has NOT acceded to the The Hague Convention Abolishing the Requirement of Legalization for Foreign Public Documents.
Therefore, the documents issued in Jamaica are NOT subject to a simplified apostilling procedure, thus the documents have to be legalised directly via the consulates of Jamaica.
Schmidt & Schmidt offers assistance in legalization process. You can order free preliminary availability check of required information on our website.
In addition, you can order notarised translation from English.
We provide extracts from the register in strict compliance with the legislation of Jamaica and the General Data Protection Regulation.
Inquiries are processed within one working day. Courier delivery of apostilled documents is paid separately by courier service tariffs.
You can order free preliminary availability check of required information on our website.
Service
Price incl. German VAT 19%
Price excl. VAT

Price for an Electronic Extract

from

71,40

€

from

60,00

€

Price for an Extract with Apostille without international shipping

from

1428,00

€

from

1200,00

€



Do you have any questions about the offer? Contact us and arrange a free of charge consultation!