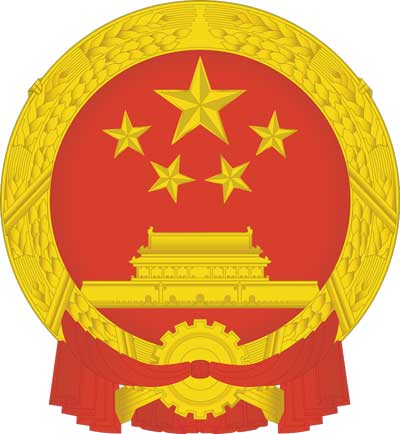 Schmidt & Schmidt covers the full spectrum of legalization services for documents issued in China.
China has been a Member of the HCCH since 1987; the Hague Convention on the Simplified Authentication entered into force on 7 December 2023.
The apostille, or the "Hague apostille" is a certificate that authenticates the origin of a public document (e.g., a birth, marriage or death certificate, a judgment, an extract of a register or a notarial attestation). It confirms the authenticity of the signature and the authority of an official who signed the public document.
Documents issued in China and certified with an apostille in accordance with the Hague Convention of 1961 are recognised in all Member States of the Hague Convention and do not require any other form of certification, such as consular legalization, which considerably reduces the costs and time required for the certification of documents. So far, more than 120 states have joined the Convention.
The apostille in China is a square stamp in Chinese and English with the obligatory heading "Apostille" and a reference to the 1961 Hague Convention in French (Convention de La Haye du 5 octobre 1961). The apostille certificate's sides will be at least 9 centimeters long.
The apostille is not sufficient for use in the states that are not party to the Hague Convention. In this case, consular legalization applies to a public document.
Designated Competent Apostille Authorities in China:
The Ministry of Foreign Affairs of the PRC
Apostilles can also be placed by authorized Chancelleries of Foreign Affairs of the respective local People's Governments of China
Types of documents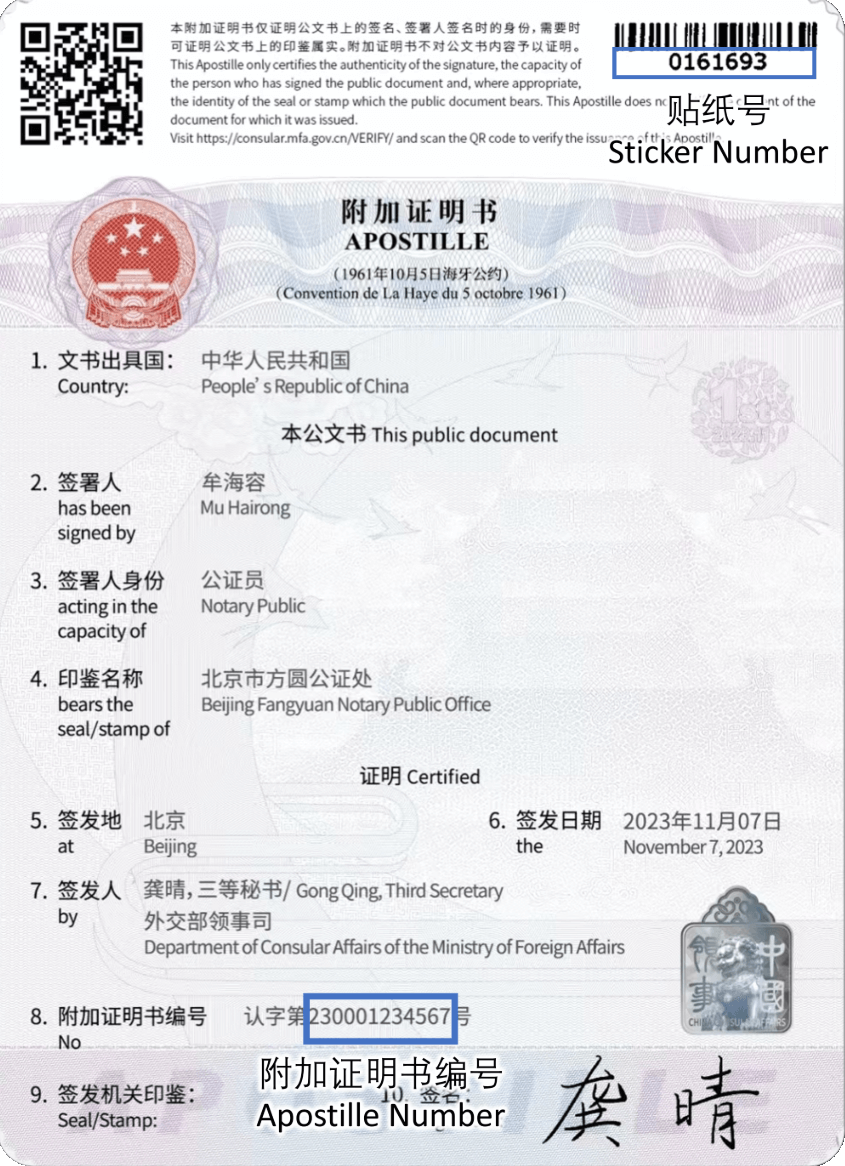 Can be apostillized
Cannot be apostillized

Documents issued or certified by a notary public
Documents issued by courts
Translations by court interpreters
Official documents issued by state authorities
Educational certificates from state and state-recognised institutions: School transcripts, university degree transcripts, overviews of subjects and grades, matriculation certificates, additional certificates from schools or universities as well as certificates.
Powers of attorney, testaments, declarations
Other government documents

Trade contracts
Invoices
Customs documents, diplomatic and consular documents
ID Cards



Specific aspects and document requirements for the apostille in China
It should be understood that although the affixing of an apostille confirms the authenticity of the document, it does not guarantee its unconditional acceptance by any Chinese organization.
According to the HCCH, the convention is usually applied to:
Documents of an administrative nature, including birth, marriage, and death certificates;
Documents emanating from an authority or an official connected with a court, tribunal, or commission;
Extracts from commercial registers and other registers; Patents;
Notarial acts and notarial attestations (acknowledgments) of signatures;
School, university, and other academic diplomas issued by public institutions.
Additional Authentication for Customs Documents in China:
Certain customs documents for China may still require additional authentication procedures beyond the Apostille Convention.
Apostille procedures in China cannot be used for certain country
There are special regulations because China has be objected to it accession to the Convention.
If a contracting state objects to China's accession, it will only mean that the convention will not apply between China and that state. For that reason, it is still possible that the apostille procedures cannot be used in China from certain countries, even if they are members of the Apostille Convention, and vice versa.
India has expressed opposition to China's accession to the Hague Convention, so the apostille will not be used in relations between these two countries. In this case, consular legalization of the documents is usually necessary.
If you require new original documents, the information
here
will help you.
Apostille in Hong Kong and Macao
Hong Kong and Macao have acceded to the Hague Convention Abolishing the Requirement of Legalization for Foreign Public Documents. In 1997, China confirmed the validity of the Convention for Hong Kong, in 1999 - for Macao. Therefore, no diplomatic authentication or consular legalization of documents from Hong Kong and Macao is needed for successful legal communication with other member states of the Convention. The documents only need to be attested by an apostille certificate with an "apostille" stamp on it by the issuing state's authorities in order to be valid in the state of destination.
Legalization of Chinese educational documents for use abroad
People who study and work abroad need to apply for apostille certification to ensure that their academic qualifications and other related documents are authenticated. The certified document can be used in 125 countries or regions that have signed the Hague Convention, and it is fully recognized.
Educational documents issued in China, such as school reports, university degree certificates, transcripts of records, enrollment certificates and other certificates from schools or universities are not effective abroad until they are certified with an apostille. For example, an apostille for your foreign degree may be required to apply for a Master's or a PhD degree program.
To obtain an apostille of your academic certificate, you first need to ensure that your academic certificate is legal and valid, issued by a relevant educational institution and obtained through formal procedures. Usually, you may need to follow these steps:
Apply to the academic certificate issuing institution to obtain an original document or official copy of the academic certificate. Make sure the copy has the institution's official seal and signature and is a true copy of the original.
Submit your academic certificate to the education department for education certification. The education department will verify your academic certificates and confirm their legal status in the country. This procedure may require the applicant to provide some relevant documentation.
If necessary, applicants may be required to submit a copy of their academic certificate to the Ministry of Justice of China for notarization.
Submit academic certificates to the Ministry of Foreign Affairs. The Ministry of Foreign Affairs will stamp your academic certificate with the official seal of Apostille.
Send the certified academic certificate to the target country's embassy or consulate in China for final certification.
It should be noticed that different countries may have different certification requirements for academic certificates, so it is best to consult the professional agencies or embassies of the target country in advance.
If you require No Criminal Record from China, the information
here
will help you.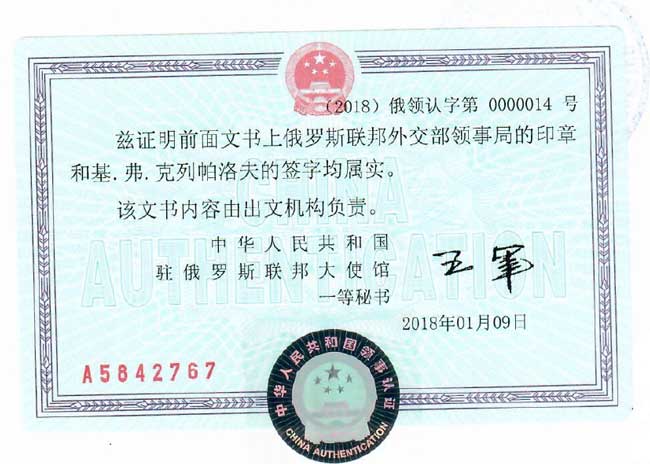 Consular legalization of China documents for use abroad
Should a Chinese document be used in a country that does not recognize the Hague Convention, such as Canada and the United Arab Emirates or other countries not listed as a contracting party, the procedure of consular legalization, also called "embassy attestation", applies. For a complete list of countries that accept and use apostilles, click here.
The necessary pre-requisite for the consular legalization of a document originating from China is its issuance by a public notariat of the People's Republic of China explicitly for use abroad. The notary should then issue a notarial document on the basis of the original containing a notarially certified copy of the original as well as a confirmation of its authenticity. The notary certified documents must then be certified by the Office for Foreign Affairs responsible for the notary's official residence. Finally, the document is eligible for the legalization by the Consulate General.
Consular legalization is the process of authenticating or certifying a legal document so a foreign country's legal system will recognize it as with full legal effect that is carried out by the diplomatic or consular mission of the country in which the document is to be used.
Consular legalization is more complex, time-consuming and costly than the simpler apostille procedure. Whereas apostille is usually issued within one step, consular legalization requires several pre-certifications before a public document can be certified at the embassy or consulate of the destination country in China.
It is a common requirement that the document has to be translated into the official language of the destination country before submission to the embassy. It is up to the diplomatic mission to decide about the authentication procedure.
The main differences between an apostille and consular legalization of documents
The common feature between apostille and consular legalization is that they authenticate an official document for presentation to institutions in another country. However, they have many differences.
| | Apostille | Consular legalization |
| --- | --- | --- |
| Legal effect | Can be used in all countries that are party to the Hague Convention on the Simplified Legalization of Documents. | Use between States one or both of which is not a member of the Hague Convention, or where one of the contracting States has protested the accession of the other. |
| Difficulty | Moderate. To obtain an apostille, contact the competent apostille authority of the state of origin of the document. | High. For consular legalization, various inland authorities and a diplomatic mission of the state of destination must be involved. |
| Pre-certification | Usually not required. | Is obligatory. |
| Attestation at the state of destination embassy in the state of origin of the document | No need to contact the Consulate of the country of destination. | Is the final step of legalization. |
If the important documents are lost or damaged, or current copies of the documents are needed, the re-issue of the documents is required. It is not unusual for people outside China to encounter difficulties with obtaining new documents when abroad. Our consultants will help you procure new documents from China remotely, and we can arrange for your documents to be sent by courier anywhere in the world.
Copies and transcripts of civil status documents can be translated into any language by a sworn translator in China or the translation can be done in the country of destination. We offer certified translations of civil status documents with further certification. The cost of the work is calculated according to the volume of the document in question.
Does the translation have to be apostillized?
Any foreign document issued in one country and used in another country must be legalized for use abroad. Therefore, the authenticity of a certified translation from China needs to be certified by an apostille. Consequently, many authorities may not accept certified translations from China if the translation has not been properly authenticated in China for use abroad. To avoid this confusion, translations should better be made in the state of destination of the document.
Price of apostille and consular legalization of documents in China
We offer a wide range of services and supplies related to the legalization of documents to suit all your needs. If you have a tight budget or need to have your documents legalized in record time, we can find a suitable solution. The deadline begins with the receipt of your documents.
Document procurement
Document procurement in China
The service includes

:
Due dates

:

from 14 working days
from 59,50€
incl. German VAT 19%
Price excl. VAT from 50€
Apostille for document in China
The service includes

:
Due dates

:

from 14 working days
from 119€
incl. German VAT 19%
Price excl. VAT from 100€
Consular legalization
Consular legalization of a document in China
The service includes

:
The service includes
Fees
Due dates

:

from 30 working days
from 714,00€
incl. German VAT 19%
Price excl. VAT from 600€
Certified translation
Certified translation of documents into foreign language
Due dates

:

from 2 working days
from 41,65€
incl. German VAT 19%
Price excl. VAT from 35€
Express delivery of documents from China with apostille from is charged separately according to the rates of delivery services.