Schmidt & Schmidt covers the full spectrum of legalization services for documents issued in Switzerland.
Switzerland joined the Hague Convention on the Simplified Authentication of Documents on 10 January 1973; the Convention entered into force on 11 March 1973.
The apostille, or the "Hague apostille" is a certificate that authenticates the origin of a public document (e.g., a birth, marriage or death certificate, a judgment, an extract of a register or a notarial attestation). It confirms the authenticity of the signature and the authority of an official who signed the public document.
Documents issued in Switzerland and certified with an apostille in accordance with the Hague Convention of 1961 are recognized in all Member States of the Hague Convention and do not require any other form of certification, such as consular legalization, which considerably reduces the costs and time required for the certification of documents. So far, more than 120 states have joined the Convention.
The apostille is not sufficient for use in the states that are not party to the Hague Convention. In this case, consular legalization applies to a public document.
Swiss civil status documents and certificates of no impediment for marriage issued in accordance with the CIEC Convention following the International multilingual model are exempt from legalization in any form.
More
.
Designated Competent Apostille Authorities in Switzerland
In Switzerland, there are two designated competent authorities responsible for issuing Apostilles:
Federal Chancellery: The Federal Chancellery is a key player in Switzerland's administrative landscape. With a commitment to ensuring the smooth operation of government functions, it plays a vital role in certifying the authenticity of documents that require Apostille certification.
Cantonal Authorities: Switzerland is renowned for its federal structure, and this extends to Apostille certification as well. Each canton in Switzerland has its own authority responsible for Apostille certification, ensuring that the process remains accessible and efficient throughout the country.
Please refer to the official government resources to find out more, or see a complete list of Cantonal authorities. While pricing can vary depending on the type of document and specific requirements, generally, Apostille certification in Switzerland ranges from 15 to 30 Swiss francs, which is approximately €10 to €20.
The apostille in Switzerland is a square stamp in French, German, Italian, or Romansh with the obligatory heading "Apostille" and a reference to the 1961 Hague Convention in French (Convention de La Haye du 5 octobre 1961). The apostille certificate's sides will be at least 9 centimeters long.
Types of documents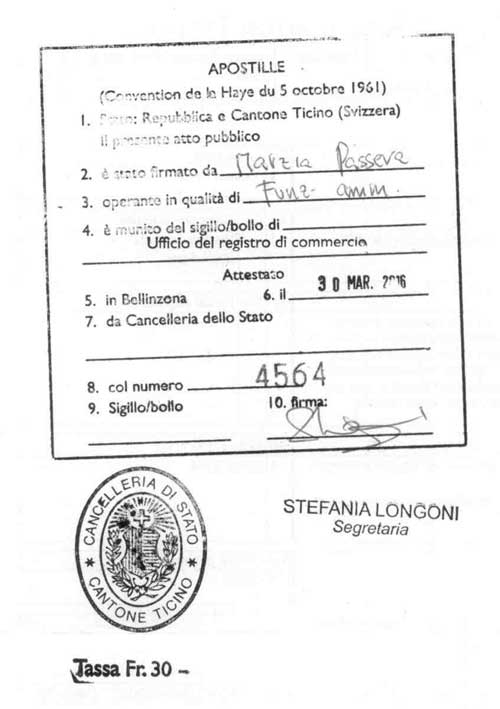 Can be apostillized
Cannot be apostillized

Documents issued or certified by a notary public
Documents issued by courts
Translations by court interpreters
Official documents issued by state authorities
Educational certificates from state and state-recognised institutions: School transcripts, university degree transcripts, overviews of subjects and grades, matriculation certificates, additional certificates from schools or universities as well as certificates.
Powers of attorney, testaments, declarations
Other government documents

Trade contracts
Invoices
Customs documents, diplomatic and consular documents
ID Cards



Specific aspects and document requirements for the apostille in Switzerland
Switzerland is among the 120 countries that recognize and issue apostilles in accordance with the Hague Convention of 5 October 1961. The apostille serves as a confirmation of the official status of a document.
The apostille process can vary depending on the sender and recipient country, but typically to obtain an apostille for a document in Switzerland, you must go through the following steps:
Obtaining the original document to be apostilled;
Verification of the signature on the document by the authorized body;
Issuance of an apostille on a document by an authorized body;
Submission of the document together with the apostille in the recipient country.
This process can be time-consuming, especially if it includes multiple documents and different countries. To ensure a smooth and accurate apostille process, it is recommended to seek guidance from specialists familiar with the requirements and procedures. Their expertise can help avoid delays and errors in obtaining documents apostille.
Document requirements that might apply:
The document must be an original or a certified copy issued by the competent authority.
The document should contain all relevant and accurate information.
The document must be in the official language of the issuing country or translated into the official language of the country where the apostille is sought.
The apostille must be affixed by the designated competent authority in accordance with regulations.
The apostille is issued in a uniform format. In Switzerland, it has the form of a printed sticker with a handwritten signature of an official, an official seal, and a hologram.
In cases where apostles are not recognized, holders of foreign documents will need to legalize them instead. However, If the country of destination of the document recognizes and issues apostilles, then legalization is unnecessary.
If you require new original documents, the information
here
will help you.
Legalization of Swiss educational documents for use abroad
In order for educational documents issued in Switzerland, such as school reports, university degree certificates, transcripts of records, enrollment certificates, and other certificates from schools or universities, to be valid and recognized abroad, they must undergo a process of certification through legalization or apostille. The certification process is carried out by the Ministry of Justice and Public Order, along with Swiss diplomatic missions/consulates.
The process of legalization can vary based on the country where these documents will be used and the authorities or institutions involved. However, you will most likely be able to choose from the following options:
Swiss Representation Submission: You can request the legalization of official seals or signatures on your educational documents by submitting them to the competent Swiss representation abroad. Ensure that you present the original documents for this process.
Foreign Representation in Switzerland: Alternatively, you might consider seeking legalization of official stamps and signatures at the foreign representation (Embassy or Consulate) in Switzerland of the country where your educational certificate originated.
It's essential to confirm in advance with the authority requesting the legalization whether this procedure is acceptable. Additionally, research the specific regulations regarding legalization at the respective foreign representation in Switzerland. If necessary, the Federal Chancellery in Bern can authenticate the signature and seal of Swiss representations abroad, as well as those of foreign representations in Switzerland.
Recognition of the authenticity of public documents within the EU
Switzerland has concluded bilateral agreements with Belgium, Denmark, France, Greece, Italy, Luxembourg, Austria, and Germany according to which certain documents are exempt from any certification if they are sealed by the responsible administrative authorities.
Multilingual documents (under CIEC Convention)
Civil status certificates and certificates of marriageability, which are issued by one of the contracting states according to the model of the Convention of the International Commission (CIEC Convention) for Civil and Civil Status Affairs (CIEC), are exempt from any formality in Switzerland.
Austria, Belgium, Bosnia-Herzegovina, Bulgaria, Germany, Estonia, France, Italy, Cape Verde, Croatia, Lithuania, Luxembourg, Macedonia, Moldova, Montenegro, Netherlands, Poland, Portugal, Romania, Switzerland, Serbia, Slovenia, Spain,and Turkey.
Contracting states of the Munich CIEC Convention of 05.09.1980 (issuance of multilingual certificates of marriageability) are:
Austria, Germany, Greece, Italy, Luxembourg, Moldova, Netherlands, Portugal, Switzerland, Spain,and Turkey.
Regulation on public documents (EU) 2016/1191 of 6 July 2016
Furthermore, Regulation (EU) 2016/1191 of 6 July 2016 on public documents simplifies the circulation of certain public documents that must be presented in an EU Member State and have been issued in another EU Member State, thus exempting public documents from the confirmation of authenticity with the Apostille with the aim of reducing administrative burden and costs for citizens.
Consular legalization of Swiss documents for use abroad
Consular legalization is the process of authenticating or certifying a legal document so a foreign country's legal system will recognize it as with full legal effect that is carried out by the diplomatic or consular mission of the country in which the document is to be used.
Consular legalization is more complex, time-consuming and costly than the simpler apostille procedure. Whereas apostille is usually issued within one step, consular legalization requires several pre-certifications before a public document can be certified at the embassy or consulate of the destination country.
It is a common requirement that the document has to be translated into the official language of the destination country before submission to the embassy. It is up to the diplomatic mission to decide about the authentication procedure.
The main differences between an apostille and consular legalization of documents
The common feature between apostille and consular legalization is that they authenticate an official document for presentation to institutions in another country. However, they have many differences.
| | Apostille | Consular legalization |
| --- | --- | --- |
| Legal effect | Can be used in all countries that are party to the Hague Convention on the Simplified Legalization of Documents. | Use between States one or both of which is not a member of the Hague Convention, or where one of the contracting States has protested the accession of the other. |
| Difficulty | Moderate. To obtain an apostille, contact the competent apostille authority of the state of origin of the document. | High. For consular legalization, various inland authorities and a diplomatic mission of the state of destination must be involved. |
| Pre-certification | Usually not required. | Is obligatory. |
| Attestation at the state of destination embassy in the state of origin of the document | No need to contact the Consulate of the country of destination. | Is the final step of legalization. |
Apostille and consular legalization in all cities of Switzerland
Schmidt & Schmidt provides apostille and consular legalization services for public documents originating from all regions across Switzerland. We handle the entire process, from document review to obtaining the necessary certifications, ensuring that your documents are valid and recognized internationally. With our reliable services, you can confidently use your Swiss public documents abroad.
If the important documents are lost or damaged, or current copies of the documents are needed, the re-issue of the documents is required. It is not unusual for people outside Switzerland to encounter difficulties with obtaining new documents when abroad. Our consultants will help you procure new documents from Switzerland remotely, and we can arrange for your documents to be sent by courier anywhere in the world.
Copies and transcripts of civil status documents can be translated into any language by a sworn translator in Switzerland or the translation can be done in the country of destination. We offer certified translations of civil status documents with further certification. The cost of the work is calculated according to the volume of the document in question.
Does the translation have to be apostillized?
Any foreign document issued in one country and used in another country must be legalized for use abroad. Therefore, the authenticity of a certified translation from Switzerland needs to be certified by an apostille. Consequently, many authorities may not accept certified translations from Switzerland if the translation has not been properly authenticated in Switzerland for use abroad. To avoid this confusion, translations should better be made in the state of the destination of the document.
Price of apostille and consular legalization of documents in Switzerland
We offer a wide range of services and supplies related to the legalization of documents to suit all your needs. If you have a tight budget or need to have your documents legalized in record time, we can find a suitable solution. The deadline begins with the receipt of your documents.
Document procurement
Document procurement in Switzerland
The service includes

:
Due dates

:

from 14 working days
from 59,50€
incl. German VAT 19%
Price excl. VAT from 50€
Apostille for document in Switzerland
The service includes

:
Due dates

:

from 7 working days
from 119€
incl. German VAT 19%
Price excl. VAT from 100€
Consular legalization
Consular legalization of a document in Switzerland
The service includes

:
The service includes
Fees
Due dates

:

from 30 working days
from 142,80€
incl. German VAT 19%
Price excl. VAT from 120€
Certified translation
Certified translation of documents into foreign language
Due dates

:

from 2 working days
from 41,65€
incl. German VAT 19%
Price excl. VAT from 35€
Express delivery of documents with apostille from Switzerland is charged separately according to the rates of delivery services.