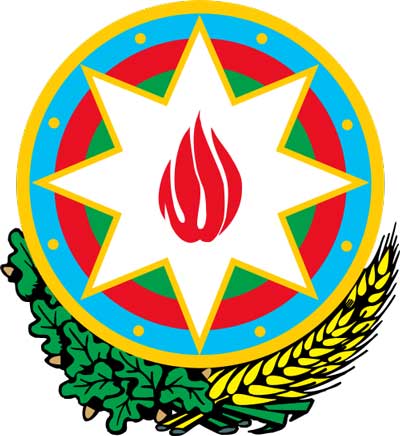 Schmidt & Schmidt provides extracts from the commercial register of Azerbaijan with a translation and an apostille.
Republic of Azerbaijan is a sovereign state located in the eastern part of Caucasus mountains, on the shore of the Caspian Sea. This is a unitary semi-presidential republic. Local currency is the manat. Official language is Azerbaijani. Azerbaijan is a member of the United Nations, OSCE, World Bank, IMF, Council of Europe, and Commonwealth of Independent States.
The core sector of the Azerbaijani economy is industry – it accounts for more than 61% of GDP. Main industries are petroleum and natural gas. GDP (PPP) per capita is one of the highest among the former Soviet republics. Azerbaijani government provides normative support to investors, so the country is becoming an attractive centre of FDI.
There are more than 100 000 legal entities registered in Azerbaijan today. About 600 000 individuals do business as sole proprietors. Half of legal entities and a third of unincorporated entities carry out business activities in the capital city of Baku.
Business activities in Azerbaijan are regulated by the 1999 Civil Code.
Main types of businesses in Azerbaijan
Full partnership
Limited partnership
Limited liability company
"Additional" liability company (CIS)
Joint-stock company
Private company
Cooperative
Individual entrepreneur
Registration of companies and management of the commercial register are the tasks of the authorised departments of the Ministry of Taxes of the Republic of Azerbaijan. Today there is a system being implemented that would allow non-residents to incorporate a company in Azerbaijan from abroad.
According to the Civil Code of Azerbaijan, commercial register is available to the public, and all interested parties have the right to get a copy of any document submitted to the register. However, Tax Code states that information about founders of commercial entities, their directors, shareholders and shares is confidential.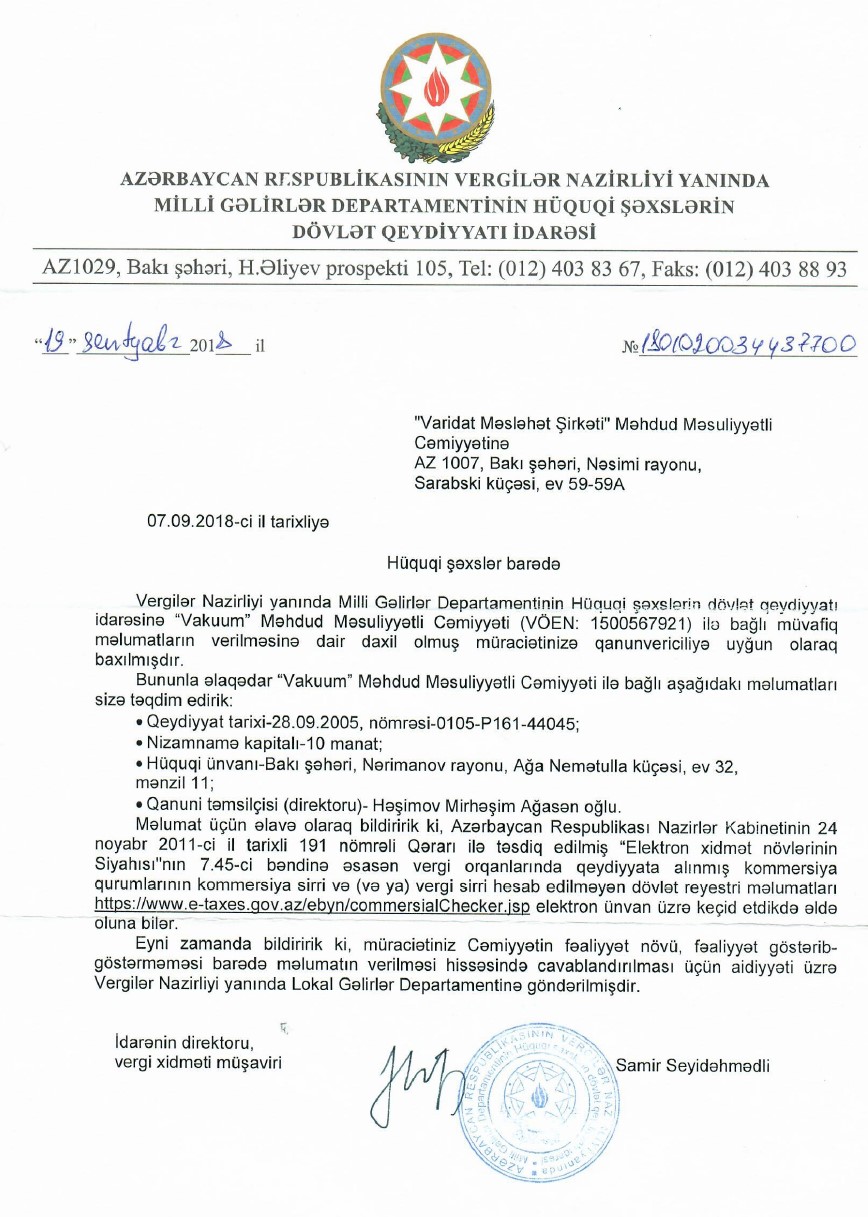 Main extract available from the business register of Azerbaijan is a company profile (current extract from commercial register of Azerbaijan). It comes in the Azerbaijani language and contains information about a company, relevant at the moment of the request.
Current extract from commercial register of Azerbaijan contains the following information:
Full legal name
Registration number and details
Type of business
Legal address
Current status
Main activities
Financial information
NB: Information about some companies may be unavailable, or available for a fee.
Search results are sent to you within 3-5 days after request submission
To get a required document, we will need the following information about a company:
Full legal name
Registration number
Inquiries are processed from 30 minutes.
Service
Price incl. German VAT 19%
Price excl. VAT

Price for an Electronic Extract

from

71,40

€

from

60,00

€

Price for an Extract with Apostille without international shipping

from

595,00

€

from

500,00

€



An extract from the business register of Azerbaijan can be used in order to:
Obtain detailed information about potential business partners
Negotiate foreign trade agreements
File legal claims
Azerbaijan acceded to the The Hague Convention Abolishing the Requirement of Legalization for Foreign Public Documents on 13 May 2004.
Therefore, the documents issued in Azerbaijan are subject to a simplified apostilling procedure, thus the documents gain full legal value in Convention member states after notarised translation.
In addition, you can order notarised translation from Azerbaijani.
We provide extracts from the register in strict compliance with the legislation of Republic of Azerbaijan and the General Data Protection Regulation.
Inquiries are processed within one working day. Courier delivery of apostilled documents is paid separately by courier service tariffs.
You can order free preliminary availability check of required information on our website.