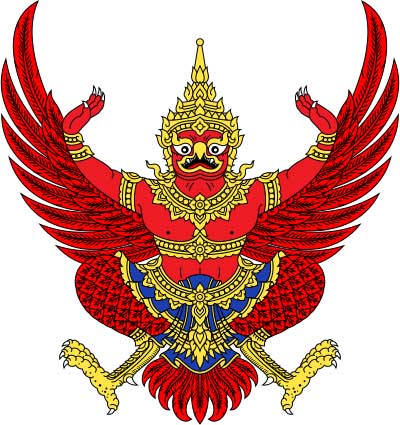 Schmidt & Schmidt provides extracts from the commercial register of Thailand with a translation and a legalization as pdf-file via e-mail.
The Kingdom of Thailand is a state in South-East Asia. The country is a constitutional monarchy, with the king as head of state. Local currency is the Baht, the official languag is Thai. Thailand is a member of the United Nations, the ASEAN and other international organisations.
Thailand's economy is predominantly agricultural-industrial oriented. The industry is the main source of income, accounting for 44% of the country's GDP. Besides the industry, tourism plays an important role for Thailand.
Thailand ranks among the most attractive investment locations, with more than 300.000 companies registered. However, the investment possibilities in Thailand are limited - foreign investors must not offer touristic services, carry out auctions, etc. A special license is required in order to work in export or management.
Thailand has a mixed legal system, consisting of germanic, french, british and domestic law. Corporate practice is regulated in the Civil Code and the Commercial Code.
Main types of businesses in Thailand
Private Limited Liability Company
Public Limited Liability Company
Branch Office
Joint Venture
Non-registered Partnership
Registered Partnership
Limited Partnership
Registered Merchant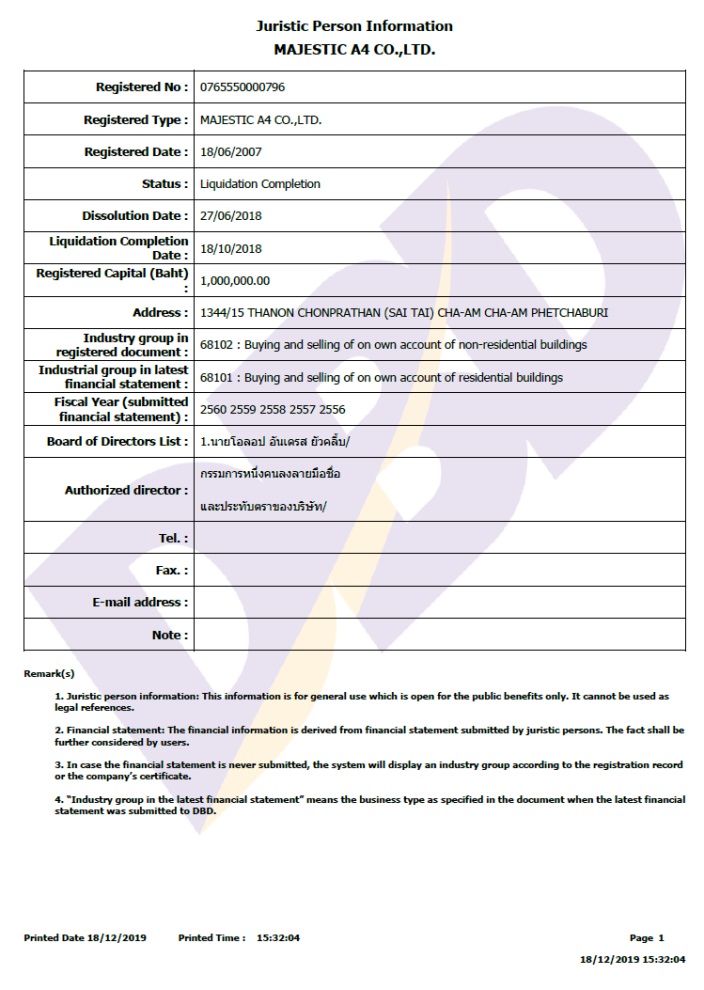 Company profile is up-to-date company information and its corporate documents submitted in the register.
Extract from commercial register of Thailand contains the following information:
Full legal name
Registration date
Registration number
Type of business
Share capital
Current status (active/inactive)
Tax number
Legal address
Contact details
Main activity
Director and proprietors
Shareholders
Additional data
NB: Information about some companies may be unavailable, or available for a fee.
Search in the register is not free of charge. Search results are sent to you within 5-12 days after request submission.
To get a required document, we will need the following information about a company:
Full legal name
Registration number

Inquiries are processed from 30 minutes.
Service
Price incl. German VAT 19%
Price excl. VAT

Price for an Electronic Extract from Thailand

from

29,75

€

from

25,00

€

Price for the translation of an Extract from Thailand

from

41,65

€

from

35,00

€

Price for an Extract with Legalization without international shipping

from

952,00

€

from

800,00

€



Legalization of extracts from Thailand
Thailand did not accede to The Hague Convention Abolishing the Requirement of Legalization for Foreign Public Documents in 1966. Therefore, all algerian documents are subject to legalization.
An extract from the business register of Thailand can be used in order to:
Obtain detailed information about potential business partners
Negotiate foreign trade agreements
File legal claims
You can order free preliminary availability check of required information on our website.