Schmidt & Schmidt provides extracts from the commercial register of Iran with a translation and an apostille as pdf-file via e-mail.
The Islamic Republic of Iran is a sovereign state in Western Asia. Iran is an islamic republic, with the president as head of state. The state religion is Islam. Local currency is the Rial (IRR), the official language is Persian. Iran is a member of the United Nations (UN), the Organisation of Petrol Exporting Countries (OPEC) and other international organisations. Iran has an observer status at the Shanghai Cooperation Organisation (SCO).
In terms of GDP-level, Iran ranks among the 20 most successful countries in the world. Petrol drilling and export make up 45% of the national budget, Iran ranks second worldwide in terms of petrol drilling. The service sector accumulates roughly 60% of the GDP.
Iran has a mixed legal system.
Corporate practice is regulated in the Commercial Code, the Law on Exports and Imports and other legal statutes.
Main types of businesses:
Sherkat Sahami – Joint-stock company
Sherkat ba Masouliyat Mahdoud – Limited liability company
Sherkat Tazamoni – General business partnership
Sherkat Mokhtalet Gheyr Sahami – Limited partnership
Sherkat Mokhtalet Sahami – Mixed company
Sherkat Nesbi – Ordinary partnership
Sherkat Ta'avoni Towlid va Masraf – Limited partnership
Additionally, foreign branch offices may operate in Iran.
The State Organisation for Registration of Deeds and Properties is responsible for registration in the commercial register.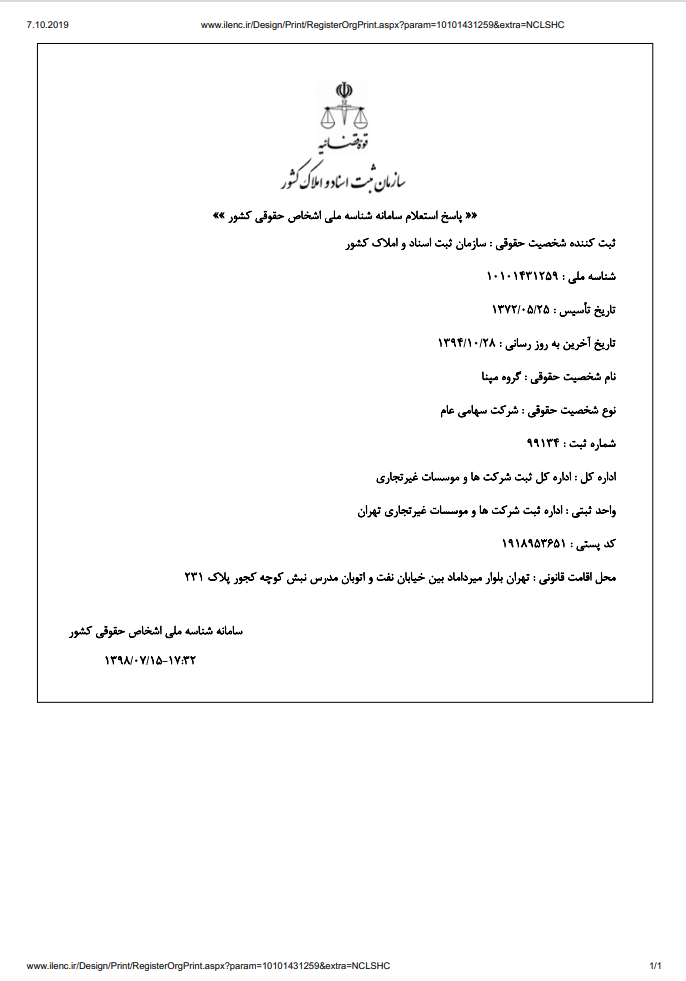 Contents of the register:
Full legal name
Registration number
Director and proprietors
Main activity
Type of business
Additional data
NB: Information about some companies may be unavailable, or available for a fee.
Search in the register is not free of charge. Search results are sent to you within 7-14 days after request submission.
To get a required document, we will need the following information about a company:
Full legal name
Registration number

Inquiries are processed from 30 minutes.
Service
Price incl. German VAT 19%
Price excl. VAT

Price for an Electronic Extract from Iran

from

119,00

€

from

100,00

€

Price for the translation of an Extract from Iran

from

47,06

€

from

35,00

€

Price for an Extract with Apostille without international shipping

from

595,00

€

from

500,00

€



Legalization of extracts from Iran
Iran did not accede to The Hague Convention Abolishing the Requirement of Legalization for Foreign Public Documents in 1966. Therefore, all iranian documents are subject to legalization.
An extract from the business register of Iran can be used in order to:
Obtain detailed information about potential business partners
Negotiate foreign trade agreements
File legal claims
You can order free preliminary availability check of required information on our website.