Schmidt & Schmidt provides extracts from the commercial register of Taiwan with a translation and an apostille as pdf-file via e-mail.
Taiwan, officially known as the Republic of China, is a state in East Asia. Taiwan is the largest economy as well as the most populous country in the world that is not a member of the United Nations, their seat currently being occupied by the People's Republic of China. The country is a semi-presidential, constitutional republic, with the president as head of state. Local currency is the New Taiwan Dollar (TWD), the official language is Standard Chinese.
Taiwan has a reasonably developed economy, 73% of the country's GDP is accumulated by the service sector.
Corporate practice is regulated by the Civil Code.
Main types of businesses:
Unlimited Company (OHG)
Limited Company (GmbH)
Company Limited by Shares (AG)
Unlimited Company with Limited Liability Shareholders (KG)
Free Trade Zone company
One-man company
Foreign branch office
Representation
The commercial register is managed by the Ministry of Commerce.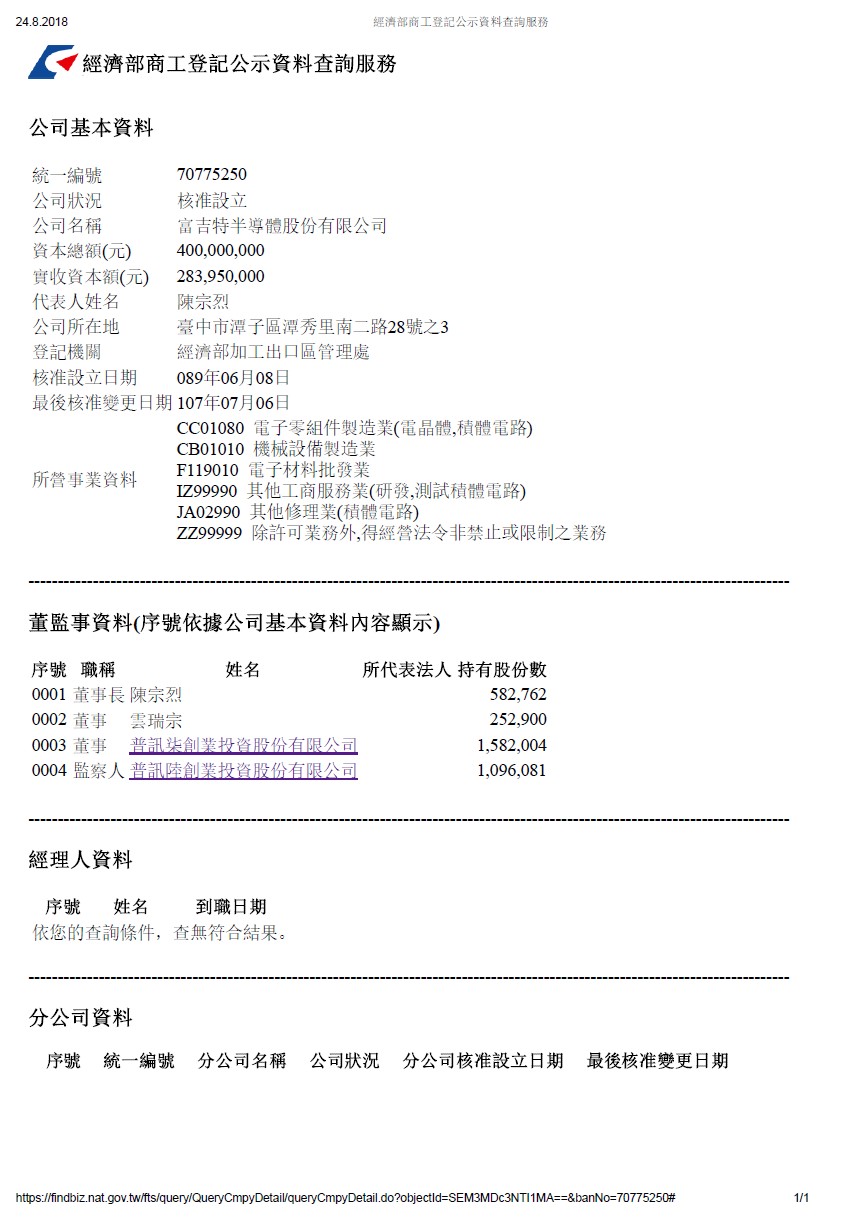 From commercial register of Taiwan you can get the following extract:
Company profile is up-to-date company information and its corporate documents submitted in the register:
Full legal name
Legal form
Legal address
Contact details
Current status (active/inactive)
Type of economical activity
Shareholders
Registered capital
Director and proprietors
Additional data
NB: Information about some companies may be unavailable, or available for a fee.
To get a required document, we will need the following information about a company:
Full legal name
Registration number

Inquiries are processed from 30 minutes.
Service
Price incl. German VAT 19%
Price excl. VAT

Price for an Electronic Extract from Taiwan

from

23,80

€

from

20,00

€

Price for the translation of an Extract from Taiwan

from

59,50

€

from

50,00

€

Price for an Extract with Apostille without international shipping

from

595,00

€

from

500,00

€



Legalization of commerci8al extracts from Taiwan
Taiwan did not accede to The Hague Convention Abolishing the Requirement of Legalization for Foreign Public Documents in 1966. Therefore, all taiwanese documents are subject to legalization.
An extract from the business register of Taiwan can be used in order to:
Obtain detailed information about potential business partners
Negotiate foreign trade agreements
File legal claims
Register legal entities with foreign participation
Check potential employers
You can order free preliminary availability check of required information on our website.