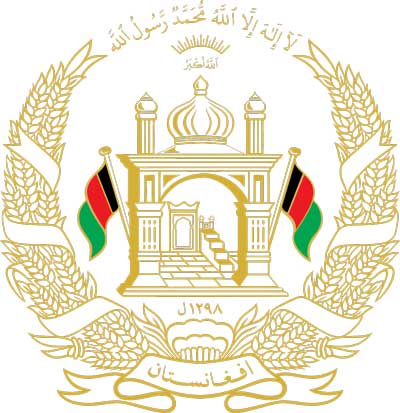 Schmidt & Schmidt provides extracts from the commercial register of Afghanistan with a translation and legalization.
The Islamic Republic of Afghanistan is a sovereign state located in South and Central Asia. It is a unitary presidential Islamic republic. Afghanistan is currently ruled by the President and a Chief Executive – a special position created after two candidates claimed victory in 2014 presidential elections (one became a president, and the other took this newly created post in the Government of Afghanistan). Local currency is the Afghani. Official languages are Pashto and Dari. Afghanistan is a member state of the United Nations, Organisation of Islamic Cooperation, Non-Aligned Movement and other international organisations.
Afghanistan is one of the world's least developed countries. The core sector of the local economy is agriculture. Afghanistan also has an abundance of mineral resources, but for the most part they remain intact. Economic development of the country is impeded by political instability, high level of crime, and ongoing war. Moreover, Afghanistan is the world's largest producer of opium, which makes a significant contribution to the country's major black market, as well as black markets of other countries.
Afghanistan is not an offshore jurisdiction or tax haven. At the same time, it causes major concerns in the risks of money laundering and terrorist financing (ML/TF). Measures against ML/FT taken by Afghanistan are monitored by the Financial Action Task Force on Money Laundering (FATF).
Business activities in Afghanistan are regulated by the Civil Code, Corporations Act, Limited Liability Companies Act, Partnerships Act, and other relevant laws.
Main types of businesses in Afghanistan
Corporation
Limited Liability Corporation (company)
Partnership
Sole Proprietorship
The commercial register of Afghanistan is managed by the Afghanistan Central Business Registry (ACBR), a department of the Ministry of Commerce and Industry. The commercial register of Afghanistan was created in its current form in 2008. Some services of the ACBR are available online.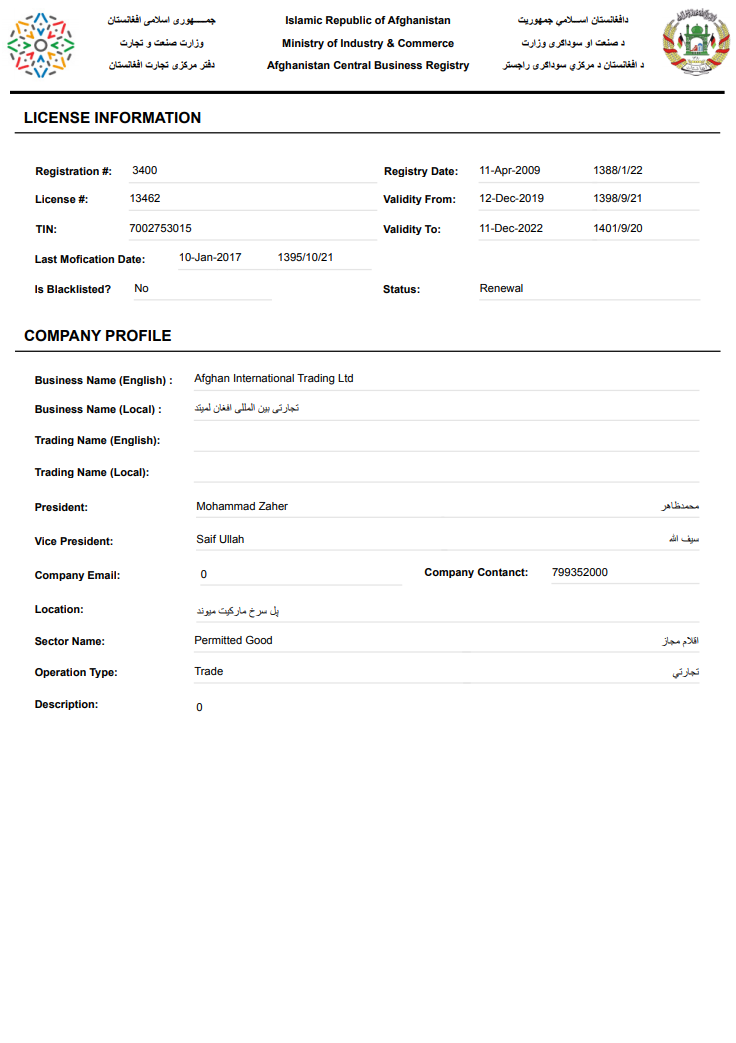 Contents of the commercial register of Afghanistan
Main extract available from the commercial register of Afghanistan is a company profile. It contains information about a company, relevant at the moment of the request.
Full legal name (and former names)
Type of business
Details about the president and vice-president of the company
Address
Registered capital
Main activities
Other available information
NB: Information about some companies may be unavailable, or available for a fee.
Search in the register is not free of charge. Search results are sent to you within 3-5 days after request submission.
To get a required document, we will need the following information about a company:

Inquiries are processed from 30 minutes.
Service
Price incl. German VAT 19%
Price excl. VAT

Price for an Electronic Extract

from

23,80

€

from

20,00

€

Price for an Extract with Apostille without international shipping

from

1190,00

€

from

1000,00

€



Afghanistan has NOT acceded to the The Hague Convention Abolishing the Requirement of Legalization for Foreign Public Documents.
Therefore, the documents issued in Afghanistan are NOT subject to a simplified apostilling procedure, thus the documents have to be legalised directly via the consulates of Afghanistan.
Schmidt & Schmidt assists with legalization procedure.
You can order free preliminary availability check of required information on our website.
In addition, you can order certified translation.
We provide extracts from the register in strict compliance with the legislation of the Independent State of Papua New Guinea and the General Data Protection Regulation.
Inquiries are processed within one working day. Courier delivery of apostilled documents is paid separately by courier service tariffs.
You can order free preliminary availability check of required information on our website.