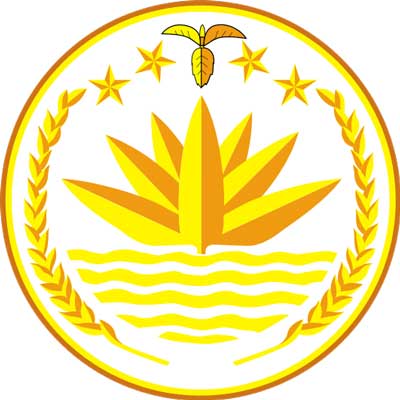 Schmidt & Schmidt provides extracts from the commercial register of Bangladesh with a translation, legalization and an apostille as pdf-file via e-mail
The People's Republic of Bangladesh is a country in South Asia. Bangladesh is a parliamentary republic, with the president as head of state. Local currency is the Take (BDT), the official language is Bengali. The state religion is the Islam. Bangladesh is a member of the United Nations (UN), the Commonwealth of Nations, the Organisation for Islamic Cooperation (OIC) and other international organisations.
Bangladesh ranks among the poorest countries in Asia, however the economic situation has improved throughout the past few years. The most important economic sectors are the service sector (roughly 56% of the GDP) and the textile industry, creating 75% of the total income. Agriculture employs about 63% of the population. Bangladesh contains free economic zones. The total number of companies registered in the country today exceeds 200.000.
Bangladesh has a Common-Law-System. However, some parts of daily life are regulated by religious law.
Corporate practice is regulated in the Companies Act of 1994, the Law on Partnerships of 1932 and other legal statutes.
Main types of businesses:
Private companies (limited by shares or limited by guarantee or unlimited company)
Public companies
Foreign companies
Trade organizations
Societies
Partnership firms
Additionally, registered merchants may operate in Bangladesh.
The Office of the Registrar of Joint Stock Companies and Firms (RJSC) is responsible for registration in the commercial register.
Contents of the register:
Full legal name
Registration number and date
Type of business
Status of the company
Legal address
Main activities
Directors and founders
Other information
Besides that, the following documents can be obtained from the commercial register of Bangladesh:
Articles of association
Memorandum of Association
Certificate of incorporation
Declaration on registration of company
List of persons consenting to be directors
Annual summary of share capital and list of shareholders
Balance Sheet
Profit & Loss Account
Notice by Auditor
NB: Information about some companies may be unavailable, or available for a fee.
Search in the register is not free of charge. Search results are sent to you within 5-7 days after request submission.
To get a required document, we will need the following information about a company:
Legalization of extracts from Bangladesh
Bangladesh did not accede to The Hague Convention Abolishing the Requirement of Legalization for Foreign Public Documents in 1966. Therefore, all bangladeshi documents are subject to legalization.
An extract from the business register of Bangladesh can be used in order to:
Obtain detailed information about potential business partners
Negotiate foreign trade agreements
File legal claims
Register legal entities with foreign participation
Check potential employers
You can order free preliminary availability check of required information on our website.
Service
Price incl. German VAT 19%
Price excl. VAT

Price for an Electronic Extract from Bangladesh

from

71,40

€

from

60,00

€

Price for the translation of an Extract from Bangladesh

from

178,50

€

from

150,00

€

Price for an Extract with Apostille without international shipping

from

297,50

€

from

250,00

€