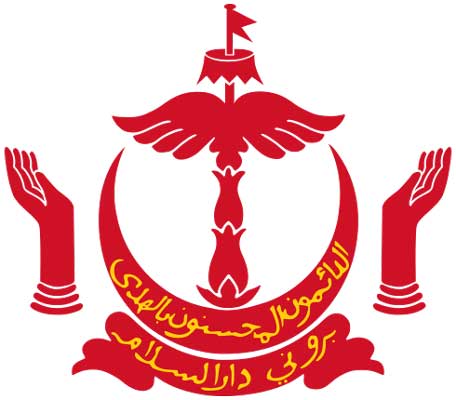 Schmidt & Schmidt provides extracts from the commercial register of Brunei with a translation, legalization and an apostille as pdf-file via e-mail
The Nation of Brunei, the Abode of Peace is a sovereign state located on the north coast of the island of Borneo in Southeast Asia. The country is an Islamic absolute monarchy, with the sultan as head of state. Local currency is the Brunei Dollar (BND), the official languages are Malay and English. Brunei is a member of the United Nations (UN), the Commonwealth of Nations and other international organisations.
Brunei ranks among the richest countries in the world (4th highest GDP per capita in the world). The pillars of the country's economical success is the export of petroleum and petrol gas (roughly 90% of the national income and 60% of the GDP). In total, the industry accounts for about 72% of the GDP. At the moment, the country is taking measures to develop other economical branches like international financial services.
Every year, 5.000 new companies are registered in Brunei. According to the World Bank, Brunei is among the 10 best countries in the world to practise business activities. There are 9 banks operating in Brunei who specialise specifically in offshore-business
Brunei has a mixed legal system, mostly drawing inspiration from muslim law as well as Common Law, however malay unwritten law is also recognised.
Corporate practice is regulated in the Companies Act of 1956 and other legal statutes.
Main types of businesses:
Brunei International Financial Centre
Brunei International Business Company
Brunei International Limited Partnership
Brunei International Trust
Brunei Sole Proprietorship
Brunei Partnership
Brunei Private Company (Sendirian Berhad or Sdn. Bhd.)
Brunei Public Company (Berhad or Bhd.)
Additionally, foreign branch offices may also operate in Brunei.
The Registry of Companies and Business Names (ROCBN) is responsible for registration in the commercial register. It was established in 1959 and used to be directly subordinate to the Prosecution. Ever since 2012, the ROCBN has become a department of the Ministry of Finance. Their services are partially available online.
Contents of the commercial register of Brunei
Full legal name
Registration number and date
Type of business
Local registering authority
Registered capital
Status of the company
Main activities
Legal address
Directors and founders
Other information
NB: Information about some companies may be unavailable, or available for a fee.
Search in the register is not free of charge. Search results are sent to you within 2-3 days after request submission.
To get a required document, we will need the following information about a company:
Full legal name
Registration number
Brunei acceded to the The Hague Convention Abolishing the Requirement of Legalization for Foreign Public Documents on 3 December 1987.
Therefore, the documents issued in Brunei are subject to a simplified apostilling procedure, thus the documents gain full legal value in Convention member states after notarised translation.
In addition, you can order notarised translation from Malay.
An extract from the business register of Brunei can be used in order to:
Obtain detailed information about potential business partners
Negotiate foreign trade agreements
File legal claims
You can order free preliminary availability check of required information on our website.
Service
Price incl. German VAT 19%
Price excl. VAT

Price for an Electronic Extract from Brunei

from

119,00

€

from

100,00

€

Price for the translation of an Extract from Brunei

from

47,06

€

from

35,00

€

Price for an Extract with Apostille without international shipping

from

714,00

€

from

600,00

€



Do you have any questions about the offer? Contact us and arrange a free of charge consultation!