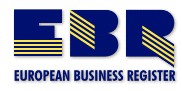 Schmidt & Schmidt provides extracts from the European Business Register (EBR) with a translation.
The European Business Register was created in 1992. It is a public information source of the European Union that unites 28 countries, 20 of which are the European Union member states. Information about companies is gathered by corresponding institutions of the EBR members, using different methodology and legislative basis. As a rule, there is considerably less information in the EBR than in the national registers. However, extracts from the European Business Register allows to get information about more than 20 million companies located all over Europe.
EBR is administered online, and extracts from it are available in PDF format.
Countries presented in EBR:
| | | | |
| --- | --- | --- | --- |
| Austria | Belgium | Czech Republic | Denmark |
| Estonia | Finland | France | F.Y.R. Macedonia |
| Gibraltar | Guernsey | Germany | Greece |
| Ireland | Italy | Jersey | Latvia |
| Lithuania | Luxembourg | Malta | Netherlands |
| Norway | Serbia | Slovakia | Slovenia |
| Spain | Sweden | Ukraine | United Kingdom |
Extract from the EBR can be used in order to:
Obtain detailed information about potential business partners
Negotiate foreign trade agreements
Extract contains the following information:
Name of a company
Type of business
Legal address
Phone number
Registration number
Date of registration
Branches and subsidiaries
Main activities
Founders and CEO
Registered capital
Date of latest amendments
Form of incorporation
дата внесения последних изменений
NB: Information about some companies may be unavailable.
Sample of an extract from the EBR in English
To get a required document, you will need a company's name and country of registration.
Main types of businesses in the European Union
Apart from the national types of businesses, some companies can be registered according to the united corporate law of the European Union. These types of businesses are present in all EU member states.
Legal entities:
Societas Europaea (SE) – European Company, a type of joint-stock company
European Cooperative Society (SCE) – type of a cooperative, aimed at facilitating cooperatives' cross-border and trans-national activities
Unincorporated:
European economic interest grouping (EEIG) – unlimited liability partnership
We provide extracts from the register in strict compliance with the legislation of the European Union, the EBR member states and the General Data Protection Regulation.
Inquiries are processed within one working day. Courier delivery of apostilled documents is paid separately by courier service tariffs.
You can order free preliminary availability check of required information on our website.
Service
Price incl. German VAT 19%
Price excl. VAT

Price for an Electronic Extract

from

17,85

€

from

15,00

€