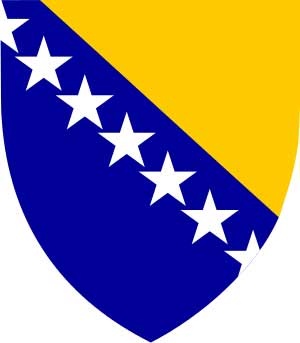 Schmidt & Schmidt provide extracts from the commercial register of Bosnia and Herzegovina with a translation and an apostille.
Should you wish to check the sincerity of your foreign business partner's request, Schmidt & Schmidt will gladly assist you.
We offer extracts from the commercial registers of more than 100 different registers in countries spread all around the globe. Additionally, we offer annual statements for a variety of companies. The original extract from any commercial register can be sent to you by mail or as a pdf-file via e-mail. Besides that, commercial register extracts can be authenticated with an apostille.
Companies in Bosnia and Herzegovina are first registered by competent courts, then by tax authorities, and companies get work permit afterwards.
Electronic registers contain information about all businesses that are required to register in compliance with the legislation on registration of economic entities.
The data presented in electronic registers is meant for informational purposes only and does not equal a certified document that is issued by an interested party after receiving an official request.
The activities of commercial enterprises in Bosnia and Herzegovina are regulated by a number of laws of the Federation, such as Framework Law on the Registration of Enterprises, as well as legislation of the city of Brčko and Republic of Serbia. Bosnia and Herzegovina is not blacklisted as a state that conceals information about businesses registered in the country.
Register of Business Entities in the Federation of Bosnia and Herzegovina is a centralised database that contains entries about all the registered companies that are doing business in this country.
Contents of the register of business entities of Bosnia and Herzegovina:
Business enterprises
Permanent establishments of foreign companies
Business activities statistics
Extract from the commercial register of Bosnia and Herzegovina can be used in order to:
Obtain detailed information about potential business partners
Negotiate foreign trade agreements and other documents
Register legal entities with foreign participation
Investment operations
File legal claims
The data from the register of business entities in the Federation of Bosnia and Herzegovina is provided in the form of a PDF-file in English, Bosnian, Croatian or Serbian. If needed, the documents can be translated and sent by post, in a notarised or apostilled form.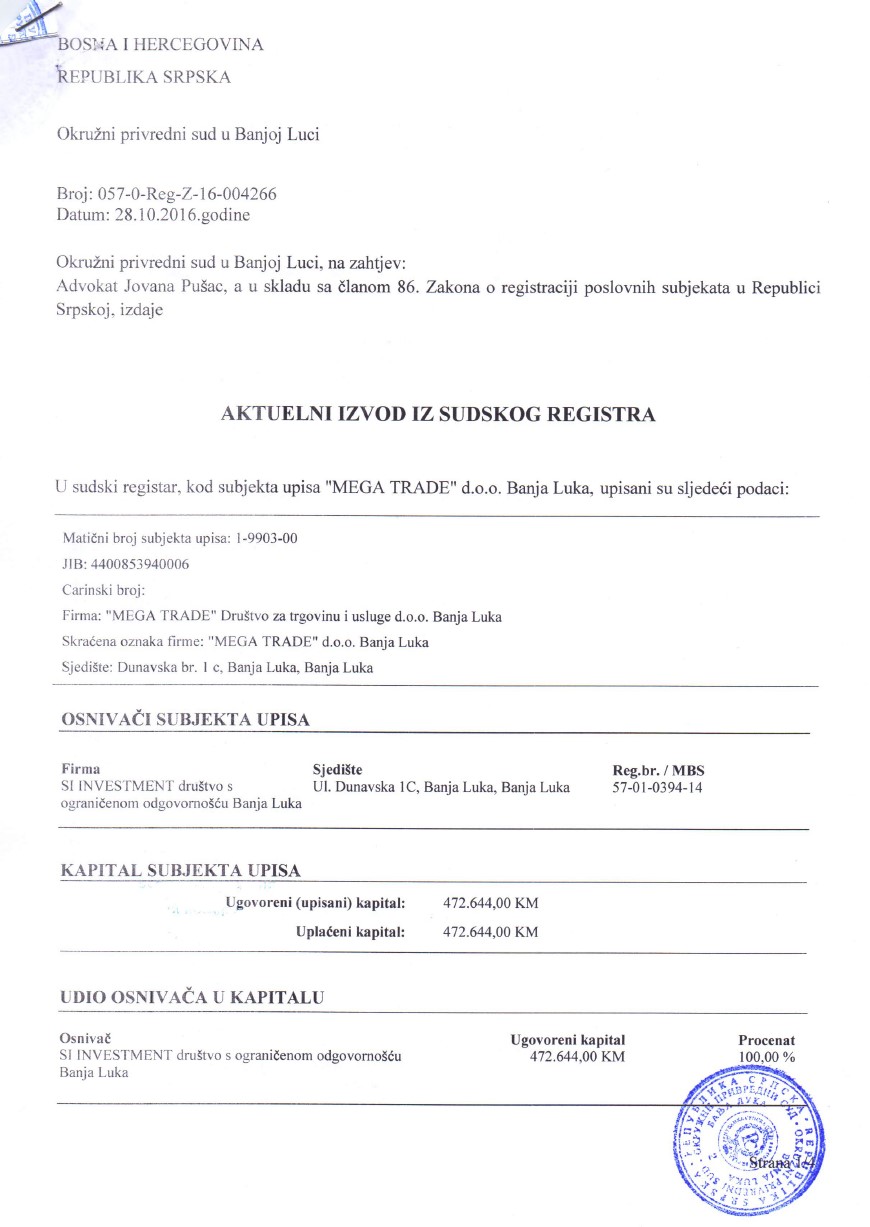 Current extract from the commercial register contains the basic information relevant at the moment of request.
Extract contains the following information:
Full legal name of a company
Registration date
Contact information (eg. address of the office)
Information about the key management and shareholders
Territory of company's business activities
NB: In some cases, information about certain organisations may be unavailable, or available for a fee.
It is possible to get copies of all documents submitted to the register.
To get a required document, we will need the following information about a company:
Full legal name
Registration number
Inquiries are processed from 30 minutes.
Service
Price incl. German VAT 19%
Price excl. VAT

Price for an Electronic Extract

from

23,80

€

from

20,00

€

Price for an Extract with Apostille without international shipping

from

297,50

€

from

250,00

€



Main types of businesses in Bosnia and Herzegovina:
Dioničko društvo, (d.d.) – joint-stock company
Društvo s ograničenom odgovornošću (d.o.o.) – limited liability company
Društvo s neograničenom solidarnom odgovornošću (d.n.o.) – unlimited company
Komanditno društvo (k.d.) – limited partnership
There are also permanent establishments of foreign legal entities, branches of foreign companies and subsidiary companies.
We provide extracts from the register in strict compliance with the legislation of Bosnia and Herzegovina and the General Data Protection Regulation.
Inquiries are processed from one working day. Courier delivery of apostilled documents is paid separately by courier service tariffs.
You can order free preliminary availability check of required information on our website.
Bosnia and Herzegovina acceded to The Hague Convention Abolishing the Requirement of Legalization for Foreign Public Documents on 24 January 1965, as a part of Socialist Federal Republic of Yugoslavia.
Therefore, the documents issued in Bosnia and Herzegovina are subject to a simplified apostilling procedure, thus the documents gain full legal value in Convention member states after certified translation.
Apostilling usually takes about two weeks.
In addition, you can order certified translation from Bosnian.