Schmidt & Schmidt provides extracts from the commercial register of Moldova with a translation and an apostille.
Republic of Moldova is а country in Eastern Europe and a former Soviet republic. This is a parliamentary republic with a president as the head of state. Local currency is the Moldovan leu. The official language is Romanian (Moldovan). The Administrative-Territorial Units of the Left Bank of the Dniester has been under the de facto control of the unrecognised Pridnestrovian Moldavian Republic since 1990.
Moldova has been facing serious economic challenges since the collapse of the Soviet Union. According to International Monetary Fund, Moldova ranks 132 by GDP per capita in the world, which is the lowest rank in Europe. Most industrial enterprises are either idle, or only partially used. Agriculture is the core of the Moldovan economy.
Moldova is not an offshore centre or a tax haven. The country is characterised by a (pro forma) rather high level of transparency of registration procedures and corporate information.
Business activities in Moldova are regulated by, inter alia, the 1992 Law on Entrepreneurship and Enterprises, The 1997 Law on Joint-Stock Companies, the 2007 Law on Limited Liability Companies, and the 2002 Civil Code.
Main types of businesses in Moldova
There are 170 500 entities registered in Moldova in total:
97 190 limited liability companies
58 313 individual entrepreneurs
4 530 joint-stock companies
3 829 cooperatives
1 580 state and municipal enterprises
1 978 non-profit organisation
3 080 subsidiary companies, partnerships, representations, collective farms, etc.
The commercial register of Moldova is managed by the State Registration Chamber that is, in turn, supervised by the Ministry of Justice. Registration of a company takes place at the Chamber's HQ or its 10 branches. It is also possible to register a business online.
Registration Chamber issues the following documents to a new business:
Certificat de înregistrare – certificate of registration
Extras din Registrul de stat al persoanelor juriice – an extract from the state register
Decize privind înreagistrara modificărilor – decision on registration of changes
Adeverinţa -privind fabricarea ştampilei pentru – stamp certificate
Statutul – company's charter
Access to the register of legal entities is available via the governmental open data portal of Republic of Moldova.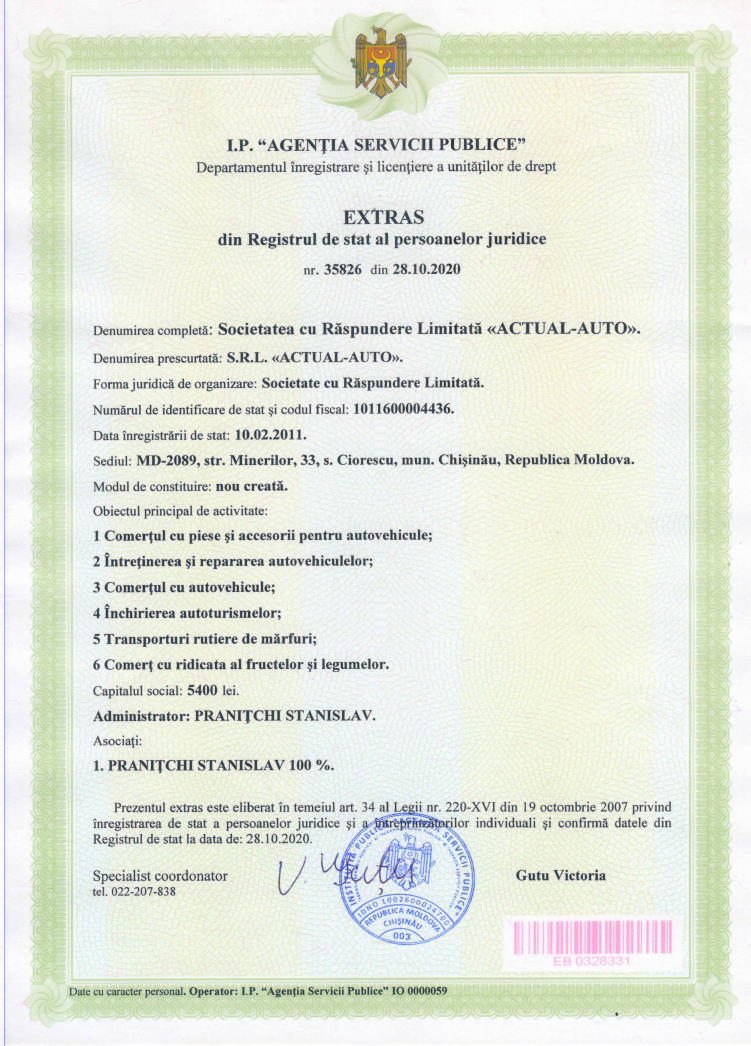 Contents of the register:
The main information statement provided by this country is a company profile. This document comes in the Romanian (Moldovan) language and contains the basic information relevant at the moment of request, such as:
Full legal name
Registration number
Registration details
Legal address
Current status (active/inactive)
Type of business
Financial information
Other available information
NB: Information about some companies may be unavailable.
Search in the register in not free of charge. Results will be available to you within 3-5 days.
To get a required document, we will need the following information about a company:
Full legal name
Registration number
An extract from the commercial register of Moldova can be used in order to:
Obtain detailed information about potential business partners
Negotiate foreign trade agreements
File legal claims
We provide extracts from the register in strict compliance with the legislation of Republic of Moldova and the General Data Protection Regulation.
Service
Price incl. German VAT 19%
Price excl. VAT

Price for an Electronic Extract

from

71,40

€

from

60,00

€

Price for an Extract with Apostille without international shipping

from

297,50

€

from

250,00

€



Moldova acceded to the The Hague Convention Abolishing the Requirement of Legalization for Foreign Public Documents on 19 June 2006.
Therefore, the documents issued in Moldova are subject to a simplified apostilling procedure, thus the documents gain full legal value in Convention member states after certified translation.
Apostilling usually takes about two weeks.
In addition, you can order certified translation from the Romanian (Moldovan) language.
Inquiries are processed within one working day. Courier delivery of apostilled documents is paid separately by courier service tariffs.
You can order free preliminary availability check of required information on our website.