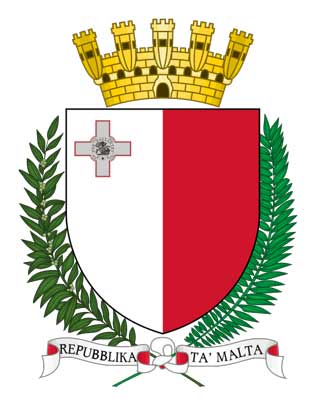 Schmidt & Schmidt provides extracts from the commercial register of Malta with a translation and an apostille.
Republic of Malta is an island country in the Mediterranean Sea. It became the member of the European Union in 2004. Local currency is the Euro.
Malta has been considered an offshore centre for a long time. However, due to the reforms in the Maltese legislation made between 1995 and 2007, it has become impossible to register offshore businesses (International Trading Companies and International Holding Companies). As a result, Malta was excluded from the lists of tax havens. Nowadays OECD recognises Malta as a state that has applied the necessary taxation and transparency requirements.
Malta is among 117 jurisdictions that participate in the Convention on Mutual Administrative Assistance in Tax Matters.
Business activities in Malta are regulated by, inter alia, the Companies Act of 1995.
The Maltese business register is managed by the Malta Financial Services Authority (MFSA). They issue extracts in English that contain information relevant at the time of the request.
The commercial register of Malta was created in 1962, when the Company law was introduced in the country by the Commercial Partnerships Ordinance. It was supervised by the Department of Trade at first, but its status changed with the implementation of the Companies Act in 1995. Thus, it has been administered by the MFSA since 1997.
All documents ever submitted in the register have been scanned; each company has got its own electronic file in the database.
You can access the commercial register of Malta via the MFSA website. Information is available to users after free registration.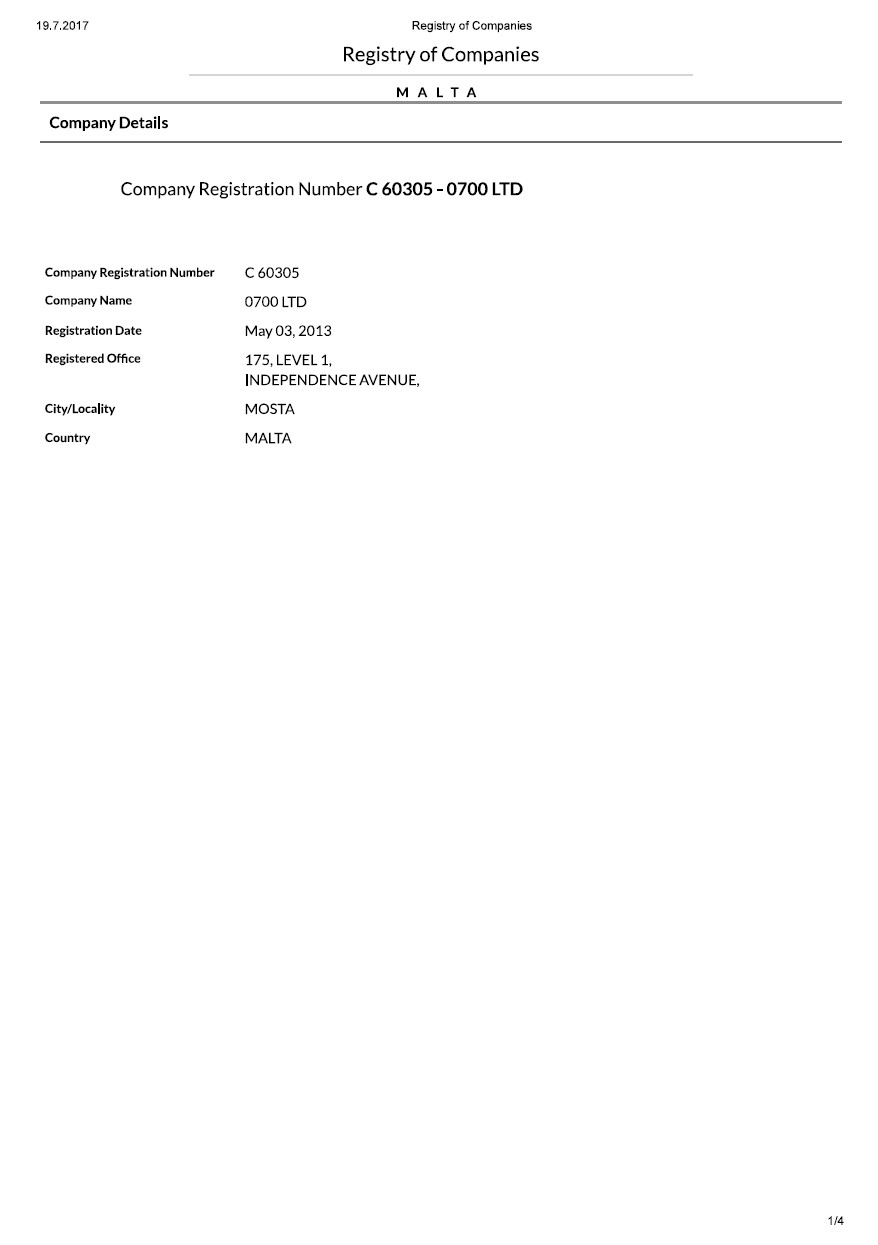 Current extract from commercial register of Malta is an official document that contains up-to-date information about a company registered in Malta.
Current extract from commercial register of Malta contains following information::
Legal name
Registration number
Legal addressи
Registration date
Share capital
Directors and founders
Company status (active or inactive)
Main activity
List of submitted documents
Other available information
NB: Information about some companies may be unavailable, or available for a fee.
You can also get following documents:
Certificate of Good Standing is confirmation of a company's trustworthiness and its right to do business in Malta.
Certificate of Incorporation certificate is certificate of company's registration in Malta issued by the Registrar. This document contains name, type of business, registration number and address. Certificate can be apostilled by the Ministry of Foreign Affairs of Malta.
Memorandum and Articles of Association is in copy.
Directors Certificatethis confirms that a company has directors, their names or a name of holding companies, addresses and citizenship.
Shareholders Certificate contains information about company's shareholders and their shares.
Financial Statements is in a simplified form.
Annual Return includes data on founders and shareholders; their shares and company's capital; and any changes in financial conditions.
You can also get copies of any other document submitted in the register, such as changes in a company's charter, legal address, key management; bankruptcy and dissolution procedures.
Inquiries are processed from 30 minutes.
Service
Price incl. German VAT 19%
Price excl. VAT

Price for an Electronic Extract

from

23,80

€

from

20,00

€

Price for an Extract with Apostille without international shipping

from

297,50

€

from

250,00

€



To get a required document, we will need the following information about a company:
Full legal name
Registration number
Sample from the commercial register of Malta
An extract from the commercial register of Malta can be used in order to:
Obtain detailed information about potential business partners
Negotiate foreign trade agreements
Register legal entities with foreign participation
File legal claims
Main types of businesses in Malta
Public limited liability company – joint-stock company.
Private limited company – limited liability company.
Partnership – unlimited.
Trust.
There are also European companies and European economic interest groupings in Malta.
We provide extracts from the register in strict compliance with the legislation of Republic of Malta and the General Data Protection Regulation.
Inquiries are processed within one working day. Courier delivery of apostilled documents is paid separately by courier service tariffs.
You can order free preliminary availability check of required information on our website.
Register of Beneficiaries of Malta
On 20 December 2017, Malta published the Law on the Establishment of the Register of Beneficiaries (implementation of the EU Directive 2015/849). Each year, all companies must submit information to the Registrar, signed by the company's Director or Secretary, with information about the beneficial ownership and the dates of any changes. The Company, its governing bodies, shareholders and beneficial owners are responsible for non-compliance with the Law.
Access to the Register of Beneficiaries in Malta is restricted by the Financial Intelligence Service, the national tax authorities and any other competent national authorities as part of the prevention of money laundering or terrorist financing. Access is granted without restrictions and without prior notice. It is also possible to access the Register to individuals or entities that perform due diligence in accordance with applicable law in relation to money laundering or terrorist financing.
Finally, any person or organization may obtain access upon a written request that is of legitimate interest and is properly demonstrated to be uniquely related to the prevention, detection and elimination of money laundering or terrorist financing.
The following information is provided to the registry:
First and last name
Date of birth
Identification number
Citizenship
Country of residence
Basis of ownership
Malta acceded to the The Hague Convention Abolishing the Requirement of Legalization for Foreign Public Documents on 12 June 1967.
Therefore, the documents issued in Malta are subject to a simplified apostilling procedure, thus the documents gain full legal value in Convention member states after certified translation.
Apostilling usually takes about two weeks.
In addition, you can order certified translation from Maltese or English.