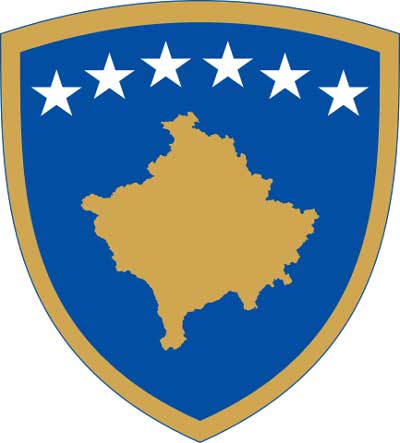 Schmidt & Schmidt provides extracts from the commercial register of Kosovo with a translation and an legalization.
Kosovo is a partially recognised state in the Balkans. It declared independence from Serbia in 2008 as the Republic of Kosovo, and since then its status has been disputed. Serbia claims the territory as the Autonomous Province of Kosovo and Metohija, while Kosovo is recognised as an independent state by 111 member states of the United Nations.
Kosovo is a parliamentary republic with a president as a head of state. Local currency is the Euro. Official languages are Albanian and Serbian. Kosovo is a member of the World Bank and International Monetary Fund.
Kosovan economy is currently in the state of transition. Economic development is impeded by the political instability as well as disputed status of Kosovo as a sovereign state. Kosovo is one of the poorest areas in Europe, and largely depends on remittances and foreign direct investment. Kosovo has an abundance of natural resources, and its main economic sector is mining. Another major sector is trade.
Kosovo is not considered an offshore jurisdiction or a tax haven. Like economy, its legislature is in the transition period. Business activities in Kosovo are regulated by the Law No. 02/L-123 "On Business Organizations" and other relevant laws.
Main types of businesses in Kosovo
Biznesi individual (Individualno preduzeće) – sole proprietorship
Ortakëri e përgjithsme (Opšte partnerstv) – general partnership
Shoqëria komandite (Komanditno društvo) – limited partnership
Shoqëritë me përgjegjësi të kufizuara (Društva sa ograničenom odgovornošću (d. o. o.)) – limited liability company
Shoqëritë aksionar (Deoničarska društva (d. d.)) – joint-stock company
Kompani e huaj (Strana kompanija) – foreign company
Ndërmarrjet shoqërore (Društveno preduzeće) – social enterprise
Ndërmarrjet publike (Javno preduzeće) – public enterprise
Kooperativat bujqësor (Poljoprivredne zadruge) – agricultural cooperative
Commercial register of Kosovo is managed by the Kosovo Business Registration Agency (ARBK) that operates within the Ministry of Trade and Industry. Registration procedure is available at any of 29 offices of ARBK.
System of business incorporation was introduced before the declaration of independence, in 2001. In 2002 ARBK became an independent executive organ within the Ministry of Trade and Industry.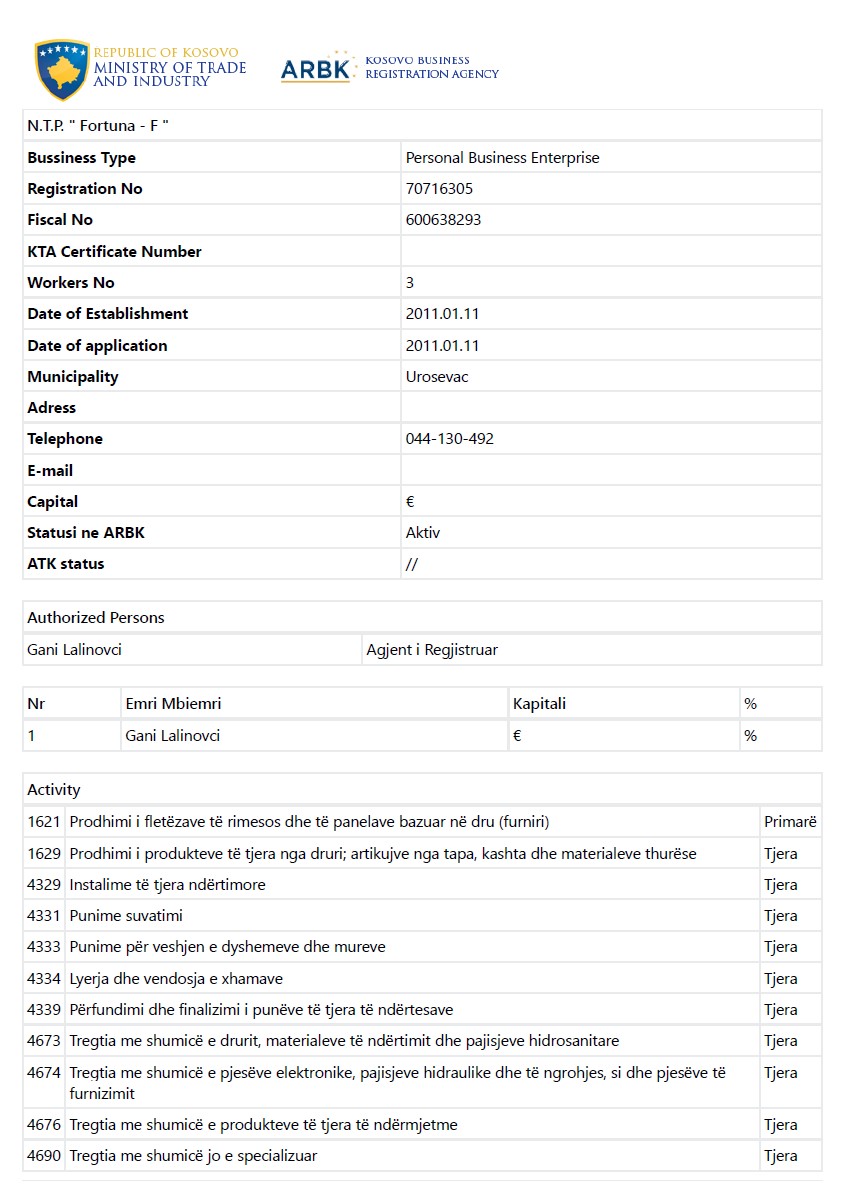 Current extract comes in the English or Albanian languages and contains information about a company, relevant at the moment of the request.
Current extract from commercial register of Kosovo:
Full legal name
Registration number
Type of business
Legal address
Main activities
Current status (active/inactive)
Registered capital
Main activities
Directors and shareholders
List of submitted documents
Additional documents (if applicable)
NB: Information about some companies may be unavailable, or available for a fee. Amount of available data depends on the type of business.
Search in the register is not free of charge. Search results are sent to you within 3-5 days after request submission.
Inquiries are processed from 30 minutes.
Service
Price incl. German VAT 19%
Price excl. VAT

Price for an Electronic Extract

from

23,80

€

from

20,00

€

Price for an Extract with Apostille without international shipping

from

357,00

€

from

300,00

€



To get a required document, we will need the following information about a company:
Full legal name
Registration number
An extract from the business register of Kosovo can be used in order to:
Obtain detailed information about potential business partners
Negotiate foreign trade agreements
File legal claims
Kosovo acceded to the The Hague Convention Abolishing the Requirement of Legalization for Foreign Public Documents on 6 November 2015.
Therefore, the documents issued in Kosovo are subject to a simplified apostilling procedure, thus the documents gain full legal value in Convention member states after notarised translation.
NB: A number of Convention member states does not recognise sovereignty of Kosovo, nor its membership in the Apostille convention. In this case, the apostilling procedure does not apply.
You can order free preliminary availability check of required information on our website.
In addition, you can order notarised translation from English or Albanian.
We provide extracts from the register in strict compliance with the legislation of the General Data Protection Regulation.
Inquiries are processed within one working day. Courier delivery of apostilled documents is paid separately by courier service tariffs.