Schmidt & Schmidt provides extracts from the commercial register of Transnistria with a translation and an apostille and legalization.
The self-proclaimed Pridnestrovian Moldavian Republic (also known as Transnistria) is a non-recognised state in the geographical region of Transnistria, on the left bank of the River Dniestr. Towards the end of the Soviet Union, this area became a subject of territorial dispute between Moldavian SSR and self-proclaimed Pridnestrovian Moldavian SSR as the former expressed intention to secede from the USSR.
Since then, Transnistria has been a zone of "frozen conflict". It has not been recognised by the United Nations or any pf its member states. Republic of Moldova designates this area as "Transnistria autonomous territorial unit with special legal status". The United Nations recognises Transnistria as de jure part of Moldova. De facto it is independent.
Pridnestrovian Moldavian Republic is a semi-presidential republic. Local currency is the Transnistrian rouble. Official languages are Russian, Moldovan, and Ukrainian.
The status of Transnistria is a core of economic problems in the area. Its economy mainly relies on heavy industry – the factories built here during the Soviet times were mostly preserved. Pridnestrovian companies trade with the EU and the Eurasian Economic Union via Moldova.
Transnistria is not an offshore zone. Due to the political situation, some countries have imposed economic sanctions on Transnistria (eg. Ukraine).
Pridnestrovian legislation was created based on the Soviet one. Nowadays it is partially synchronised with the Russian legislation.
Business activities in Transnistria are regulated by, inter alia, the Law on Limited Liability Companies, Law on Joint-Stock Companies, etc.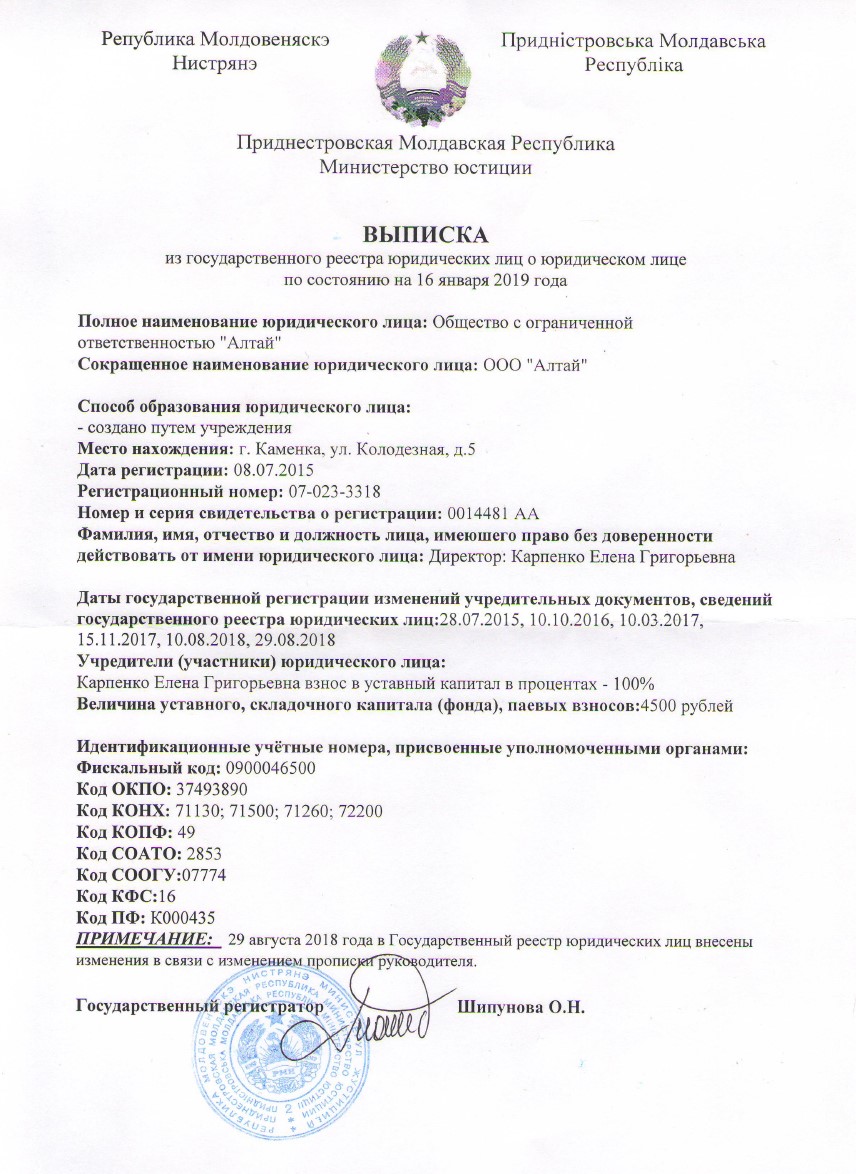 Extract contains the following information:
Name (both full and shortened)
Type of business
Legal address
Registration number and date
ID numbers assigned by different authorities
Authorised representative
Appendix (commentary)
NB: Information about some companies may be unavailable, or available for a fee.
Search in the register is not free of charge. Search results are sent to you within 3-5 days after request submission.
To get a required document, we will need the following information about a company:
Full legal name
Registration number

Inquiries are processed from 30 minutes.
Service
Price incl. German VAT 19%
Price excl. VAT

Price for an Electronic Extract

from

71,40

€

from

60,00

€

Price for an Extract with Apostille without international shipping

from

297,50

€

from

250,00

€



Main types of businesses in Transnistria
State and municipal unitary enterprises
Private joint-stock companies
Public joint-stock companies
Limited liability companies
Full partnerships
Fellowships on faith
Limited partnerships on shares
Production cooperatives
Individual entrepreneurs
The state registration of economic entities and management of the united commercial register is a responsibility of the State Service for Registration and Notary, a subsidiary body of the Ministry of Justice of Transnistria. Registration is obligatory for all legal entities.
An extract from the Pridnestrovian commercial register is an official document that contains publically available information about businesses in the area.
We provide extracts from the register in strict compliance with the General Data Protection Regulation.
Due to its unrecognised status, Transnistria is not a part of the The Hague Convention Abolishing the Requirement of Legalization for Foreign Public Documents. Therefore, apostilling procedure does not apply. Documents issued by the authorities of Transnistria do not have any legal force in the UN member states. However, most documents can be replaced by the Moldovan versions – in this case the apostilling procedure applies.
Apostilling usually takes about two weeks.
In addition, you can order notarised translation from the Romanian (Moldovan) language.
Inquiries are processed within one working day. Courier delivery of apostilled documents is paid separately by courier service tariffs.
You can order free preliminary availability check of required information on our website.