Schmidt & Schmidt provides extracts from the commercial register of Monaco with a translation and an apostille.
The Principality of Monaco is a microstate in Western Europe. It is a member of the United Nations, Organization for Security and Co-operation in Europe and the Council of Europe. Even though it is not a part of the European Union, it participates in certain EU policies, such as border controls and customs.
Technically, Monaco is not a "classic" offshore per se, but it is famous for its exceptionally low taxes, which makes it a popular tax haven. At the same time, the income tax in Monaco is rather high. OECD puts Monaco in the "grey area" of jurisdictions that have pledged to adjust their legislation to the international taxation standards, but have not yet done so.
The Principality guarantees banking secrecy. However, in 1994 Agreement with France banks in Monaco begun to disclose information about "suspicious" accounts. France is also the only country that has signed a treaty on avoiding double taxation with Monaco.
Business activities in Monaco are regulated by, inter alia, the 1867 Commercial Code, The 1881 Civil Code. Monegasque commercial laws were based on the French ones. The business register of Monaco is administered by the Directorate of Economic Development.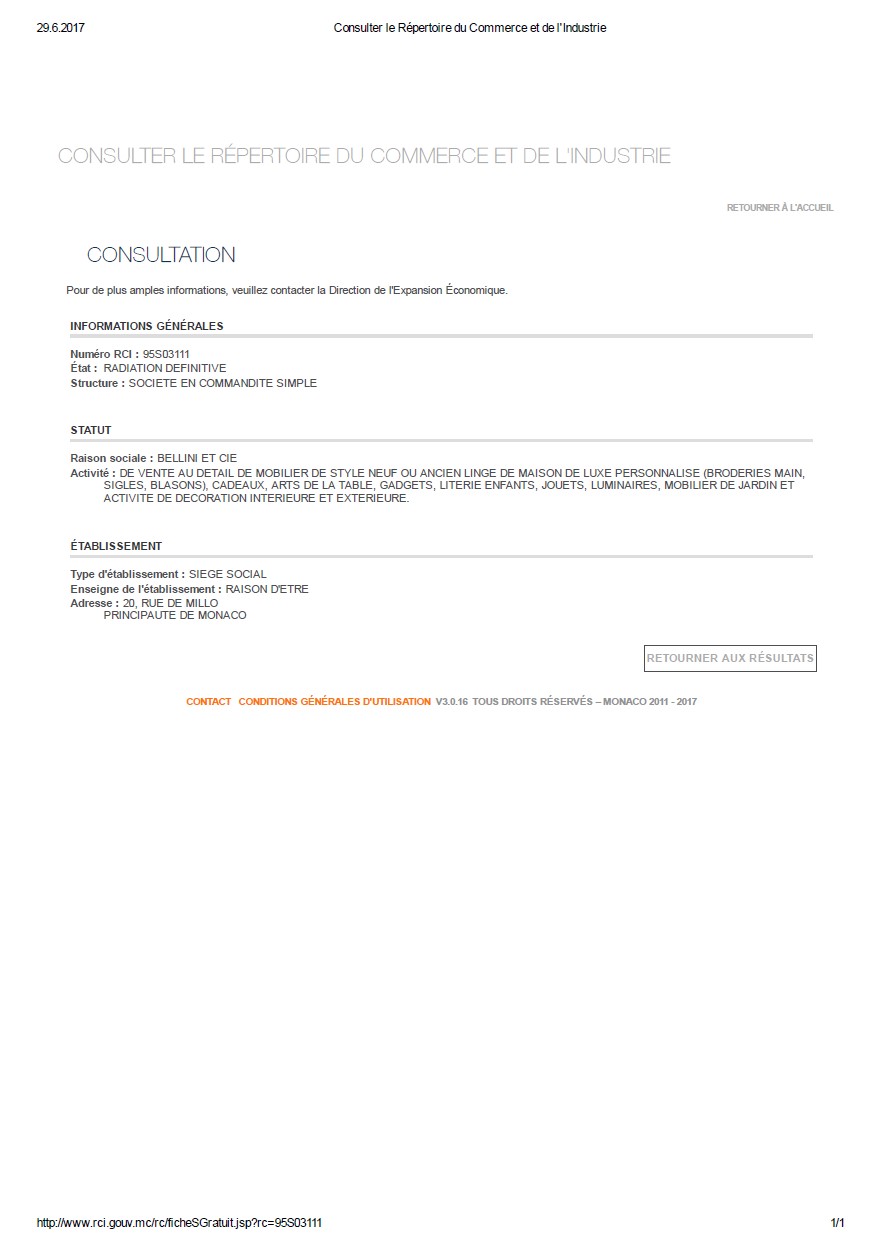 Current extract from commercial register of Monaco is an official document that contains up-to-date information about a company registered in Monaco.
Current extract from commercial register of Monaco contains following information:
Full legal name
Type of business
Board members and key management
Shareholders
Court decisions concerning a company
Other available information
NB: Information about some companies may be unavailable, or available for a fee.
Search in the register in not free of charge. Results will be available to you within 2-3 days.
All legal entities are obliged to submit their financial and accountancy statements in the register, but the access to these documents is not public.
It is possible to obtain a company's charter – however, you need to send a written request, have it reviewed by the officials, and have them decide whether you have a valid reason to make such inquiry.
To get a required document, we will need the following information about a company:
Full legal name
Registration number

Inquiries are processed from 30 minutes.
Service
Price incl. German VAT 19%
Price excl. VAT

Price for an Electronic Extract

from

23,80

€

from

20,00

€

Price for an Extract with Apostille without international shipping

from

357,00

€

from

300,00

€



An extract from the commercial register of Monaco can be used in order to:
Obtain detailed information about potential business partners
Negotiate foreign trade agreements
Register legal entities with foreign participation
File legal claims
Main types of businesses in Monaco:
Société Anonyme Monégasque (SAM) – joint-stock company
Société en Commandite par Actions (SCA) – limited partnership
Société en Nom Collectif (SNC) – unlimited partnership
Société en Commandite Simple (SCS) – limited liability partnership
Société à responsabilité limitée (SARL) – limited liability company
Société Civile Immobilière (SCI) – property management company
Activité en nom personnel – individual entrepreneur
We provide extracts from the register in strict compliance with the legislation of Principality of Monaco and the General Data Protection Regulation.
Inquiries are processed within one working day. Courier delivery of apostilled documents is paid separately by courier service tariffs.
You can order free preliminary availability check of required information on our website.
Monaco acceded to the The Hague Convention Abolishing the Requirement of Legalization for Foreign Public Documents on 24 April 2002.
Therefore, the documents issued in Monaco are subject to a simplified apostilling procedure, thus the documents gain full legal value in Convention member states after notarised translation.
Apostilling usually takes about two weeks.
In addition, you can order notarised translation from French.